---
As oil trains hauling North Dakota crude delay rail transport of grain to Pacific Northwest ports, the prospect of growing fossil-fuel traffic
has some fearing that such shipping disruptions will become a long-term problem impeding exports and the regional economy.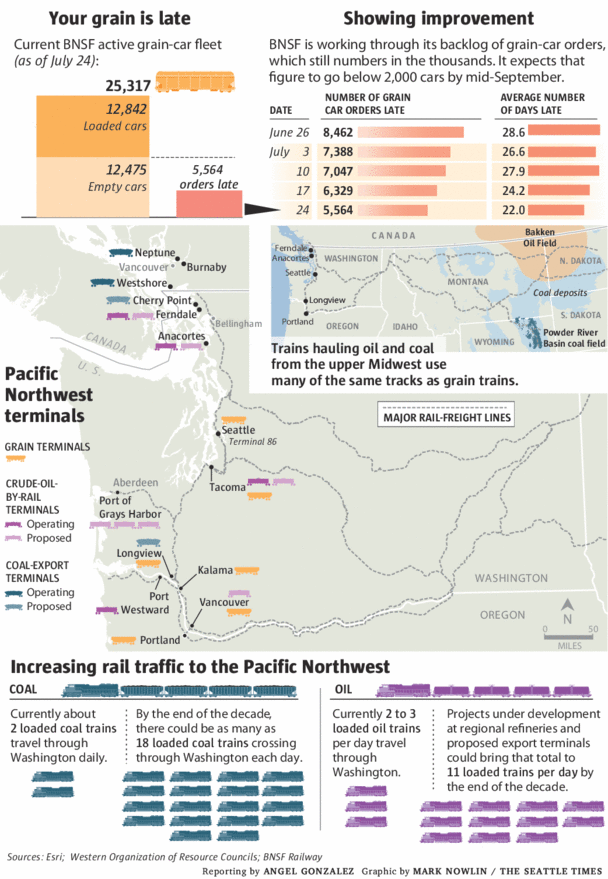 A surge in oil trains hauling North Dakota's energy bonanza is interfering with grain shipments to Pacific Northwest ports, prompting fears of a chronic crisis in which railcars carrying fossil fuels crowd out other products and disrupt exports.
Washington wheat farmers have been luckier than their Upper Midwest cousins because most can ship their wheat by barge down the Columbia River.
But those farther from the river, who typically rely on railroads, are increasingly paying truckers to move their wheat to a barge port. Farmers and others worry that costs and delays will get worse as more trains carrying oil -- and perhaps coal -- clog the region's rail lines.
"We're concerned by the cost and availability of freight," said Pearson Burke, marketing manager of AgVentures NW, a joint venture between two grain cooperatives in Odessa, Lincoln County.
At the Port of Seattle, Dale Frazier, owner of Seattle Bulk Rail Station, a company that loads grain from trains into containers, says that in February, March and April his "business suffered tremendously" due to many late trains.
The U.S. Department of Agriculture (USDA) says that last winter, some ships departed before the grain they were waiting for could be loaded. Train trips from the Midwest's grain belt to the Pacific Northwest took 22 days, nearly twice as long as usual.
Things are getting better, as BNSF, the railroad that dominates the region, scrambles to buy hundreds of new locomotives and hire and train thousands of new employees. The railroad giant says the backlog of grain cars will be greatly reduced by mid-September.
But a big new harvest is coming, and critics say that the trouble seen in the past few months is only the beginning.
Eric de Place, an analyst with the Sightline Institute, a Seattle policy nonprofit that closely follows the oil-shipments issue, says potential problems will only increase with an expected surge of oil and coal shipments, if planned export terminals for those fossil fuels are built on the Washington coast.
"We're already seeing a system under strain, and we have very, very small amounts relative to what's planned," de Place said.
For Washington refineries, whose oil supplies from Alaska are dwindling, the new sources of crude, such as North Dakota's Bakken shale, are a boon. Washington state's ports and railways are a key outlet for that oil.
But the grain-shipment disruptions are a reminder that there are costs associated with this bounty. Moreover, they come in the midst of heightened anxiety about the danger of moving oil through a densely populated region.
About two loaded oil trains a day pass through Seattle's central core, near the sports stadiums and waterfront. The flow could more than double by the end of the decade.
A catastrophic oil-train blast in Quebec and a big explosion in North Dakota last year have stoked fear about potential dangers. Regulators have said that crude extracted from the Bakken can be more volatile than other types of oil.
On Wednesday, the Seattle City Council asked the federal government to immediately suspend oil shipments that utilize a type of car regulators deem unsafe. On Thursday, a slow-moving 102-car oil train derailed beneath the Magnolia Bridge, although no leaks occurred.
In June, Gov. Jay Inslee directed the state Department of Ecology to speed up a study of the risks of increased rail shipments of North Dakota crude.
BNSF, which is part of billionaire Warren Buffett's Berkshire Hathaway conglomerate, is the biggest handler of shipments from the North Dakota oil boom.
It invested a record $4 billion last year in capital improvements to handle growth. It has hired 4,000 people so far this year and spent heavily in training emergency responders, says spokesman Gus Melonas.
But all that investment also means there's plenty of work along the tracks, which hampers the smooth flow of trains.
Chris Herman, the state Department of Transportation (WSDOT) official in charge of freight-rail policy, says the grain delays have "the potential of being a longer-term trend."
Fuming farmers
In the Northern Plains, the trouble began last winter, when many grain shippers saw freight rates skyrocket and rail cars arrive weeks late.
"The sheer gravity, magnitude and scope of rail-service disruptions now being experienced are unprecedented, and have rippled through all sectors of grain-based agriculture," said Cargill executive Kevin Thompson on behalf of the National Grain and Feed Association in testimony to the Surface Transportation Board (STB), the U.S. agency that oversees rail freight.
The agency in June ordered BNSF and the Canadian Pacific Railway, which has also been affected by delays, to file weekly updates on the backlog until it's cleared.
In a report filed with the STB, the USDA reported grain piling up next to elevators, record prices for freight, and grain shippers paying oceangoing ships between $30,000 and $50,000 per day to wait for delayed grain.
BNSF blamed the mess on a combination of bad weather, maintenance and expansion work, as well as heavier shipping traffic in everything from cars to agricultural products. The company says only 4 percent of its traffic is oil and that most traffic growth came from consumer products.
In a presentation to the STB, BNSF pointed out that the traffic was manageable until October, when crude and agricultural traffic suddenly surged at harvest time.
STB chairman Dan Elliott said in a speech to railway executives in the spring that the rapid and unexpected deterioration of service was due in part to traffic patterns that "changed in ways that certain railroads acknowledge they failed to anticipate adequately." Those traffic patterns included the rapid rise in North Dakota's production of oil, which moves on the same lines as crops, Elliott said.
As of Thursday, some 5,564 orders for BNSF grain cars were late by an average of 22 days. That's equal to more than a fifth of the company's active grain fleet.The number of late orders was down 12 percent from the previous week.
In a letter to customers on July 10, BNSF executive John Miller wrote that the company expects to reduce the past-due list to less than 2,000 by mid-September. But the problem won't be entirely solved.
"If the new harvest is as strong as it appears to be, we will never reach zero past dues," the executive wrote.
The disruption, however, doesn't mean grain exports have decreased. Exports from the Pacific Northwest were up 10 percent from the 2012-13 harvest, said Brett Blankenship, an official with the National Association of Wheat Growers and a Washington state farmer.
Farmers dodge bullet, to a degree
More than 60 percent of the wheat produced in Washington is shipped via the Columbia and Snake rivers. Railroad delays were less severe than in North Dakota and Montana, and as of July 17 only five trains were reported past due, down from 318 in late June.
Nevertheless, the impact is felt on rail freight rates, which encourage shippers to send more grain down the river. WSDOT's Herman says that one of the largest wheat shipping facilities in Ritzville, Adams County, in a rich agricultural area between the Tri-Cities and Spokane, saw its rail shipping drop by more than half. It used to transport almost exclusively by rail, he said.
Some farmers feel their product is being crowded out of the railway system by pricier commodities such as oil and coal. Glenn Squires, CEO of the Washington Association of Wheat Growers, says that "when push come to shove, the low-value commodity drops off first." BNSF says that's not so.
John Stuhlmiller, CEO of the Washington Farm Bureau, says that in the long term, more coal and oil also means a more active railway with more improvements that could also benefit farmers.
WSDOT's Herman said delays also interfere with exporters' operations as wheat arrives later than expected.
Louis Dreyfus, the Dutch company that operates the Terminal 86 grain facility at the Port of Seattle, declined to comment, as did Cargill, one of the partners in the TEMCO grain-export facility in Tacoma.
But Cargill executive Thompson told the STB that export elevators "have idled or significantly reduced operating capacity" because they can't find predictable sources of grains and oilseeds.
Gary Hoffman, president of Tacoma Transload, which puts grain into containers at the Port of Tacoma, said the disruptions caused big problems for shippers with late deliveries, making them miss narrow windows for loading their cargo on ships that are in high demand. Then they have to pay extra to store the grain until a new opportunity to ship comes up.
For Hoffman's business, it means longer operating hours, more flexible schedules and a 10 percent hike in costs, he said, adding that he doesn't expect a quick resolution. On Friday, Hoffman said his crews were just loading a shipment that was due in June.
Long-term problem?
Terry Whiteside, a transportation consultant who represents grain-grower associations throughout the U.S., says the clogged rail lines are "going to extend for a number of years" as BNSF juggles the work needed to expand the system with that of meeting increased demand.
For Washington, that balancing act could become even harder if the state becomes a major gateway for coal exports and oil shipments in the next few years.
In a report prepared in March, WSDOT estimated that the flow of cargo on Washington rail lines will more than double its 2010 level by 2035. But that forecast, which says the private railroads will likely cope with the demand, doesn't factor in the growing oil and coal traffic.
Whiteside's calculations for the Western Organization of Resource Councils put the potential daily number of loaded coal trains rolling through Washington toward the end of this decade at 18, up from about two. The number of loaded oil trains could increase to about 11, from between two and three a day.
Even if BNSF spends enough to improve its own private rail network, publicly owned infrastructure that interfaces with rail in densely populated areas will require major investments as well, said Sightline's de Place. He foresees steep increases in the number of trains crossing South Seattle near Sodo and delaying surface traffic, for instance.
"To me that's a pretty sizable economic hit," de Place said. "We have to figure out how to manage the flow so we don't screw our economy."
---
Angel Gonzalez
Oil Trains Crowd Out Grain Shipments to NW Ports
Seattle Times, July 28, 2014
---
See what you can learn
learn more on topics covered in the film
see the video
read the script
learn the songs
discussion forum