---
The system has a capacity to cover 10,500 acres.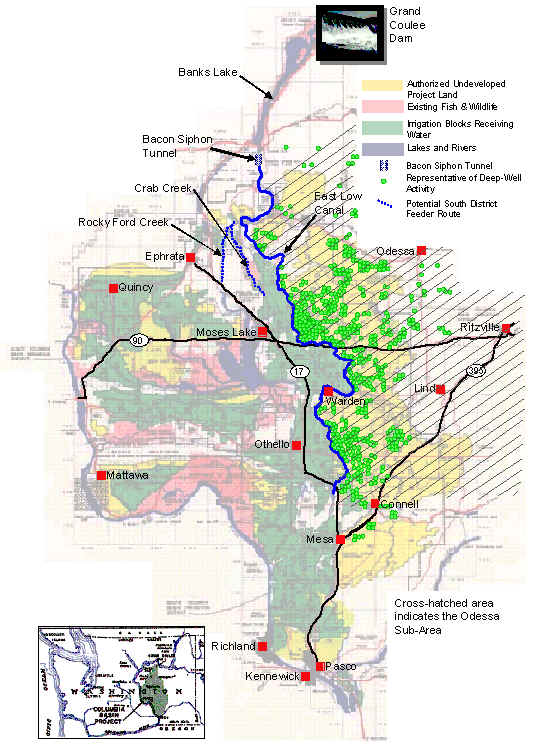 OTHELLO, Wash. -- Area stakeholders last week celebrated the EL 47.5 water delivery system, replacing declining well water to landowners with surface water from the Columbia Basin Project.
"I think you just simply willed this thing to happen, because you had so many obstacles along the way that you had to overcome," state agriculture director Derek Sandison told Craig Simpson, manager of the East Columbia Basin Irrigation District, during the ceremony.
"Many of you have acknowledged we've got a long way to go -- but look at this," Sandison added. "This should be an example to all the other land owners in the Odessa groundwater area that we can do this -- we can do really big things. We need to stick to it -- keep the partnership together -- keep working with our legislators who have supported us all the way along – and make this happen all up and down the East Low Canal."
About 150 landowners on 102,000 acres in the Odessa Subarea are losing access to groundwater due to declining aquifers, and are eligible to participate in the groundwater replacement program.
The EL 47.5 system cost roughly $20.8 million. Funding for the pumping plant is primarily based on landowners repaying municipal bonds purchased by the irrigation district, Simpson said. A state capital grant contributed $5 million.
"When we talk about partnerships and collaboration, it's hard, it's expensive, it's not easy to do -- but there's been a lot of effort," Simpson said. "We're going to keep moving forward."
"This is the first large-scale district delivery system, now operational," Jed Crowther, development coordinator for the irrigation district, told the Capital Press. "It's been nearly 20 years in the works ... (it's) a first big step toward the delivery of water in the Odessa Subarea."
The new delivery system replaces 8,500 acres relying on well water for five landowners, according to the irrigation district. It will reduce groundwater depletion by up to 73 million gallons per day.
The system has a capacity to cover 10,500 acres.
The declining aquifer won't replenish as river water replaces ground water, Crowther said. The decline may not be as rapid, he added.
The district will continue to communicate with landowners and work to balance legislative support with farmer interests, Crowther said.
The original goal of initial studies was to get surface water to 87,700 acres in the region. Preliminary planning covers that acreage, Crowther said.
Four other delivery systems are "quite active," and approaching 30% designed, Crowther said. Those delivery systems are likely to be built in the next three to four years, he said.
Other groups of stakeholders are working to advance their own designs for water delivery systems. Crowther said.
"I think the momentum of the first system online and operation is the catalyst for other systems to proceed," he said.

---
Matthew Weaver
Stakeholders Greet First New Odessa Water Delivery System
Capital Press, June 3, 2021
---
See what you can learn
learn more on topics covered in the film
see the video
read the script
learn the songs
discussion forum