---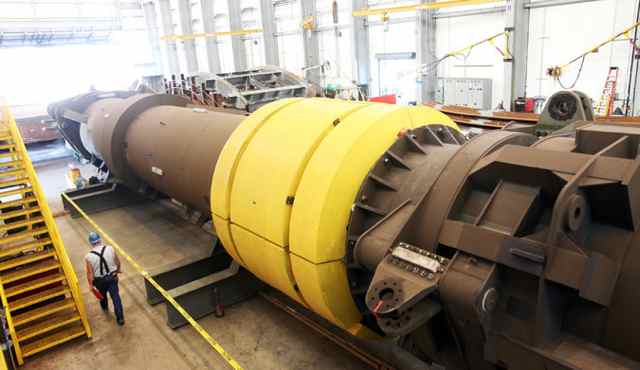 PORTLAND, Ore. -- At the Port of Portland sits a 260-ton buoy filled with technology that can turn the movement of the ocean into electricity to power 100 homes. It rolled off an assembly line to great fanfare two years ago and received the nation's first commercial license to operate.
It was to be the start of the closely watched follow-up to a failed attempt in the 1990s to harness the power of the Pacific Ocean, in which one of the first test-buoy generators quickly sank.
But this time, the buoy did not even get that chance.
Its maker, Ocean Power Technologies, quietly abandoned the project this month without ever deploying its machine off the coast.
Despite receiving at least $8.7 million in federal and state grants, Ocean Power told regulators that it could not raise enough money to cover higher-than-expected costs and would instead pursue a similar project in Australia, backed by a $62 million commitment from that country's government.
The shuttering of the ambitious project -- which, as the nation's first grid-connected commercial-scale wave park, was to have 10 buoys supplying power to about 1,000 homes -- is the latest setback for the nascent wave energy sector in the United States, which remains in the experimental stage.
Although some renewable energy technologies -- conventional hydropower, solar and wind -- have reached commercial viability and can compete in some markets with fossil fuels, the emerging water-based approaches called marine hydrokinetic technologies are far from meeting that mark.
Tidal power, which captures energy from currents moving in one direction at a time, as opposed to the wave-based technology of the Ocean Power buoys, is farther along, said Paul Jacobson, ocean energy leader at the Electric Power Research Institute. One reason, he said, is that tidal power is easier to engineer and has been able to adapt expertise from the conventional hydroelectric industry.
But electricity generation from the ocean's waves is more complex, and only a few projects are in the planning stages, despite the vast potential, even outside the best areas like the West Coast and Alaska. "The cost is still greater than the alternatives, even other renewables," Mr. Jacobson said. "The expectation is that the cost will come down, but we're not there yet."
Indeed, wave energy has at least a decade before it can compete with fossil fuels and other renewables in major markets, said Bill Staby, chief executive of Resolute Marine Energy, a start-up that is working on a demonstration project in a remote village in Alaska.
"Scale is not working in our favor yet," he said, comparing the current state of wave energy with that of wind when different technologies were being tested before the industry settled on the current three-blade, horizontal axis structure in use now.
"Then they can start manufacturing them in large numbers and they get cheaper and cheaper and there you have it," he said.
Ocean Power's project was to be an important step in jump-starting that process.
Filings with the Securities and Exchange Commission reveal a company growing in ambition, despite failing to raise enough money from private investors to complete even the first stage of its multiyear endeavor. The company's stock price also took a beating, an indication of a lack of broad confidence in the market. Still in the early stages of its growth, the field is full of competing technologies, and the type of clear winner that investors look for has yet to emerge.
"The question of which technology is best is still wide open," said Belinda Batten, a professor of mechanical engineering at Oregon State University. Ocean Power's buoy in Oregon relies on what Ms. Batten said was now older, first-generation technology. The device absorbs energy created from the up-and-down movement of the ocean, while some devices that use newer technology also gather energy from the waves' various other movements.
Ocean Power's departure is particularly frustrating for supporters in Oregon, with its ideal coastal waters and hospitable political climate. Along with other sources of renewable energy, hydroelectric power produced 70 percent of the state's net electricity last year, according to the United States Energy Information Administration.
The Oregon Wave Energy Trust, a nonprofit, state-financed group, spent $430,000 in state lottery money helping Ocean Power navigate the process of seeking a permit. The group's executive director, Jason Busch, was one of the project's biggest supporters.
"This state has the best wave resources in the country," Mr. Busch said, "so whatever the problem with the project was, it had nothing to do with the site."
The Oregon project also follows an increasingly familiar story line in renewable energy, of another country transplanting a promising endeavor seeded by American taxpayers, in this case helped by a former United States government official. Cash-starved, the company brought in Lockheed Martin as a partner in its deal with the Australian government, announcing only weeks earlier that it had hired a retired Marine Corps major general, David R. Heinz, as a vice president. Mr. Heinz knew Lockheed well, having been dismissed from a position overseeing the contractor in a fighter plane program plagued by cost overruns.
Ocean Power did not respond to several phone and email messages seeking comment.
Despite the Oregon project's failure, Mr. Busch and Ms. Batten are undeterred in their pursuit of wave energy. Ms. Batten is also the director of the Northwest National Marine Renewable Energy Center, a collaboration between Oregon State University and the University of Washington that receives money from the Energy Department and is seeking to build a dedicated test site for wave energy devices. That would allow companies to more quickly test and prove their technologies, instead of needing to navigate a complex permitting process or secure financing for large, expensive projects.
In the meantime, questions linger about Ocean Power and its buoy, including the fate of the license that the Federal Energy Regulatory Commission granted and a timeline for cleaning up the abandoned project.
Mr. Busch is a professed optimist, but he shared, in a slow, Texas drawl, the question that still nagged at him.
"Just imagine if we'd actually gotten that thing in the water -- what would that have been like?" he said of Oregon's hope to become the nation's wave energy pioneer. "We were so darn close."
Related Pages: Reedsport Wave Power Station, Portland, Oregon by Staff, Power-Technology, 3/11
Ocean Power Technologies Gets First FERC License for Wave Power Station by Staff, Clean Edge News, 8/28/12
Ocean Power Technologies Secures Lockheed Support by Staff, Intl. Water Power, 9/26/11
US DoE Awards Further Funding to Ocean Power Technologies by Staff, International Water Power, 9/13/10
Ocean Power Techologies to Harness Waves by Andrew Callus, Environmental News Net, 3/2/4

---
Joshua Hunt and Diane Cardwell
Experimental Efforts to Harvest the Ocean's Power Face Cost Setbacks
New York Times, April 27, 2014
---
See what you can learn
learn more on topics covered in the film
see the video
read the script
learn the songs
discussion forum