---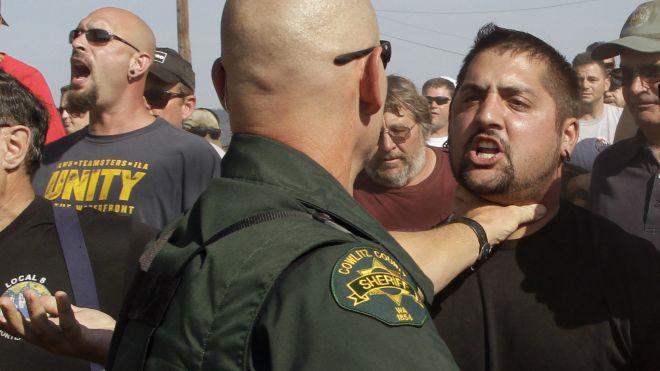 Longshoremen at the ports of Long Beach and Los Angeles remain uncommitted on whether to support Occupy movement members in their plan to block terminals and roads at the nation's largest seaport Dec. 12.
While supporting the movement's overall goals, members of the International Longshore and Warehouse Union say no internal vote has been made on the Occupy group's aim to shut down ports from Seattle to San Diego.
Many local longshoremen have privately indicated they don't support a total shutdown, given the lack of steady work and weak volume of shipping in recent months. But a public stance has yet to be made.
ILWU President Robert McEllrath said a vote by ILWU members on whether to honor picket lines - scheduled to begin at 5 a.m. - hasn't been made. It's also unclear which roads or terminals would be targeted.
"The ILWU shares the Occupy Wall Street movement's concerns about corporate abuses and the future of the middle class, but we must be clear that any actions organized by outside groups, including the proposed Dec. 12 shutdown of various terminals on the West Coast, have not been vetted by our union's democratically led process," said McEllrath.
Occupy members in Long Beach, Los Angeles, Oakland and other West Coast port cities said Monday they plan to go ahead with the shutdown, regardless of the union's position.
Protesters hope to build on a successful mass march to the Port of Oakland the afternoon of Nov. 2,
when people, cars and fencing blocked roadways for several hours leading into marine terminals and key roads near the port. An estimated 3,000 participated, trucks weren't allowed in or out, and terminals became clogged with ships and freight at one of the nation's busiest international trade gateways.
While some ILWU members participated in the Oakland action, union leaders have said their primary dispute is with a grain exporter in Longview, Wash., where longshoremen have been involved in a monthslong struggle to maintain jobs at a new terminal at the port, about 40 miles north of Portland.
Several dockworkers in Longview have been arrested during a series of protests and sit-down strikes dating back to September.
"To be clear, the ILWU, the Coast Longshore Division, and (Longview's) Local 21 are not coordinating independently or in conjunction with any self-proclaimed organization or group to shut down any port or terminal, particularly as it relates to our dispute with EGT (Grain) in Longview," McEllrath said.
But Occupy members said during a press conference and statement on their website (www.occupywallst.org) that they remain committed to "disrupt" operations at ports from Seattle to San Diego in a show of force Dec. 12.
Occupy members hope the port shutdown will temporarily stop trade at some of the globe's most economically important shipping gateways.
The ports of Long Beach and Los Angeles alone handle more than $1billion worth of goods daily, mostly imports from Asia.
If successful, it wouldn't be the first shutdown of West Coast ports in recent years. A 2002 dispute between the ILWU and terminal operators led to a brutal 10-day shutdown of all West Coast ports which cost the national economy some $58 billion and ended only with the intervention of then-President George W. Bush, who invoked the rarely used Taft-Hartley Act to force ports to reopen.
Occupy members are hoping for a similar disruption this time.
"The intention is to effectively disrupt the capital flow and profits of the 1 percent in the billions of dollars," the group's Los Angeles press office said.
---
Kristopher Hanson
Port Unions Uncertain on Occupy Plan
Press-Telegram Long Beach, November 28, 2011
---
See what you can learn
learn more on topics covered in the film
see the video
read the script
learn the songs
discussion forum