---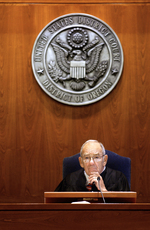 The Obama administration is reviewing a Bush administration plan for balancing the needs of people and salmon in the Columbia River Basin - a plan that has been criticized by a federal judge as doing too little to help salmon.
The Bush plan was sent to U.S. District Judge James Redden in Portland, Ore., last May. Redden had set a Friday deadline for the government to respond as it explores options in the case.
In a letter Friday to Redden, the Justice Department said top officials in the Obama administration want a delay of up to two months to "more fully understand all aspects" of the plan.
Redden heard arguments in March in a long-running dispute over how to balance Columbia Basin energy and utility needs with imperiled salmon and steelhead.
Environmentalists have argued that salmon populations cannot recover without removing some dams, especially the migration bottleneck to Idaho created by four dams on the Lower Snake River in Washington state.
Redden told the NOAA Fisheries Service at the March 6 hearing that their plan for balancing endangered salmon runs against electricity production on 14 federal Columbia Basin hydroelectric dams still needs work, particularly in the area of habitat improvement.
Federal agencies have acknowledged that the dams threaten the survival of fish, but said that extensive habitat restoration, changes in salmon hatchery operations and plans to let more water pass through Columbia and Snake River dams should mitigate the problem.
The National Oceanic and Atmospheric Administration submitted a 10-year plan last year after others were rejected by Redden. Officials said the plan, called a biological opinion or bi-op, would help fish passing through the dams survive. Environmentalists sued, saying the plan did too little to restore salmon populations.
Todd True, an attorney representing the National Wildlife Federation and other environmental groups, called the delay request encouraging.
Witt Anderson, a spokesman for the U.S. Army Corps of Engineers in Portland, said the delay would give officials of the new administration time to familiarize themselves with all the issues in the complex case. Jane Lubchenco, the new administrator of NOAA, was among those attending high-level meetings on the case in recent days.
At the March court hearing, Obama's Justice Department defended the Bush plan, saying it will help the survival of fish. The plan has been backed by state governments in Idaho, Washington and Montana and by most Columbia River tribes - a new development in the long-running argument.
Four Northwest Indian tribal governments - Yakama, Warm Springs, Umatilla and Colville - agreed to the plan, which committed the federal agencies to giving the tribes $900 million to spend toward salmon.
The state of Oregon and the Spokane and Nez Perce Indian tribes have not backed the federal plan.
Redden warned last year that he would give the job of restoring Columbia Basin salmon to an independent panel if the government failed again.
---
Matthew Daly Associated Press
Associated Press writer William McCall in Portland, Ore., contributed to this report. Obama Administration Reviewing Salmon Plan
Forbes, May 1, 2009
---
See what you can learn
learn more on topics covered in the film
see the video
read the script
learn the songs
discussion forum