---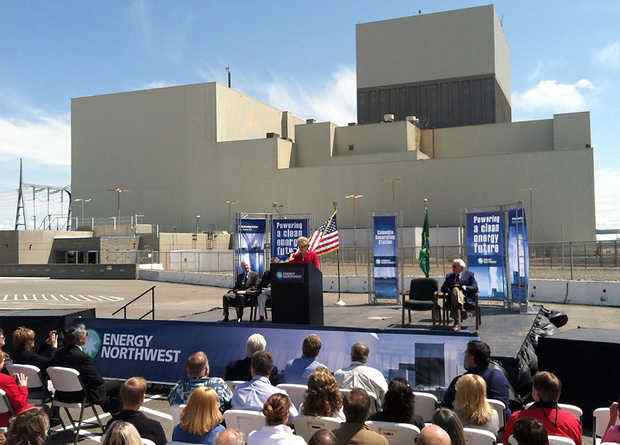 One key ingredient is missing from the Department of Energy's approach to small modular reactors -- a sense of urgency.
Right now, DOE is considering a proposal to award $450 million to support engineering, design certification and licensing for one or two small modular reactor designs over five years.
The plan is to match federal dollars with private money and have the new reactors operating commercially by 2022.
It's an intriguing plan. Private-public partnerships have proved to be a good way to leverage resources, especially in the early stages of a new technology, when a heavy investment in research and design is required.
The internet is the most wildly successful example, but the potential for the next generation of nuclear reactors to provide abundant supplies of affordable energy to a developing world promises to be equally transformative.
DOE is expected to make a decision about whether to proceed by the end of September. It needs to stick to the timeline and act aggressively to get the plan moving. Nothing else on the horizon has the potential to reduce the amount of carbon released into the atmosphere by the extent that the scientific community says is needed to halt global warming -- or to meet the world's growing demand for energy.
It's why the proposal outlined in Gov. Chris Gregoire's recent letter to Energy Secretary Steven Chu is so exciting. It would put modular reactor technology on a fast track.
The Tri- City Economic Development Council is scheduled to present a proposal to DOE today at a forum organized by the Energy Communities Alliance. Proposals could also come from communities in Tennessee, South Carolina, Virginia, New Mexico, Idaho and Kentucky.
But none can offer more than the Tri-Cities. Attributes here include a supportive community, knowledgeable work force and a suitable site at Energy Northwest's never-completed WNP-1 reactor north of Richland -- already vetted for nuclear production.
And we have what may prove to be the most important feature -- an identified need.
"An integral part of cleanup, the waste vitrification plant, will require an additional 70 (megawatts) of electrical power by the end of this decade," Gregoire said in her letter. "In addition, U.S. DOE's Pacific Northwest National Laboratory will also require nearly 30 (megawatts) of electricity."
It's crucial to put any modular reactor on the best possible path for success.
The goal is to produce a design for a small modular reactor that can be produced in a factory and shipped to wherever it's needed.
Because these next-generation plants can operate without refueling for up to 30 years, they can address the biggest problems facing nuclear energy -- weapons proliferation, waste generation, safety of operations and prohibitive start-up costs.
As Gregoire notes in her letter, the Tri-Cities is poised to play a key role in the manufacturing process.
"Small modular reactors, once developed, become a very exportable product that can be of great benefit to China, Korea, Japan and to developing countries around the world," she said. "Hanford and the Tri-Cities could be a keystone to such manufacturing with direct access to ocean-going barges, major interstate highways and railroads."
Good arguments, and coming from a governor with solid environmental credentials gives them that much more weight.
DOE would be smart to pay attention.
---
Editorial Board
Modular Reactor Concept Perfect for Hanford Site
Tri-City Herald, June 20, 2012
---
See what you can learn
learn more on topics covered in the film
see the video
read the script
learn the songs
discussion forum