---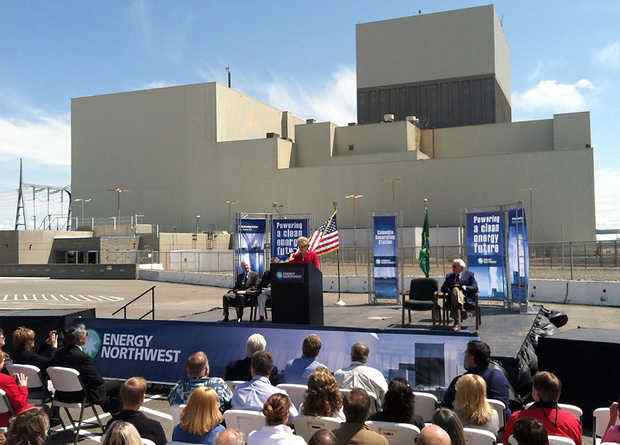 John Twomey left his home on Long Island, N.Y., nearly 37 years ago to move West and join a massive construction project unfolding north of Richland.
He arrived in the Tri-Cities with a one-year assignment and figured he'd be on his way in about 12 months. Instead, he never left.
On Monday, as hundreds of Energy Northwest employees celebrated the power producer's 30th anniversary at its Richland facility, Twomey sat among friends and helped welcome a recent addition to the company's extended family -- his son, Matthew.
Energy Northwest's 30th birthday was Dec. 13, but employees and supporters gathered Monday for a celebration. The nuclear power plant broke ground in 1972 and began operations in 1984 when it produced energy under the Washington Public Power Supply System, which became Energy Northwest in 1998.
Recent years have seen a string of successes for the energy producer. Columbia Generating Station set a calendar-year record in 2012 by producing 9.3 million megawatt hours of electricity. The following year saw the plant produce 8.4 million megawatt hours of electricity -- a record for a refueling outage year, when the plant is taken offline for a month to refuel the reactor and address maintenance. Fiscal year 2014 saw another record broken -- more than 9.7 million megawatt hours streamed to the grid.
"Our goal is to achieve and sustain excellence," said Energy Northwest CEO Mark Reddemann, who's been with the power producer for four years. "In the past, our performance has been cyclical."
Reddemann credited Energy Northwest's roughly 1,100 employees, like John and Matthew Twomey, with embracing Energy Northwest's performance models and committing themselves to safety.
Matthew Twomey, 26, a facilities mechanic from Kennewick, has been with Energy Northwest for less than four months, but the job has been years in the making.
"It's just a great company," Matthew Twomey said of Energy Northwest. "It's a company I grew up wanting to work for ... It was a dream or a goal to work up here."
He added: "They place such a high value on the safety of the employee."
John Twomey, 59, was only six months out of college when he moved to the Tri-Cities. He's held numerous engineering positions with Energy Northwest -- design, system, maintenance and civil field design, to name a few -- and has watched the evolution of the nuclear energy industry from his perch north of Richland.
He's proud to see Energy Northwest where it is today.
"There were times back in the 80s when people would ask me what I do, and I knew what was coming," Twomey said with a muted chuckle.
These days, John Twomey no longer worries about such queries. Energy Northwest is in the midst of its longest continuous operational run -- 538 days as of Monday -- and has gone more than five years without an unplanned shutdown. Besides ensuring the plant continues to produce power, Energy Northwest officials are working to slow increases in power rates.
The Bonneville Power Administration announced earlier this month that due in part to Energy Northwest's efforts, ratepayers will save about $125 million during the upcoming rate period, according to Energy Northwest.
Energy Northwest, along with its industry and regional partners, helped repeal the spent-fuel disposal fee the U.S. Department of Energy charged Columbia Generating Station, saving the region about $7.4 million annually on average.
Refinancing of regional cooperation debt for 2014-17 saved the region about $29 million annually, and a decrease in the Columbia Generating Station's operating costs should save about $26 million each year.
Energy Northwest's below-market nuclear fuel purchase in 2012 should provide the plant with fuel through 2028 and generate tens of millions in savings through 2028.
"The plant is well-positioned to bring competitive value to our region and to break more generation and other performance records during the next 30 years," Reddemann said. "The Energy Northwest team is making it happen."
Moving forward, Reddemann looks forward to the addition of small modular reactors to the Energy Northwest power portfolio. The small modular reactors are in the design phase and should soon move to licensing, he said.
He envisions small modular reactors replacing some coal-fired power production in Idaho by the mid-2020s and possibly coming to the Tri-Cities after that
---
Drew Foster
Energy Northwest Celebrates 30 Years of Operations
Tri-City Herald, December 15, 2014
---
See what you can learn
learn more on topics covered in the film
see the video
read the script
learn the songs
discussion forum