---
Four dams still block the flow of the lower Snake River. Salmon survive, in larger numbers lately, but not yet enough to accommodate both reproductive necessity and human demand. Environmentalists and fishermen still yearn for the day when those dams are breached.
Will President Barack Obama finally let it happen? Based on his few statements on the issue, that appears unlikely. He is a pragmatist and a politician, and pragmatism and politics do not favor dam breaching, and lately neither does the science, economics, or the balance of environmental considerations.
"Implementing a meaningful salmon population recovery plan will be a key environmental priority of my administration, and I support efforts to create a salmon recovery plan that balances all of these important environmental, agricultural and renewable energy interests," Obama said in April in response to a written question from the Idaho Statesman. The newspaper followed up on that noncommittal reply with a direct question on dam breaching, and Obama aide Nick Shapiro replied, "Barack Obama believes action must be taken to protect the salmon population and ensure its survival for generations to come. To that end, he believes all efforts to restore habitat must be exhausted before dam breaching is considered."
That is the expected position. Anyone campaigning for president in the Northwest is best advised to express a strong desire for abundant salmon, but stay quiet on dam breaching.
Obama is not a dam-breaching fan, but members of his cabinet may be more sympathetic. That cabinet is now only a swirl of rumors, but Robert Kennedy Jr. has been mentioned as a strong possibility to head the Environmental Protection Agency, and he appears on some celebrity dam-breaching endorsement lists. Former Oregon Gov. John Kitzhaber is mentioned as a possibility for Interior secretary, and in 2000 he famously became the first major Northwest politician to endorse dam breaching, to "equitably spread the economic burden" of salmon recovery. Also on the list of possibles for Interior is our own Rep. Jay Inslee, D-Wash., who in Congress signed letters urging the Bush administration to consider "all scientifically credible options" for salmon recovery, including dam breaching. Inslee's interests lately are dominated by renewable energy, which logically should make you hesitate to do away with 5 percent of the Northwest's carbonless hydroelectricity.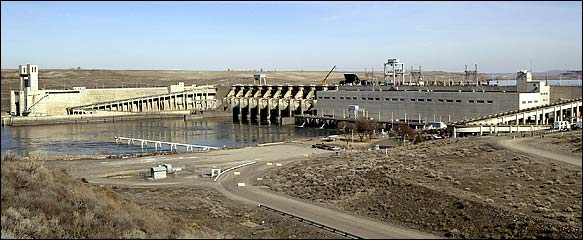 EPA heads and Interior secretaries don't often delve directly into Northwest salmon and energy issues. NOAA Fisheries, the agency directly responsible for devising salmon recovery plans, falls under the Department of Commerce. The Bonneville Power Administration, which finances most salmon recovery efforts, is under the Department of Energy. The director of NOAA Fisheries will soon change with the new administration. How salmon recovery policies change remains to be seen.
In any event, the political momentum for dam breaching has not increased of late. A just-released peer-reviewed study from British Columbia and Oregon scientists pored over data from fish tagged with acoustic transponders, and surprisingly concluded that salmon survival on the Columbia and Fraser rivers was very similar, if not slightly better on the Columbia. The surprise is that the Columbia has numerous dams. Canada's Fraser has none.
The study of course is controversial. It doesn't mean dams do no harm to salmon, and that is not what its principals contend. It might imply there is something else seriously wrong on the damless Fraser. But it also implies that the many hundreds of millions invested in salmon passage at Northwest dams is actually beneficial. It also could imply that on balance, breaching dams won't do salmon any good. All this, along with voices of a new administration, are coming soon to an argument near you.
---
Tracy Warner, Editorial Page editor
Obama is Not a Dam Breacher
Wenatchee World, November 14, 2008
---
See what you can learn
learn more on topics covered in the film
see the video
read the script
learn the songs
discussion forum