the film
forum
library
tutorial
contact

Wild Fish Advocates File Notice Against
Mitchell Act Hatcheries, 60 Million Smolts Annually

by Staff
Columbia Basin Bulletin, January 15, 2016
---
"Those truly interested in recovery are better served by putting
their efforts into restoring the wild rivers that salmon need."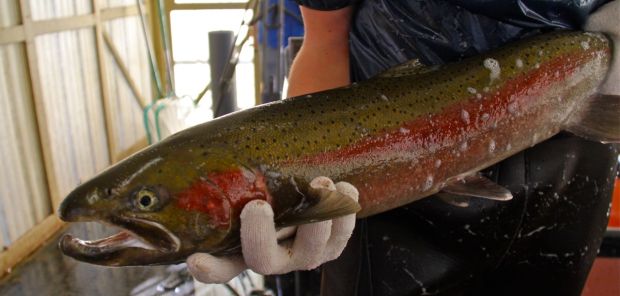 An advocacy group for wild fish in the Columbia Basin filed notice this week of intent to sue over alleged harmful impacts of hatchery fish on wild fish in the Columbia Basin.
The move by the Wild Fish Conservancy triggered immediate response.
The Northwest Sportfishing Industry Association issued a statement: "If WFC legitimately cared about wild fish recovery in the Columbia River, hatcheries would be the last thing they would be concerned about," said Liz Hamilton, executive director of the association.
"More spill would double the returns of wild spring Chinook back to Idaho, potentially taking them off of the ESA lists. Instead they attack the hatcheries that were built to mitigate the building of eight federal dams in a system of over 208 dams. The only effect wild fish would notice from WFC activities in the Columbia would be the loss of tens of millions in funding for conservation and recovery."
Sara Thompson, speaking for the Columbia River Inter-Tribal Fish Commission, also touted the benefits of Mitchell Act hatcheries.
"Carefully managed hatcheries play a critical role in Columbia Basin salmon recovery by rebuilding salmon populations while supporting fisheries. Lawsuits like these could hurt salmon recovery efforts and distract us from the bigger picture of working together to reform hatchery practices."
The Mitchell Act program, named after a pioneer Oregon fish culturist, Hugh Mitchell, now produces about 60 million smolts annually and fuels about 75 percent of the Columbia Basin's salmon and steelhead returns.
In an effort to mitigate adverse effects on fisheries in the Columbia Basin as a result of dams, logging and pollution, Congress enacted the Mitchell Act in 1938.
According to the notice of intent to sue, the act authorized federal support for about 60 hatchery programs that now produce about 63 million fish annually, at a cost of $12 million to $22 million per year.
The Wild Fish Conservancy notice basically contends that fish raised in hatcheries, despite good intents, are harmful to wild fish populations.
"Adverse genetic effects result in losses of fitness and decreases in diversity caused by genetic mechanisms," the notice states, further pointing out adverse effects acknowledged by the National Marine Fisheries Service.
The NMFS has stated that a "defining characteristic of anadromous salmonids is their high fidelity to their natal streams. Their ability to home with great accuracy and maintain high fidelity to natal streams has encouraged the development of locally adapted genetic characteristics that allow the fish to use specific habitats. The genetic risks that artificial propagation pose to naturally produced populations can be separated into three types of effects: loss of within-populations diversity, outbreeding effects, and domestication selection.
"In most cases, genetic change is caused by the hatchery environment or by management of the hatchery program, and does not become an issue until mating occurs between hatchery-origin and natural-origin fish, either of the same or different populations," states a citation from the NMFS outlined in the notice of intent to sue.
The notice contends that federal agencies are in "violation of the ESA by providing, authorizing, approving and disbursing funds for the operations and maintenance of, and improvements and upgrades to, hatchery programs under the Mitchell Act" without complying with procedural requirements.
"The funding addressed in this notice letter encompasses each and every distribution of funds under Mitchell Act for operations, maintenance, improvements and-or upgrades made during the last six years and any such distribution that occurs after the issuance of this notice letter," the prospective plaintiffs state.
---
Staff
Wild Fish Advocates File Notice Against Mitchell Act Hatcheries, 60 Million Smolts Annually
Columbia Basin Bulletin, January 15, 2016
---
See what you can learn
learn more on topics covered in the film
see the video
read the script
learn the songs
discussion forum