---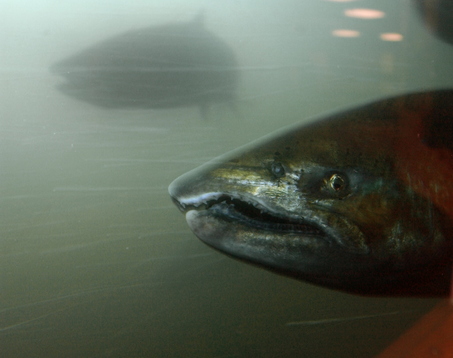 Is more flow and fewer dams the best, or only, route to restoring Columbia Basin salmon? New scientific analysis on Columbia/Snake River dams and salmon survival emerges regularly. Since these salmon are endangered by extinction, this attention is merited. Having followed that science for 30 years, I have concluded that in the Columbia we should provide higher flows and more spill over dams, and in the Snake we should remove the lower Snake dams.
Last Monday, the journal PLoS Biology published a paper entitled "Survival of Migrating Salmon Smolts in Large Rivers With and Without Dams," that compares salmon survival in the Columbia and Canada's Fraser River. The Oregonian covered it in both news and editorial sections. But the way the study was released generated confusion.
A press release misleadingly titled, "Dams Make No Damn Difference to Salmon Survival" was sent to media, but the study neither proves nor concludes that. Later, two of the study's authors issued their own release rejecting that statement, and the press release was subsequently withdrawn. But the damage was done; The Oregonian editorial's title echoed the inaccurate sound bite.
It will now be hard to separate the study's actual results from confusion caused by a clumsy release. Those actual results are now part of a 30-year body of science documenting that Columbia/Snake dams are the largest human-caused mortality factor to the basin's salmon. Oregon's Department of Fish and Wildlife, whose fisheries division I once directed, has been a leader in that science, and its scientists are among the best in our region. I wish the Oregonian had consulted them while writing its editorial.
A few months ago the Fish Passage Center released an analysis concluding that extra spill over dams ordered in 2006-07 by the U.S. District Court - spill that fishing groups and Indian Tribes asked for and federal agencies opposed - led to significantly more salmon returning this year. It is too bad the Oregonian chose not to report or editorialize on that report, given the light it sheds on how to manage Columbia dams so we have more salmon.
The PloS paper's most telling point to me is that the Fraser salmon stocks are doing more poorly than I realized. The Fraser and Columbia are very different rivers, but I think the study supports the conclusion that Columbia stocks are also doing poorly. While I agree with the Oregonian that salmon survival has improved at the Columbia/Snake dams, I don't think that improvement is or will be enough. The scientific case remains strong that we need more flow and spill in the Columbia, and we need to remove the four lower Snake River dams in order to restore 140 miles of productive, free-flowing salmon spawning and migratory habitats. Those conditions will produce more salmon than 140 miles of slow, steadily warming reservoirs interspersed with four large bank-to-bank dams, whose presence leads most migrating salmon to be sluiced into crowded, mixed-species barges and trucks for their downstream journey.
Salmon science is a mosaic. Each new analysis is a piece added to a big picture. It is not about sound bites.
Related Pages:
Biodiversity: Unraveling the Mysteries of Salmon Migration by Stephen Leahy, Science Daily, 10/31/8
Do Dams Make A Difference? IPS News, 10/30/8
Salmon Study Yields Surprise Result by Jeff Barnard, Capital Press, 10/30/8
Readers Discuss POST article by Reader Discussion, The Oregonian, 10/29/8
Salmon: No Dam Difference? by Editorial Board, The Oregonian, 10/29/8
Track the Salmon in California by Editorial Board, Contra Costa Times, 10/29/8
New Study Finds Fish Do as Well on Dammed Rivers by Editorial Board, Walla Walla Union-Bulletin, 10/29/8
Dams Appear to Have No Impact on Salmon by Michael Reilly, Discovery News, 10/29/8
Salmon Smolt Survival Similar in Columbia and Fraser by Mark Floyd, Eureka Alert, 10/27/8
Salmon Study Under Fire for Minimizing Effect of Dams by Warren Cornwall, Seattle Times, 10/27/8
Salmon Science is Not About Sound Bites by Jim Martin, The Oregonian, 10/27/8
Dams Not Main Cause of Salmon Collapse, Study Says by James Owen, National Geographic News, 10/27/8
Study Shows More Salmon Survive West's Dammed Rivers Canadian Press, 10/27/8
Radio Tags Shed Light on Salmon Migration Routes by Mark Hume, Globe and Mail, 10/27/8
---
Jim Martin is retired after a 30-year career in fisheries research and management, including a period as director of the fisheries division of Oregon's Department of Fish and Wildlife. He is a recognized leader in investigating the effects of global warming on Oregon rivers and fish.
Salmon Science is Not About Sound Bites
The Oregonian, November 2, 2008
---
See what you can learn
learn more on topics covered in the film
see the video
read the script
learn the songs
discussion forum