---
Run of 198,400 set for upstream of Bonneville Dam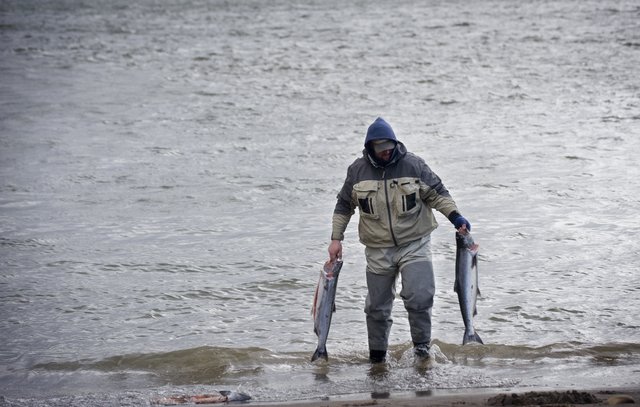 A run of 198,400 spring chinook -- the Northwest's premier salmon -- are forecast to enter the Columbia River in 2011 headed for upstream of Bonneville Dam.
"That's not bad," said Larry Snyder, president of the Vancouver Wildlife League and an avid spring angler.
State, federal and tribal biologists looked at 40 models for predicting the run, selected seven and took the average of those seven, said Kathryn Kostow of the Oregon Department of Fish and Wildlife, chair of the committee that prepared the forecast.
A year ago, the forecast was for a mega-return of 470,000, with the actual number entering the river settling at 315,345.
The 2011 forecast calls for 40,000 5-year-old chinook, which are larger and tend to return a bit earlier, and 158,400 4-year-olds. The portion head for the Columbia River upstream of Priest Rapids Dam is 22,400, while the Snake River prediction is 91,100.
Other streams contributing to this run include Wind River, Drano Lake and Klickitat River, all on the Washington side of the Columbia River Gorge.
A forecast for Oregon's Willamette River is not complete, but is expected to be in 100,000 range. A year ago, the prediction was 63,000 and the actual return about 110,000.
Individual forecasts for the three mid-Columbia tributaries, plus the Lewis, Kalama and Cowlitz rivers are not complete.
Washington and Oregon fishery officials next will discuss the Columbia forecast with various sport and commercial fishing groups.
Allocation of the harvest is a complicated balancing act involving non-Indians and the four Columbia River treaty tribes, plus splitting the non-Indian catch between sportsmen and commercial fishermen.
Details of the sport and commercial seasons will be adopted in early February.
Snyder said he hopes to avoid a repeat of the 2010, when sport fishing was limited to downstream of Interstate 205, mostly downstream of Interstate 5.
Limiting fishing downstream of I-5 is intended to lengthen the season by diluting the catch of upper Columbia spring chinook with salmon headed for the Willamette.
When Oregon's Willamette River turned muddy, a huge sport fleet was concentrated in the clear water between I-5 and the downstream end of Caterpillar Island.
"It was like fishing in a washing machine," Snyder said. "There were like 2,000 boats crammed in that area."
Snyder suggested leaving the Columbia open upstream as far as the mouth of Oregon's Sandy River.
That would put the large Chinook Landing and Port of Camas-Washougal boat ramps back in play without greatly increasing harvest, he added.
Summer chinook, sockeye -- The forecast for summer chinook, which return from mid-June through July to waters upstream of Priest Rapids Dam, is 91,100. That compares with 72,346 a year ago.
The forecast for sockeye, which return mostly to the Wenatchee and Okanogan rivers, is 161,900. In 2010, a monster sockeye run of 387,858 returned.
---
Allen Thomas
Columbia Spring Chinook 2011 Forecast 'Not Bad'
The Columbian, December 11, 2010
---
See what you can learn
learn more on topics covered in the film
see the video
read the script
learn the songs
discussion forum