---
The PUD would have to increase costs if BPA increases wholesale power rates sharply.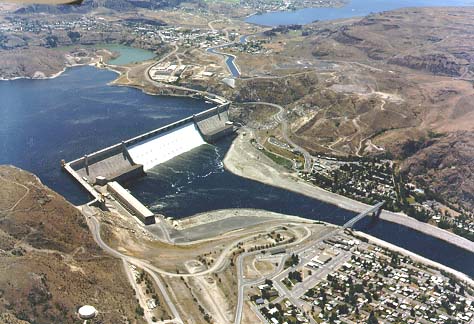 The Cowlitz PUD will not raise power rates for at least the next year, and it may avoid any raises for several more years, the utility's top official says.
General Manager Steve Kern credited several factors for the good consumer news, including improved financial management and favorable snowpack conditions in the mountains that are a source for the utility's hydropower.
Given its rosier financial outlook, the utility also is taking a slightly more risky approach to power projections in an effort to boost its revenues -- perhaps by $9 million to $11 million a year.
One caveat: The PUD buys 80 to 90 percent of its power from the federal Bonneville Power Administration, so the PUD would have to increase costs if BPA increases wholesale power rates sharply.
"We've gotten our house in order, reduced our costs; we've challenged all pieces of our business," Kern said in an interview Wednesday, the day after the utility's commissioners informally agreed to a no-rate-hike budget for 2018-19. "But really, what needs to further happen is we need Bonneville to take more steps toward reducing their future operating costs."
Power costs from Bonneville make up more than two-thirds of the PUD's entire operating budget.
BPA has made a good start this year on cutting overhead costs, Kern said, by streamlining its fish and wildlife program, controlling administrative and capital project costs, and keeping some positions unfilled. But he said the power administration can "go deeper" in those areas to keep cutting costs.
BPA operates and sells power from 31 hydroelectric dams, one nuclear plant and several small power plants in the Pacific Northwest. It is the Northwest's major wholesale distributor of power. Fluctuating water flow at dams along the Columbia River affects Bonneville's prices and, by extension, the PUD's rates.
The PUD estimates that, based on historical rates and inflation, BPA will increase its power rates by 5 percent in October 2019, 2021, and 2023, and its transmission rates by 10 percent in 2019 and 5 percent in 2021 and 2023, according to data shared by the PUD.
If those projections are correct, it's unlikely the PUD will be able to avoid a rate increase at some point over the next five years, but Kern said that's up to Bonneville.
"If Bonneville didn't have any rate increase over the next several years, the expectation for us is that we wouldn't have to raise our rates either," Kern said. "That's how far we've come."
Bonneville representatives did not return multiple calls for comment over the past week.
The PUD's budget, which covers the 12 months period starting Oct. 1, calls for $236 million in spending, with $176 million going to purchase power from the BPA. Purchases from Bonneville are projected to rise to $186 million by 2023.
The decision to hold rates was supported by the PUD's electric rate advisory committee, which serves as a liaison between the PUD and its customers and makes recommendations on rates for specific groups of PUD customers.
One reason the PUD is in good fiscal shape is significantly higher water runoff, snowpack, and precipitation conditions in the last two years, Kern said. When the PUD is properly hedged, it can sell the additional energy produced on the wholesale market and use the funds to offset its own costs or to build up its rainy-day fund.
But those conditions are "purely random," Kern said. Power generated by Bonneville can fluctuate drastically, so the PUD has for the last few years planned its finances by budgeting for poor wind and hydropower production. Given the above-average water conditions in recent years and the PUD's more stable current financial situation, it is budgeting for next year with a more optimistic estimate of power generation, Kern said.
Moving from "conservative generation" to "expected generation" means the PUD will plan its finances around the average wind and hydroelectric power produced, rather than the lower end. This allows it to sell more power on the open market, which can be lucrative.
The expected financial gain from making that switch is about a $9 million to $11 million increase in projected power revenue each year, which could help reduce the PUD's budget deficit and keep customer rates low even as BPA rates rise, Kern said. Doing so would open the PUD to greater risk from fluctuating power generation, but Kern said the PUD's current financial strength and cash reserves are enough to manage the fluctuations.
"Our ability to manage our risk and our power supply situation has grown substantially over the years. It gives us more comfort," Kern said. "We're very disciplined now in how we manage our power supply portfolio. We can take a more aggressive posture compared to a couple years ago."
The PUD's 2019 budget will be officially adopted during its Sept. 11 meeting, which the public is encouraged to attend.
Related Sites:
Bonneville Looking at Spending Reductions in Columbia Basin Fish/Wildlife Spending by Staff, Columbia Basin Bulletin, 5/15/18
Draft Report on Columbia Basin Fish/Wildlife Costs in 2017 Out for Review; $450.4 Million by Staff, Columbia Basin Bulletin, 5/18/18
Wyoming Utility has Lowest Power Rates in the Nation by Associated Press, My Plain View, 7/16/18
Irrigation Efficiency Rewards by Idaho Power

---
Alex Bruell
No Rate Increases for 2018-2019, PUD Says
The Daily News, August 26, 2018
---
See what you can learn
learn more on topics covered in the film
see the video
read the script
learn the songs
discussion forum