the film
forum
library
tutorial
contact

Port of Newport Receives $2 Million for Facility
to Serve Oregon Agricultural Producers

by Molly Harbarger
The Oregonian, October 29, 2015
---
Spokane Valley company will use facilities to ship steelh segments bound for Bremerton Shipyard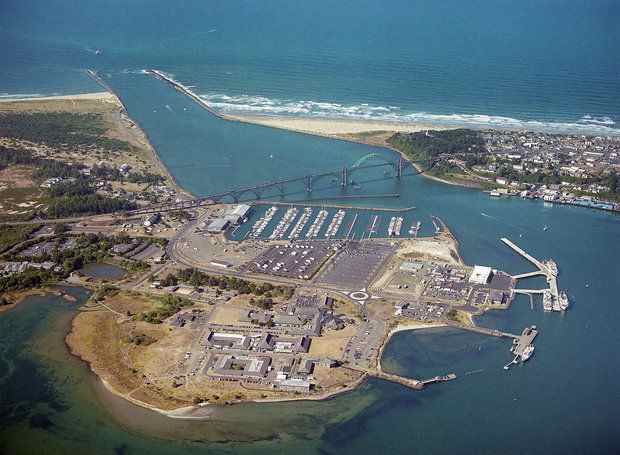 The Port of Newport has received its first grant toward rehabilitating its international shipping terminal. The $2 million grant from the federal Department of Transportation will be used to leverage more money from state sources to finish a shipping facility, port officials said Thursday.
The international terminal is one of three deep-water ports in Oregon, with the entrance dredged to 40 feet deep. The new terminal, though, has not drawn much business since it reopened in 2014.
While there are pending upgrades to Highway 20, the terminal doesn't have convenient access to them. The $6.5 million shipping facility project would connect the ocean port with the Columbia River and highway.
The pricetag includes money to develop a wetlands mitigation site, grade the property and then create a 10-acre area with asphalt, fencing, a small work shack, storm water collection, extension of water and sewer lines and transportation improvements to Southeast Bay Boulevard.
"This is the first step in obtaining financing to complete the shipping facility," said Newport Port General Manager Kevin Greenwood. "This award shows that this is a serious project and that we now have cash to leverage against other grant opportunities."
Since the Port of Portland lost almost all its container shipping business earlier this year, agricultural exporters are looking for cheaper and more efficient solutions to getting their products to ports in Seattle, the Bay Area or to Los Angeles. Newport officials want to lure that business to the port by offering barge services.
After the port builds the 10-acre facility, officials want to lease it to a private operator, who would service agricultural producers from the mid-Willamette Valley and shuttle waste paper material from southern California.
Whether that pencils out is another matter. Since Hanjin and Hapag-Lloyd stopped service to the Port of Portland's Terminal 6 during a labor dispute, state officials have been skeptical that investing in an effort to move container traffic to the coast would make financial sense.
The state is engaged in putting together a package of proposed legislation to make export shipping easier on Oregonians, which will likely include railroad and trucking improvements.
"As our highways become more crowded in the mid-Willamette Valley, we need viable alternatives to get our agricultural, forestry and fishing products to markets," said U.S. Rep. Kurt Schrader, D-Oregon City, in a statement endorsing the Newport grant.
---
Molly Harbarger
Port of Newport Receives $2 Million for Facility to Serve Oregon Agricultural Producers
The Oregonian, October 29, 2015
---
See what you can learn
learn more on topics covered in the film
see the video
read the script
learn the songs
discussion forum