---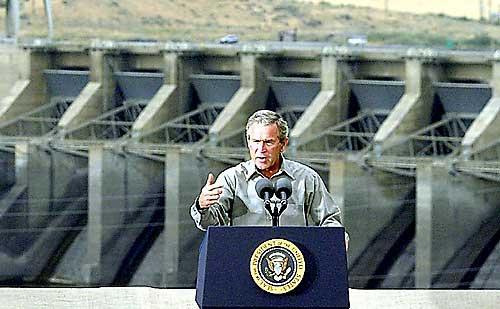 WASHINGTON -- Emboldened by President Bush's victory, the nation's top environmental officials are claiming a broad mandate to refashion the regulation of air and water pollution and wildlife protection in ways that will promote energy production and economic development.
"The election was a validation of the philosophy and the agenda," said Mike Leavitt, administrator of the Environmental Protection Agency. Environmental protections, he said, must be done "in a way that maintains the economic competitiveness of the country."
Leavitt noted that four more years give administration officials an opportunity to mold the environmental agency's professional staffs to reflect their priorities more closely. Leavitt said 35 percent of the EPA staff would become eligible to retire in the next four years, giving him a chance to remake from the inside out the agency that takes the lead in enforcing air and water pollution and the cleanup of toxic dumps.
Administration officials spoke of a renewed commitment to long-standing priorities. For example, James Connaughton, chairman of the White House Council on Environmental Quality, said Bush would not reconsider regulating carbon-dioxide emissions — despite scientific alarm over global warming — because such a policy would hurt the domestic coal industry and send jobs overseas.
To the administration's most vocal critics, the agenda amounts to a sweeping overhaul of the nation's 30-year-old system of environmental protections.
"They are trying to shred the environmental safety net," said Carl Pope, executive director of the Sierra Club. Pope predicted renewed efforts to weaken the Endangered Species Act, the Clean Water Act and the National Environmental Policy Act.
But Bush administration officials stressed that they are finding new ways to protect and improve the environment while increasing jobs and producing more oil, gas and electricity.
"We are identifying the environmental objectives we want to meet and working with the affected sectors to produce the policies that enable us to meet the standards in the context of growing the use of our natural resources and the (creating of) jobs," Connaughton said.
Mark Rey, assistant secretary of agriculture who oversees the U.S. Forest Service, and Interior Secretary Gale Norton said that a priority would be fulfilling the president's pledge to restore or improve 3 million acres of wetlands.
At the same time, the administration's top environmental officials, along with key allies in Congress, have made clear their intentions to push forward with controversial plans to open more of the Rocky Mountain region to gas development. They also have expressed hope that a larger Republican majority in the Senate will allow proponents of energy production to prevail in their long-running battle to open Alaska's Arctic National Wildlife Refuge to oil drilling.
They also are geared up to make industry-inspired changes to the way the government regulates air pollution from power plants and decides whether hydroelectric dams need to be altered to allow fish to pass.
Republicans in Congress said they would try to relax laws that protect species from going extinct; that compel power plants to reduce smokestack pollutants; and that require the military to abide by air- and toxic-pollution laws during peacetime training exercises.
But industry lobbyists caution against excessive optimism, noting that the 55 Senate Republicans still need five votes to overcome a Democratic filibuster of bills.
William Kovacs, a vice president of the U.S. Chambers of Commerce, said it would be "very difficult" to pass pro-industry legislation and predicted that most efforts to ease restrictions on business would have to come through changes in regulations.
On the other hand, four more years does give the administration a chance to make a lasting impact on environmental policy through lifetime appointments to federal courts. During Bush's first term, the courts often sided with groups that sued the federal government to compel stricter enforcement of environmental laws. But the judicial climate could change dramatically with new appointments.
"It is close to the tipping point in a number of appeals courts, particularly on the U.S. Supreme Court and the D.C. Circuit (Court of Appeals)," said Glenn Sugmeli of the environmental law firm Earthjustice.
The 12-member District of Columbia Circuit Court has broad influence over U.S. policy and law because of its authority to review rule-making by federal agencies.
Despite unrelenting criticism of the president's policies by Democrats and activists, the environment did not emerge as a prominent issue in the presidential campaign. Nor did Bush say a word about the subject in his news conference last week outlining his second-term priorities.
While environmental groups have enjoyed little access or influence during Bush's first four years in office, hunting, fishing and gun-owner organizations fared better.
Gun owners voted by a 2-to-1 ratio to re-elect Bush, but only after the president addressed their concerns that his policies were endangering wetlands and streams and turning prime big-game habitat into massive drilling fields. In December, the president dropped plans to remove Clean Water Act protections for many streams and wetlands, and in October, he shelved a plan to drill in Montana's Rocky Mountain Front, which is prized by anglers and hunters for its spectacular scenery and abundant game and fish.
Connaughton said those groups have "played a very strong role" in establishing policies on wetlands and oil and gas development in areas that are home to wildlife. He predicted they would be "strong and lasting partners" whose influence will not dim now that their votes have been cast.
Jim Range, president of the Theodore Roosevelt Conservation Partnership, an umbrella organization of hunting and fishing groups, said he believes administration officials will continue to respond to sportsmen's interests.
"He wants to help us where it's the responsible thing to do, and he and the folks at the White House have gotten that message out to the folks in the agencies."
But environmental leaders are bracing for the worst.
"I see a lot of damage in the next four years," Pope said. "These laws are not self-enforcing. If you take the federal cop off the beat, there will be more watersheds damaged by irresponsible logging, more mercury in our fish, more cases of asthma in our elementary schools, more public lands devastated by oil and gas mining."
Administration officials countered that a record of a cleaner environment would prove their critics wrong.
"People will look back on this period as one of the most productive periods environmentally in the nation's history, despite how people have tried to characterize it differently," Leavitt said.
---
Elizabeth Shogren from Washington and Kenneth R. Weiss from Los Angeles, Times Staff Writers
Bush's Vision: a New Environment
Los Angeles Times, November 12, 2004
---
See what you can learn
learn more on topics covered in the film
see the video
read the script
learn the songs
discussion forum