---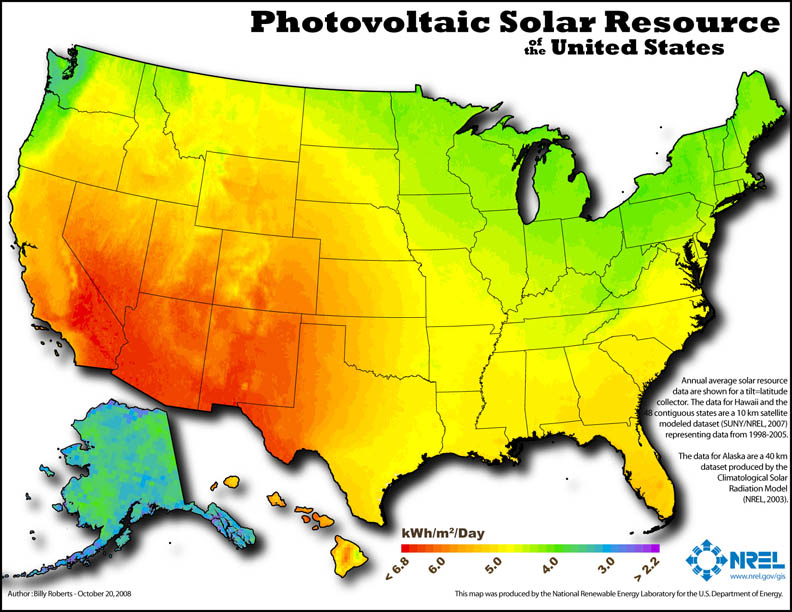 Las Vegas, NV -- Realizing that they are sitting on a renewable energy gold mine, public officials in Nevada -- the Silver State -- have begun celebrating and profiting from their renewable energy resources.
Surpassing California, the state is now the nation's number one producer of both solar and geothermal power per capita. Nevada owes much of its success to the adoption of a state tax abatement program in 2009 that has generated nearly a 1,000 percent return on the investment.
Speaking at the ninth annual National Clean Energy Summit in Las Vegas, Nevada Governor Brian Sandoval said that the "$734 million in incentives has attracted a return of $7 billion in capital investments, payroll, and taxes paid."
The investments are not only good for the environment, Sandoval said, but they make good financial sense for Nevadans. "With those abatements, we've created more than 4,600 jobs across the state that pay an average wage of more than $37 an hour."
The policies are visible on the ground in sunny Las Vegas. Just a decade ago, none of the large casinos in Las Vegas were taking advantage of solar energy. Today, all major gaming properties in southern Nevada use solar power.
The recently completed $9.2 billion CityCenter mixed-use complex in Las Vegas, begun by MGM Resorts International, is regarded as one of the world's largest green developments. MGM Resorts sponsored the National Clean Energy Summit, and the company's Mandalay Bay Convention Center in Las Vegas is topped with one of the nation's largest rooftop solar arrays.
Renewable energy production has nearly doubled in Nevada since 2009 and now stands at 21 percent of all electrical production. The thinly populated state produces so much solar, geothermal and other renewable power that it exports 35 percent of it to other western states.
Former Senate Majority Leader Senator Harry Reid and his chief of staff initiated the National Clean Energy Summit in 2007, and it has since become a prominent platform for showcasing renewable energy development throughout the nation. Reid has long championed clean energy development in Nevada and his efforts in Congress have brought billions of dollars of federal and private clean energy investment to the state.
The Summit in October this year was attended not only by Reid, a Democrat, and Sandoval, a Republican, but by prominent politicians from across the political spectrum, including Massachusetts' Republican Governor Charlie Baker, and former Vice President Al Gore, a Democrat.
During the meeting, I spoke with Senator Reid to discuss the advance of solar energy in Nevada and his views on renewable energy progress, jobs, climate change, and national energy policy. The Senator, who retired from Congress last year after 34 years of service, nonetheless played an active role in the clean energy summit.
In our interview, Senator Reid was adamant about the urgency of addressing climate change and enthusiastic about the strides that renewables have made in Nevada. The Senator suggested that the renewable energy progress in Nevada could be a harbinger of clean energy developments in other states as well. An edited version of our conversation follows.
Q&A with Senator Harry Reid
A National Energy Plan
John J. Berger: Would you support the idea that the U.S. ought to adopt a national clean energy plan aimed at decarbonizing the nation and converting the economy to 100 percent clean energy? A plan like that could, for example, be developed with the advice of the National Research Council and the national laboratories, including the National Renewable Energy Laboratory.
Harry Reid: That's easy. The answer is yes, I support that. My congressional record indicates that and underscores it. I don't see it happening tomorrow, but I wish it would.
Clean Energy in Nevada
HR: You need to see it. Seeing four million solar panels all in one place is a pretty big deal. [The Senator was referring to Sempra U.S. Gas and Power's Copper Mountain Solar Complex, a 552 MW solar plant that supplies power to major California utilities.] And we have got that just a few minutes from Las Vegas. We've got solar all over the southern part of the state. We lead the nation in geothermal. . . . We don't do much wind [energy development], but we have one big wind farm up in White Point County.
Renewable Energy Jobs
JB: Would you be willing to address the employment and the economic stimulus that has resulted from Nevada's progress in renewable energy and energy efficiency?
HR: Nevada could be a case history of what could happen. We have 31,000 jobs in renewable energy now. That's a lot for a state the size of Nevada. . . .
Governor Sandoval talked today about what we have done in Nevada with solar. Seven billion dollars. 7 billion dollars for the state of Nevada since 2011.
JB: In the form of new investment and in the form of tax revenues?
HR: Yes, and in the form of jobs. And so, I am a big proponent. . . . you can have good environmental quality, do good things, and it's good for the economy.
Energy Subsidies
JB: What ideally should the federal government be doing that it is not now doing, or not doing intensively enough, to support the renewable energy industry in the United States, and to create jobs?
HR: Without trying to be cute here, we have, in America today, a real abnormality. We are giving these huge subsidies to fossil fuel industries, compared to what we do for solar. We get no subsidies, to speak of and that's not fair. So, what I would like to see in America today is, make it fair. [Even with minimal subsidies] we are already doing better than natural gas in 90 percent of the places now. Natural gas is more expensive to install than is solar.
Legislative Needs
JB: If you could wave a magic wand and transform the Administration in Washington and get any federal legislation passed that you wanted to accelerate the development of energy efficiency and renewable energy, what type of legislation would you advocate for now? And perhaps, would it be similar to the kind that you were interested in 2015?
HR: Well, we got that big spending bill done [the American Reinvestment and Recovery Act], and we had ten-year tax incentives there for solar.
JB: Investment tax credits.
HR: Yes. The reason that is so important is because now these solar companies can plan for the future. In the past, we have had incentive tax credits for one year, but [then] people can't plan.
Challenges for Solar in Nevada
JB: What is the current status of the Laughlin solar project, and what are the larger lessons that we can learn from it? [With strong support from then-Senate Majority Leader Reid, a 9,000- acre solar photovoltaic power plant and solar panel factory was proposed in 2014 by ENN Mohave Energy near Laughlin, NV about 100 miles south of Las Vegas. The project was expected to bring anywhere from a billion to six billion dollars in investment to the county. The land sale was approved in December 2011, but subsequently ENN Mohave Energy was unable to secure the utility power purchase agreements it needed to market the power.]
HR: Right now, the company has been paying rent. They have an agreement with Clark County to lease 4,000 acres of land. . . . The developers are still involved. What happens with all these big projects is they want to make sure they have a place to sell the electricity, and I think that is the one thing they haven't gotten done yet. But they will.
Renewable Energy Requirements
JB: Is that due to the renewable portfolio standard in Nevada not being ambitious enough? [By law, Nevada's public utilities currently must obtain at least 20 percent of their retail power supplies from renewable sources and at least 25 percent by 2025.]
HR: I don't think they're necessarily looking at bringing the electricity into Nevada. Of course, that would be wonderful. But I think what they are looking at is selling it any place they can. The plant is right on the California-Nevada border, so it would be really easy to ship [the power] to California. . . . This is a problem we have all over the country: We can produce renewable energy, but we can't get it where it is needed. And one of the problems they are having at this site is they don't have the transmission capacity to carry it to southern California. But that will come. . . .
JB: Do you support a national renewable portfolio standard for electricity utilities nationwide? Would that be helpful in the context of our conversation?
HR: The answer is of course I support a standard. I think it would be great. But right now, talking about legislation is a dreamland.
Geothermal Power
JB: In terms of energy availability, cost, and technology, how important do you think geothermal energy could be as a baseload source of power for the United States? Is this maybe an under-exploited resource?
HR: We in Nevada produce a lot of geothermal. Why? It's pretty easy to do in Nevada. . . . I can remember the first time I went as a young man to northern Nevada, and I could see all this steam coming out of the ground, like Old Faithful at Yellowstone, just pouring out of the ground. And I thought, what is that? Well, that's geothermal. That's heat. It has been fairly easy to tap in Nevada. But you can have geothermal heat in Maine -- it doesn't matter where you are, it's there. It's just more expensive to produce. So, geothermal has untold potential.
JB: In terms of hot rock, or geothermal heat pumps?
HR: Yes.
Climate Change
JB: Do you believe that we are essentially now already in a climate emergency that would justify some type of a national mobilization for clean energy?
HR: Let's just look at the last couple of months. The three latest hurricanes -- 350 billion dollars worth of damage to our country! 350 billion dollars! As we speak, we've got these fires burning in California -- unprecedented in the history of our country. This morning on my way to work they announced another death. So, that total's going to rise for sure. [The California fires in October ultimately caused 44 deaths.] We are in an emergency now, just look at what's happened. The floods in China. . . Doesn't matter where you look. We are in a world of trouble here. As Al Gore explained here this morning, there's a place in Iran where [because of the heat] you can only live outdoors for three or four hours before you are dead. So, is that an emergency? Yes. We have long since passed an emergency, but now it's being felt more than ever. More than ever. We have droughts, we have these terrible rainstorms, we have these hurricanes with devastating winds approaching 200 mph.
JB: What will it take to wake up the nation as a whole?
HR: I think what is waking up the nation, slowly but surely, is nature. In the House of Representatives, there is a new caucus that already has 60 Democrats and Republicans [who want action on climate change], and they can only come in by twos. It's wonderful that people are recognizing that we have a problem here.

---
John Berger is an energy and environmental policy specialist who has produced ten books on climate, energy, and natural resource topics.
Nevada Leads Nation in Per Capita Solar Power, Dems and Republicans Herald Progress
Huffington Post, December 8, 2017
---
See what you can learn
learn more on topics covered in the film
see the video
read the script
learn the songs
discussion forum