---
A new report has concluded the Port of Portland's Terminal 6 container facility needs to diversify its function to survive.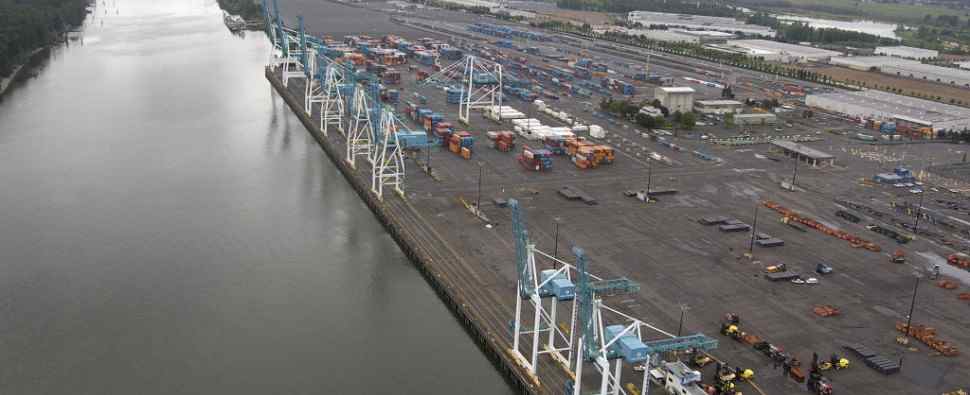 The Port of Portland's container facility must diversify since it's unlikely to become self-sustaining by focusing solely on handling containers, according to a consultant's report.
To break even financially, the port's Terminal 6 would need to move nearly 200,000 containers a year -- more than the facility ever handled even during its heyday, the report said.
By bringing in additional business lines that would subsidize container operations, the facility could reach break even by moving fewer than 150,000 containers a year.
"It's got to be a part of a bigger entity and supported by the other activities the port is involved in," said Nolan Gimpel, project manager for the Advisian consulting company, which prepared the report.
Agricultural exporters once relied on the container terminal to get straw and other farm goods shipped to Asia, but ocean carriers stopped calling on the facility in 2015 and 2016 due to labor productivity problems.
The Port of Portland has since mended its relationship with the longshoremen's union, which it hopes will improve productivity, but other challenges remain formidable.
Terminal 6 regularly handled more than 150,000 containers during the late 1990s and early 2000s, but the shipping industry has changed dramatically in recent years, Advisian's report said.
Newly-built container ships are mostly too large to serve the inland port, while ocean carriers have consolidated and are reluctant to travel the added distance to Terminal 6, Gimpel said during a recent meeting of Port of Portland's commission.
Three major "alliances" of ocean carrier companies now control about 87 percent of the trans-Pacific Ocean container market, he said.
The port should try to partner with one of the smaller independent companies that control the remaining 13 percent, since they're able to fill a niche and make decisions more quickly, Gimpel said.
"To get to sustainability is going to take a while, and it's not an easy task," he said.
Other minor ports, such as San Diego and Philadelphia, have been able to sustain a profitable container business, but their situation isn't neatly analogous to Portland's, he said.
"What do they have that we don't have? In all of those cases, those ports are much, much closer to a huge population base," Gimpel said.
The Port of Portland expects to know within about three years whether Terminal 6 can remain competitive or whether the market passed it by, said Keith Leavitt, the port's chief commercial officer.
There are opportunities to create new business at the container terminal, such as facilitating trade between North and South America, which typically relies on smaller ships than trans-Pacific trade, Leavitt said.
"We should be able to compete for those," he said. "Those vessels are a good fit for the Columbia river."
Handling "break bulk" cargo, such as imported steel slabs from Russia that aren't containerized, is another potential business line, Leavitt said. Vessels that carry such slabs don't require as deep a draft as larger container vessels.
The facility will soon be serviced by ocean vessels from Swire, which will handle trucks and break bulk cargo, and it's already opened a transmodal truck-to-rail facility that ships export products to Puget Sound ports.
Adding new business ventures to the 420-acre Terminal 6 won't require major capital investment, Leavitt said. "We're in good shape from an infrastructure standpoint."
Related Sites:
Terminal 6 Business Study Executive Summary Advisian, January 2018
Related Pages:
Here's Why Portland Won't Get New Shipping Container Service Anytime Soon by James Cronin, Portland Business Journal, 5/9/16
---
Mateusz Perkowski
New Business Lines Needed to Subsidize Portland Container Shipping
Capital Press, January 19, 2018
---
See what you can learn
learn more on topics covered in the film
see the video
read the script
learn the songs
discussion forum