---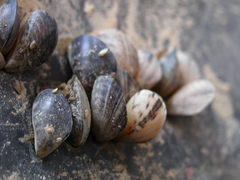 It's only a matter of time before Northwest hydro operators will be plagued by millions of tiny mussels, said a government scientist at the July meeting of the Northwest Power and Conservation Council.
They will show up in the Northwest within five years, said Bureau of Reclamation botanist Fred Nibling. Hopefully, by then, ways will be developed to fight them successfully.
Nibling described his first-hand experience at dams on the lower Colorado, where zebra and quagga (slightly larger cousins) mussels have found perfect growing conditions at Bureau of Reclamation projects, including the mighty Hoover Dam, and have threatened to clog dam intakes and plug up pipes that cool huge turbine bearings.
But there are some things that can be done to deter the prolific mussels, Nibling said. One of the most promising ideas is to use a certain bacteria--actually, a dead one--to kill them. The bacteria produce natural compounds in the mussels' digestive systems that do them in. The agencies are waiting for EPA to approve its use.
Nibling said early detection is the key--it could buy two to four years' time to plan, budget and implement preventative measures.
Quagga mussels were actually discovered in Lake Mead four years before they showed up at Hoover Dam, he said.
"Once the mussels are in a water body, we don't believe there is any way to eradicate them from a reservoir or a stream, but you can take steps to protect your facilities," he said.
Nibling explained the lengths his agency has gone to in fighting the invasion of mussels that began in the Great Lakes in the late 1980s, spread from ballast water in a freighter that likely brought them in its bilge from the Caspian Sea.
The U.S. Fish and Wildlife Service, along with the U.S. Geological Survey and the Bureau of Reclamation, formed a zebra mussel task force in early 1990s, spreading the word throughout 17 western states.
But despite a concerted effort to inspect all boats being trailered west from mussel-infested waters in the east, where they have clogged plumbing at municipal water plants and cooling pipes on tugboats, they began showing up west of the Mississippi River a few years ago.
Since then, zebra mussels have been found in Oklahoma, Kansas, and California's Central Valley, while DNA from both species has been detected in Colorado and Utah.
Nibling said agencies are now dealing with heavy infestations in Lake Mead that go all the way down to the Gulf of California. He said the Bureau's water distribution system has created a perfect distribution system for the mussels as well.
Once the mussel colonies are established, the larvae swim wherever the waters take them, Nibling said.
Conditions in the Colorado are much better for their growth than on the East Coast. Out here, they grow three times faster.
Unfortunately, the mussels' favorite place to attach themselves is concrete, with stainless steel and aluminum not far behind, Nibling said. He showed a photo of a fish screen at Parker Dam that he said provided perfect flows for their colonization.
However, experimentation has shown that mussels don't like attaching themselves to certain metals--copper, for instance, and galvanized iron.
But they have grown so prolific that they have reduced water flows through trash racks at Hoover Dam by 50 percent, while threatening to clog pipes that carry water to keep turbine bearings cool and well lubricated.
Nibling said adding preventative coatings to the insides of pipes and cleaning them has helped some, but even after the mussels die, their shells can be a problem by clogging systems.
The larvae can be kept out of some water systems by effective filtration or killed by UV light, but such strategies aren't practical with the huge volumes of water piped around at most dams.
"Don't give up hope," Nibling said. "The time you buy will save you money in the long run."
He said the mussels weren't discovered in the Colorado until they were in "full-phase growth." That's why Northwest agencies are ratcheting up their surveys for any sign that the invasive mussels have taken hold in these parts.
Another Bureau staffer, Curt Brown, told the council that the recent economic stimulus bill passed by Congress has provided funding to test 60 water bodies within Reclamation's purview. Those in the Northwest include Lake Cle Elum, Lake Roosevelt, Banks Lake, Hungry Horse Reservoir, and water bodies at Jackson, Palisades, American Falls, Anderson Ranch, Cascade and Owyhee.
States are testing additional lakes, Brown said, and the Bureau is working closely with them through the 100th Meridian Initiative to track mussel migration throughout the West and communicate their findings in a timely way.
"We may not like the results, but in eighteen months we'll know a lot more about where these organisms are and be able to more carefully plan for dealing with them," Brown told the council.
Oregon council member Melinda Eden called the presentation, "fascinating, but horrifying."
The region has already developed a rapid response plan to try and limit mussel multiplication once they are found in Northwest waters, but it may be too little, too late. The report said that more than 100 boats inspected between 2004 and 2006 were found to have mussels on their hulls.
---
Bill Rudolph
Mussels Will Eventually Bug Northwest Dams, Experts Say
NW Fishletter, August 18, 2009
---
See what you can learn
learn more on topics covered in the film
see the video
read the script
learn the songs
discussion forum