---
More derelict vessels expected in Northwest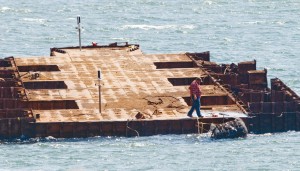 LYLE, Wash. -- In January, the rusty, oil-filled barge Davy Crockett cracked in half near Washougal, Wash., along the Columbia River, eventually costing $20 million to clean up. The number of such large craft known as "derelict vessels" is likely to grow in the Northwest, in part because owners aren't allowed to export them for scrap, The Oregonian reported.
Agencies are monitoring about 30 large derelict vessels. Their owners are often out of business or absentee or can't be tracked down. Under maritime law, a vessel without cargo and no means of propulsion doesn't have to be registered.
And unless the vessels are hazards to navigation or present an imminent threat of pollution, government agencies have limited ability, resources and responsibility for getting the vessels off the river.
A Lyle, Wash., man, David Harris, has claimed one vessel, the paper said. He has spent many days aboard Barge 202, bailing water to keep it from sinking, and figures the rusty 250-ton craft has $75,000 worth of scrap steel.
In July, Barge 202 broke loose from its moorings in Dallesport, Wash., and floated into the Columbia shipping channel. The U.S. Army Corps of Engineers hired a contractor to grab it and anchor it near the shore.
Kristin Swenddal, Washington's division manager for aquatic resources, said legal owners are responsible for derelict ships, and the state doesn't have money to remove them.
The ownership of the barge is murky, reports said.
"We're hoping the legal owners will step forward and try to do that right thing," Swenddal said.
The Corps' role stops once the federal navigation channel is safe, spokesman Scott Clemans said.
Randy Clark, a security specialist for the U.S. Coast Guard, said its authority requires a threat to navigation or an immediate threat of pollution. Aside from possible asbestos, Barge 202 doesn't fit either of those bills.
Washington and Oregon state programs remove derelict vessels of 100 feet or less. But Barge 202, possibly a converted World War II-era tank carrier, is double that. The two states and the EPA can extract pollution from stranded ships, but they don't have separate funds to remove big vessels.
Harris had a plan to use an old ferry landing on Lyle's east end to dismantle the ship, but the Coast Guard clamped down, telling him not to move the barge because it could easily get away, with Bonneville Dam not far downstream.
"Honestly, (Harris' involvement) could be a solution," Clark said. "But let's do it the right way, rather than everybody getting surprised by it."
The Coast Guard wants Harris to prepare a plan, and he intends to file an ownership claim that could take more than a year to resolve.
But, he says, in the meantime, the weather will only get worse, posing the possibility of a hazard to wind surfers and fishermen if it sinks.
Related Pages:
Cleanup of Derelict Barge Davy Crockett on Columbia River Nearly Complete by Scott Learn, The Oregonian, 8/23/11
Davy Crockett One of Many Dilapidated Vessels on the Columbia by Kristian Foden-Vencil, Oregon Public Broadcasting, 2/3/11
---
Associated Press
Ship Removal Floats in Murky Waters
Daily Astorian, September 27, 2011
---
See what you can learn
learn more on topics covered in the film
see the video
read the script
learn the songs
discussion forum