---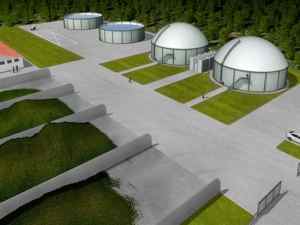 With the world's leading IT companies rushing to develop renewable energy projects to power their giant data centers, Microsoft might be about to take the prize for the most unlikely clean power source -- sewage.
U.S. firm FuelCell Energy this week revealed it is working with the IT giant on a trial that could see biogas from a wastewater treatment facility in Wyoming utilized by a fuel cell, providing "ultra-clean and carbon-neutral electricity" to a Microsoft data center.
The initial trial will see one of FuelCell Energy's 200kW Direct FuelCell (DFC) systems deployed at the Dry Creek Water Reclamation Facility in Cheyenne, Wyo. early next year. The system will then provide power to a modular Microsoft data center, set up to resemble a standard data center environment. Any electricity not used by the data center will be used to help power the water treatment plant, while the system will also provide usable heat for the facility.
Gregg McKnight, general manager for data center advanced development at Microsoft, said that with the company having recently committed to becoming "carbon neutral" by 2013 it was committed to exploring the viability of a wide range of renewable energy sources.
"With the demand for renewable energy resources outstripping available power supplies today, Microsoft is researching new methods to help our operations become more efficient and environmentally sustainable," he said in a statement. "We're excited by the potential for using stationary fuel cells to capture and recycle natural byproducts like biogas. This project will study methods to provide an economical and reliable power supply for data centers that is also scalable and economical for use by other industries."
Chip Bottone, president and chief executive of FuelCell Energy, said the company's technology was likely to prove particularly attractive to data centers, as it offered a cost-effective and reliable means of turning renewable biogas into carbon neutral biogas "in a manner that is virtually absent of pollutants."
The project has already secured backing from a wide-range of organizations, including the Cheyenne Board of Public Utilities, Cheyenne Light, Fuel and Power Company, Western Research Institute, and the University of Wyoming, and is currently in the running for a $1.5 million grant from the Wyoming Business Council.
FuelCell Energy said the DFC system is not zero emissions in terms of carbon dioxide, but due to the high efficiency of the fuel cell compared to standard generators it can deliver significant emission reductions, while almost eradicating emissions of pollutants such as nitrogen oxides (NOx), sulfur oxides (SOx) and particulate matter. Moreover, the capturing of biogas typically reduces methane emissions associated with wastewater plants.
Microsoft is the latest in a line of IT firms to deploy fuel cells as a clean alternative to onsite generators. Most notably, AT&T recently announced it was to purchase almost 10MW of new capacity from fuel cell developer Bloom Energy.
---
GreenBiz.com
Microsoft to Debut Sewage-Powered Data Center
GreenBiz.com, November 26, 2012
---
See what you can learn
learn more on topics covered in the film
see the video
read the script
learn the songs
discussion forum