---
Compensating for fish and wildlife losses caused by the four Lower Snake River dams.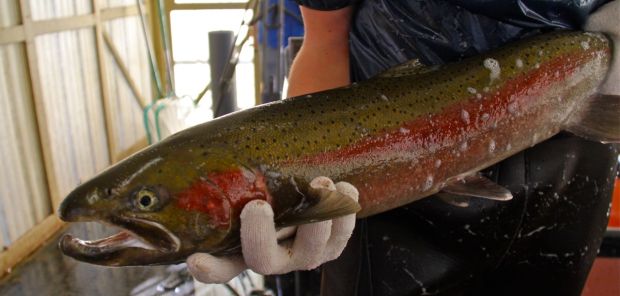 The Walla Walla district of the Army Corps of Engineers unveiled a proposed $40 million package here last night to compensate for fish and wildlife losses caused by the four Lower Snake River dams.
The draft proposal includes construction of four fish hatcheries, acquisition and development of lands for fisherman access, purchase and development of additional wildlife lands and construction of a $1-million game bird farm to raise pheasants.
The annual operating and maintenance costs for the $40 million package were estimated at $2.5 million.
The proposal, developed through the cooperation of seven federal and state fish and wildlife agencies in Washington, Idaho and Oregon, drew strong support from many of the 58 attending the public meeting at the Ponderosa Lewis-Clark Motor Inn.
Some of the criticisms were that the proposal for mitigation of losses came too late, that it hadn't included sportsmen's groups at the planning stage and that it concentrated too much on sport fisheries and game animals and not enough on nongame wildlife.
Col. Richard M. Connell, Walla Walla district engineer for the corps, said since completion of Ice Harbor Dam in 1962, "considerable knowledge" on the damaging effects of the Lower Snake dams on fish and wildlife has been gained.
"In general," he said, the research has shown that although the effects of each individual project on the fishery "may be relatively small ... the total result of them is quite extensive."
But he warned that such concepts as providing compensation for losses of juvenile fish and for acquiring lands beyond the boundaries of corps projects are new and "will be looked at carefully and debated at great lengths by the reviewing offices, and, I suspect, by Congress as well."
More specifically, the draft proposal includes:
A hatchery capable of raising the progeny of 2,290 female fall Chinook salmon. Estimated to cost $2,750,000, it would be below the mouth of the Snake to keep dam-caused mortalities to a minimum. The hatchery would be almost as large as Bonneville Hatchery.

A hatchery for spring and summer Chinook to rear the young of 2,145 females. It would be about two-thirds the size of Bonneville Hatchery and would cost an estimated $11,250,000. The corps proposed to locate it in the Middle Snake or Salmon River drainages.

A steelhead hatchery, slightly larger than Dworshak National Fish Hatchery, to provide facilities for 3,390 females at an estimated construction cost of $15 million. It also probably would be located in the Middle Snake or Salmon River drainages.

A rainbow trout hatchery, estimated to cost $3 million, to produce 93,000 pounds of trout annually. The fish would be used to stock such tributary streams as Asotin Creek and the Grand Ronde, Tucannon, Touchet and Walla Walla rivers as a substitute for lost warm water fishery caused by the dams.

Acquisition of 150 miles of fishermen's access lands along some of the Snake River tributaries, as well as parcels along free-flowing reaches of the Snake known to have high steelhead fishery use to help replace the 140 miles of open river which had been available between Lewiston and the mouth of the river before the dams were built. Development of these lands could include parking areas, trash cans and toilet facilities. Acquisition of land costs were estimated at $2 million and development of them, $750,000.
For wildlife compensation, the corps proposed:
Purchase of 660 acres of streamside land for game bird protection and production, and hunting easements on another 14,260 surrounding acres. Connell emphasized the lands would be purchased and the easements obtained "only from willing-seller landowners. We have no plans to resort to condemnation proceedings for these lands."

Raising 20,000 pheasants per year, either by enlarging a Washington Department of Game farm or building a new game bird farm, until lands acquired by the corps are developed to provide habitat to sustain a pheasant population. Connell said the wildlife agencies have recommended that pheasant stocking, in excess of that required to offset dam-caused losses, be carried out as a substitution for other species of animals which cannot be replaced.

Extend the range of chukars and chukar hunting by securing easements on an additional 15,000 acres adjacent to the 20,000-odd acres of Lower Snake River lands already acquired for the dam projects.
The corps estimated the cost of developing habitat on project lands at $2,571,250, on newly acquired lands at $16,250. It placed new land acquisition cost at $1,447,000.

Donald R. Johnson, Seattle, regional director of the National Marine Fisheries Service, one of the agencies involved in developing the plan, said if the corps recommendations are implemented, the area will be assured "a continuation of the fish and game resources" at pre-dam levels.

But if the recommendations are not heeded, he said, the cumulative effect of the four dams and their power peaking operations can be expected to reduce these resources "to a point where allowable harvest would be minimal."

Gov. Cecil D. Andrus, in a statement prepared for delivery at the meeting, told the corps: "The future of anadromous fish in Idaho waters could very well rest on how well you mitigate for losses already sustained.

"We seek a just mitigation effort -- an effort which recognizes that Idaho has been a willing partner in the struggle to save migratory fish.

"We are adamant in our request that facilities to produce hatchery fish be constructed in Idaho so that the benefits will be realized for all involved, not just for some limited downstream area," the governor said.

Andrus also reiterated his desire to see Asotin Dam de-authorized and his opposition to the construction of Lenore Dam or other reregulating dams.

"In no sense will mitigation for anadromous fish be acceptable" if Idaho sportsmen are denied the use of free-flowing streams, said the governor. He said steelhead and Chinook salmon hatcheries can be designed to provide a maximum amount of stream fishing by building them in Idaho's upper river areas.

Arthur Solomon Jr., Spokane, a national director of Trout Unlimited, charged that "mitigation after the fact is a poor substitute for early consideration of environmental effects" before dams are built.

But he added, "We believe it is...mandatory to the maintenance of the river's integrity that the mitigation report as it exists today be expedited from paper form to actual implementation."

Ray R. Weiss, Walla Walla, president of the Tri-State Steelheaders, complained that sportsmen's groups had not been included in preparation of the draft proposal. He asked that they be consulted before decisions are made on such things as hatchery locations, which parcels of lands are to be acquired and where fish will be planted.

Colonel Connell said he felt sure this will be done.

William Garnet, a representative of the Northern Rockies chapter of the Sierra Club, and George Hudson, retired Washington State University zoology professor who serves on the Washington Environmental Council, both of Pullman, said the report doesn't give enough consideration to nongame animals.

Garnet said he would hope that "sometime soneone will consider those living things...which are not at the end of a gun or the end of a fishing line."

"Most of the nongame wildlife," said Hudson, "is getting pretty short shrift. In the future, there will be more interest in it than in pheasant hunting.

Hudson also scoffed at the idea of raising pheasants, something he said upland game specialists disapprove of. He described game-farm-raised pheasants as "rumpled-rump roosters" which when "dumped out on the road, can hardly get out of the way of cars."

The only way to produce and sustain game, he said firmly, is to provide the habitat for it.

Joanne Springer of Moscow, a Sierra Club representative, said the cost for providing compensation for fish and wildlife losses should be borne not only by power revenues, but also by fees for use of navigation locks and charges for the return of irrigation waters based on the amount of pesticides and other pollutants they carry.

Keith Stonebraker, chairman of the Fish & Game Committee of the Greater Lewiston Chamber of Commerce, said, "Over-all, this is a very fine report." But he said it doesn't place enough emphasis on restoration of native spawning areas or on nongame animals.

Stonebraker also urged the continued research of National Marine Fisheries Service teams at Lower Snake and Columbia river dams.

Ross Lindstrom, Astoria, who represented Columbia River gillnet fishermen and Columbia River fish processors, said they give their "enthusiastic support" to efforts of the corps to rehabilitate the Lower Snake River fisheries.

Colonel Connell got some personal commendations from Stonebraker, and Solomon for his efforts to cooperate with fish and wildlife agencies and with sportsmen.

Related Sites:
Study Looks At Whether Crowded Hatcheries Push Steelhead To Domestication, Smaller Body Size by Staff, Columbia Basin Bulletin 10/30/15


Related Pages:
Study: Changes to Genetics of Hatchery Steelhead Occur in Just One Generation by Staff, Columbia Basin Bulletin 2/26/16

---
Sylvia Harrell
More Hatcheries Promised
Lewiston Tribune, May 25, 1973
---
See what you can learn
learn more on topics covered in the film
see the video
read the script
learn the songs
discussion forum