---
Having initial state money in hand bodes well as Malheur County competes for other funding sources.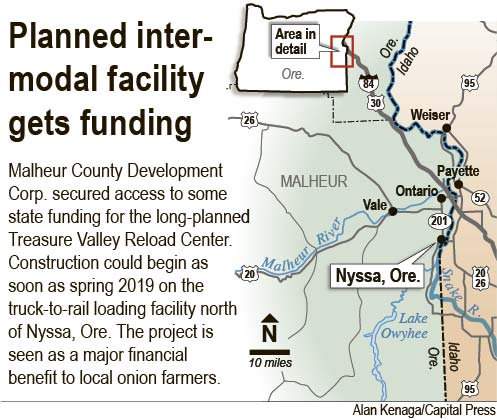 Malheur County Development Corp. recently signed an initial contract with the Oregon Department of Transportation, enabling the county to access up to 5 percent of $26 million earmarked for a long-planned intermodal, truck-to-rail loading facility north of Nyssa.
"That is a start, and it gets us on the map for intermodal movement," Malheur County Economic Development Director Greg Smith said. "No doubt we are going to be making investments for years to come, but this gets us started."
Called the Treasure Valley Reload Center in planning documents filed last December with the Oregon Transportation Commission, it's viewed as benefiting farmers. Many of the area's onion shippers, for example, pay to truck their products more than 200 miles to a Wallula, Wash., reload facility.
"It's heaven-sent," said Paul Skeen, president of the Malheur County Onion Growers Association. "That rail center is going to save our industry, I am hoping."
Having multiple transportation modes available nearby will be a big benefit, he said. Truck availability has been tight partly because of new rules, he said.
"We are going to measure our success by how well this serves our local industry," Smith said. "That rail center is going to save our industry, I am hoping."
State funding is from Oregon Lottery-backed bonds. Malheur County must spend it on project-specific planning, engineering, construction and equipment, for example. The funding was part of the Oregon Legislature's 2017 transportation package.
Smith said having initial state money in hand bodes well as the county competes for other funding sources, like discretionary grants through the U.S. Department of Transportation's Better Utilizing Investments to Leverage Development (BUILD) program.
State Sen. Cliff Bentz, R-Ontario, said getting the initial funding is "very important" because it reflects the Oregon Department of Transportation's finding that the project is meeting detailed requirements. It was one of four projects funded in 2017 using the state's Connect Oregon program requiring projects move through a step-by-step process showing the project is properly managed and is progressing.
The state funding is "a huge vote for Oregon's eastern edge," he said.
Bentz said the reload facility would save significant expense for local onion growers while making eastern Oregon more competitive with onion-growing areas such as eastern Washington and parts of South America. The rail industry also stands to gain local cargo volume.
Smith said another milestone for the Treasure Valley Reload Center will be to submit a final proposal to the Oregon Department of Transportation for approval. That is due Sept. 27. Final engineering planning, construction budgeting and contractor hiring would follow the department's final approval.
Construction could begin as soon as spring 2019, he said.
The facility will be designed to match demand with affordability requirements, yet accommodate expansion as needed later, Smith said.
The three-parcel, 400-acre site on the east side of Highway 201 includes a planned industrial park and room for connecting to a Union Pacific Railroad main line via easements for rail spurs and sidings.
Smith said the reload facility could consist of a tilt-up concrete structure with a truck staging area, and bays and cross docks set to enable incoming product to go directly onto rail cars or stored temporarily.
"We are designing the facility in such a way to where private industry could locate adjacent to our facility and be able to utilize rail service and/or temporary storage from their building into ours," he said.
Planning also is under way for an intermodal shipping facility in the Millersburg-Albany area of Western Oregon.

---
Brad Carlson
Intermodal Shipping Facility Plan Moves Ahead in Nyssa
Capital Press, June 1, 2018
---
See what you can learn
learn more on topics covered in the film
see the video
read the script
learn the songs
discussion forum