---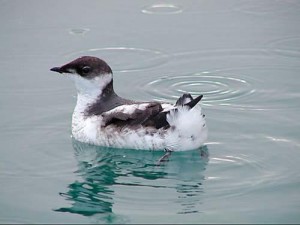 Public utilities planning Western Washington's first large wind farm declared Tuesday that they've shown with solid science that the towers would kill less than one threatened marbled murrelet a year over the long run. The claim was greeted with skepticism by state and federal agencies that must OK the project.
"We're emphatic. The odds of harming one of these birds are minimal, at most," said Mason County PUD power analyst Matt Samuelson, who chairs a committee overseeing the project. "We got the best consultants we could possibly get."
Power-developer Energy Northwest and PUDs in Pacific, Grays Harbor, Mason and Clallam counties propose installing as many as 32 towers on state-owned land near Naselle on Radar Ridge, the former site of a Cold War-era military radar station.
Marbled murrelets, a small West Coast bird protected by the federal Endangered Species Act, fly over the ridge, so Energy Northwest and the PUDs must convince wildlife agencies that the towers' spinning rotors won't bludgeon the species closer to extinction.
The utilities announced Tuesday that a Michigan State University statistician analyzed information collected on Radar Ridge and agreed that the mathematics behind the assertion that over the long-run fewer than one marbled murrelet a year would be hit by a rotor. Professor Raoul LePage's report prompted the utilities to issue a press release headlined, "Wind Project Safe for Marbled Murrelet."
"It ain't our headline," U.S. Fish and Wildlife spokesman Doug Zimmer said. "It's conceivable we may get to that someday, where we can say that, but we're not there."
In a letter to Energy Northwest, LePage stated he looked for "mechanical" errors and that he didn't review "basic science" such as flock size and bird behavior. Murrelets nest inland but travel to the coast to feed.
Samuelson said LePage's report bolstered an already strong scientific case for building the wind farm and should put to rest "misperceptions" created by a Department of Natural Resources' report that found some 87 marbled murrelets a year fly over the ridge and that the likelihood for deaths was high.
DNR spokesman Aaron Toso downplayed the significance of the review.
"The peer review they're touting is a person in Michigan checking the math," he said. "The department is committed to clean, renewable energy on the westside of the mountains. But the challenge is making sure we don't have negative impacts on a species."
To build the wind farm, the utilities must sign a long-term lease with DNR and get a permit from the Fish and Wildlife Service that will allow them to accidentally kill marbled murrelets. Samuelson said the utilities will ask permission to "take" up to two marbled murrelets a year. "That would give us some leeway in a worst-case scenario," he said.
Zimmer and Toso said their agencies are doing their own scientific reviews and are still waiting for Energy Northwest to answer some questions. Zimmer called LePage's report useful, "but it doesn't address the concerns we have."
"We need adequate science, and we don't have it," Zimmer said. "We don't want to have a wind farm that starts hitting home runs with marbled murrelets and has to be shut down or torn down, or drives the marbled murrelet to extinction. Those are the stakes. We have to get it right the first time. We can't just wing it."
A strong advocate for the wind farm, Sen. Brian Hatfield, D-Raymond, called Tuesday's report "good news." "It's what I expected to hear," he said.
Rep. Dean Takko, D-Longview, also supports the wind farm, but said utilities still haven't persuaded the skeptics. "Therein lies the problem," he said. "I don't think (Tuesday's announcement) is going to shake the other side."
---
Don Jenkins
Wind Farm Backers say Report Affirms There's Minimal Threat to Marbled Murrelet
The Daily News, January 5, 2010
---
See what you can learn
learn more on topics covered in the film
see the video
read the script
learn the songs
discussion forum