---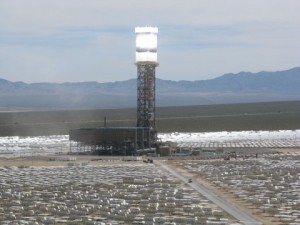 Arizona startup Green Energy Storage wants to transform an abandoned open-pit copper mine 45 miles south of Phoenix into a large-scale solar power and pumped-hydro storage facility.
Although still in the early days of development, the project (PDF), first pitched to federal energy regulators two weeks ago, could become a model for conflict-free Big Solar.
After all, contaminated former industrial sites and other degraded lands represent a relatively untapped opportunity for developers to steer clear of the litigious environmental conflicts and tradeoffs associated with large-scale solar power in ecologically sensitive and pristine areas.
One such area is the Ivanpah Valley, in the Mojave Desert on the California-Nevada Border, where BrightSource Energy recently completed its Ivanpah Solar Electric Generating System -- backed by Google, NRG Energy and the U.S. Department of Energy (DOE) -- amid the heightened concerns of California energy regulators over bird deaths linked to the plant's highly concentrated solar flux.
Just last week, the environmental group Defenders of Wildlife filed a lawsuit (PDF) against the U.S. Department of the Interior for approving First Solar's nearby Stateline and Silver State South projects over "grave risks" to the same threatened desert tortoise population already affected by Ivanpah.
But such controversies may not be necessary for large-scale solar power developers and their corporate and government backers.
A recent report (PDF) by the DOE's National Renewable Energy Laboratory (NREL) in Golden, Colo., found that the agency's "Sunshot" program goal for 2050 "could be met entirely by siting solar energy projects on disturbed and environmentally contaminated lands." That goal calls for facilitating the installation of 632 gigawatts of large-scale photovoltaic (PV) power plants and 83 gigawatts of concentrating solar power (CSP).
In fact, the report conservatively identifies 19.7 million acres of disturbed, degraded and contaminated terrain that are flat enough and contiguous enough to host about 2,000 gigawatts of large-scale solar power, or 2 terawatts.
That's roughly 100 times the installed capacity of the estimated 440,000 solar projects currently operating in the U.S.
One benefit of developing solar projects on disturbed and contaminated lands, according to the NREL report, is that such projects "could stimulate and revitalize local and state economies in areas without many productive land uses."
Other potential benefits include "reduced delays due to litigation and other siting permitting processes as well as reduced requirements for purchasing environmental mitigation land," it added.
From open-pit mines to clean energy centers
Green Energy Storage hopes to tap into this opportunity with its proposed Sacaton Pumped Storage Project.
As detailed in its preliminary permit application filed with the Federal Energy Regulatory Commission (FERC), the project would repurpose American Smelting and Refining's 1,200 foot-deep open-pit Sacaton Mine, near the town of Casa Grande, Ariz., for the lower reservoir of a 150-megawatt closed-loop pumped hydro storage facility.
Groundwater in the lower reservoir would be pumped to an upper reservoir at the site of the former mine's waste-rock dump, where electricity would be generated with conventional hydroelectric turbines before the water is recycled. A 100-megawatt solar PV power plant would be built next to the upper reservoir, also on land once used for waste rock.
The entire hydro storage-solar power complex is proposed on private land previously affected, and largely totally scarred, by mining activities.
Another big advantage of the site, according to the company's chief executive, Charles Gresham, is that it has access to existing transmission lines owned by utility Arizona Public Service, which originally supplied power to the defunct mining facility's rock-crushing operations.
The mine closed in 1984, after the owner unearthed all of the economically accessible mineral reserves. Gresham argues that the project will serve the public interest both by providing stored solar energy during evening peak demand spikes after the sun goes down and by putting an abandoned mine to good use.
"As experience shows, it's pretty difficult to get a license to build on undisturbed land. We are taking a different angle by targeting land that has already been degraded by a mining operation," Gresham told GreenBiz.
"There are pits all over the place that could lend themselves to significant opportunity, even if finding appropriate pits no longer in use can be a bit challenging. But in the long run, any pit of size should be considered for this," he said. "... Solar is going to be huge, and utilities are saying there are limits to how much of the intermittent resource the grid can handle. So that's where pumped-hydro storage comes in."
The company is asking FERC for a waiver from its typical hydroelectric licensing process because the project is not expected to affect any cultural resources or endangered species "and would cause only minor alterations" to land and groundwater. Gresham hopes to receive a permit to begin construction within three years, pending financing and a power supply contract with a utility.
Green Energy Storage would not be the first company to transform a former mining operation into clean energy center.
PacifiCorp. Energy's operating 99-megawatt Glenrock wind farm (PDF) in Wyoming sits on land formerly used for surface coal mining, as does Iberdrola Renewables' 34.5-megawatt Casselman wind farm (PDF) in Pennsylvania. Energy giant Chevron operates a 1-megawatt solar project (PDF) at its Questa Mine Superfund site in New Mexico.
Larger projects also are under development.
Eagle Crest Energy of Santa Monica, Calif., last summer received approval from state environmental permitting agencies to move ahead with a massive 1,300-megawatt pumped storage facility proposed at an abandoned iron-ore mine in eastern Riverside County, Calif.
The project does not include on-site solar or wind, but does aim to assist the integration of increasing volumes of intermittent renewable energy resources in Southern California. FERC has not yet issued a license.
Another company, Moriah Hydro Corp., is seeking to convert an abandoned underground mine complex in New York into a 260-megawatt pumped storage facility known as the Mineville Pumped Hydro Project.
According to the U.S. Environmental Protection Agency, as many as 250,000 abandoned mines are across the country -- many of which may be suitable for clean energy development. To date, the agency's Re-Powering America's Land Initiative has identified 85 operating renewable energy projects on contaminated lands, landfills and mines in the United States, together accounting for more than 500 megawatts of generating capacity.
---
Garrett Hering
From Mines to Megawatts: The Promise of 'Conflict-free Big Solar'
GreenBiz.com, March 11, 2014
---
See what you can learn
learn more on topics covered in the film
see the video
read the script
learn the songs
discussion forum