---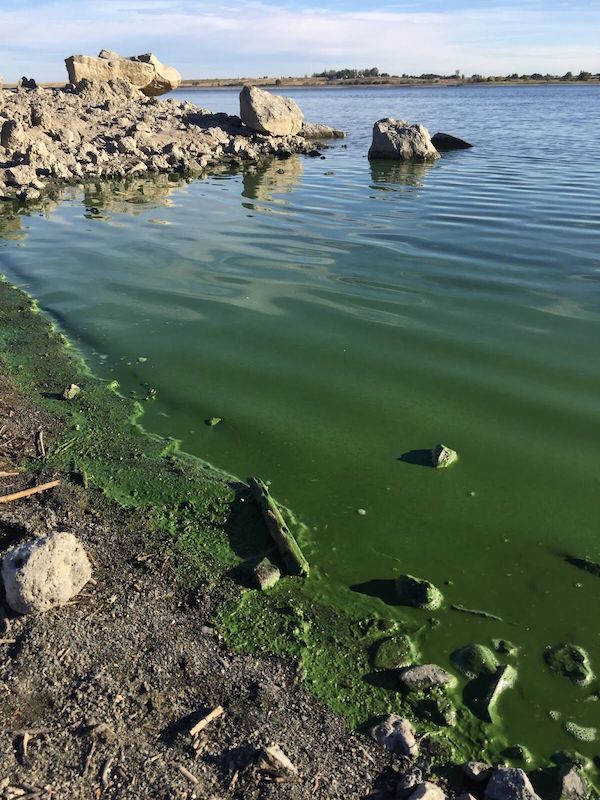 From the air above Lower Granite Dam on the Snake River, a green sheen spreads out over the water.
"There was a pretty extensive algae bloom just above Lower Granite," said Eric Crawford, who saw the bloom during a flight that flew out of Pullman.
That colorful sheen is actually a harmful algal bloom that's covered around 30 miles of river. Whitman County Public Health said it hasn't seen a harmful algal bloom like this on the Snake before.
Blue-green algae are a type of bacteria common in freshwater. In high concentrations, the toxins this bloom is producing can cause liver damage to people and pets. The toxins can also accumulate in fish. That is why the health department said people and pets should stay out of the water and be very careful with fish they eat from the Snake.
Other advice: Don't drink, swim, wade or boat in areas with visible blooms. Wash your clothes and take a shower if you come into contact with the water in those areas. Boiling water doesn't eliminate the toxins, so don't cook or wash dishes with contaminated water. In addition, don't eat shellfish found in areas with toxic blooms.
Maddy Lucas collects water samples for the health department every week.
"It's pretty gross," she said. "In the areas where this scum is thick, it's this neon-green milkshake consistency across the river, and it smells pretty awful."
Lucas said that smell means the matter is decomposing and the bloom is nearing its end.
This summer and early fall have seen more harmful algal blooms than usual, according to health departments testing water samples.
Lucas said the Snake River had a little help. She said the large bloom there probably accumulated behind the dam.
"Usually rivers aren't this bad, but we also have the dams. These blooms like stagnant, warm, with high nutrient load," she said.
Lucas said the health department is planning to step up its monitoring procedures next year. She said she hopes these types of blooms won't become a yearly occurrence.
"We are also prepared to tackle it if it is," she said.
The department will continue to monitor the water until it collects two consecutive non-toxic samples.
Related Pages:
Toxic Algae Warning Issued for Little Goose Dam by Staff, Tri-City Herald, 10/3/12

---
Courtney Flatt
Large Snake River Toxic Algal Bloom Hasn't Happened Before
NW News Network, October 10, 2023
---
See what you can learn
learn more on topics covered in the film
see the video
read the script
learn the songs
discussion forum