---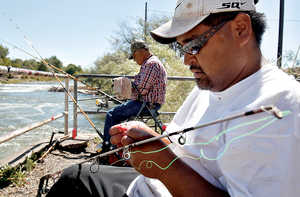 Yakama tribal member Alan Tahsequah spends each spring and summer along the banks of the Yakima and Columbia rivers, catching fish for his family.
"I have five kids, plus I keep some extra for friends," the 35-year-old said while fishing near the Parker Dam on the Yakima River one recent afternoon.
Roughly 20 miles upriver in the Yakima Canyon is where sportsman Jack Schuler fishes for dinner. The 74-year-old said he catches enough so he and his wife can eat fish three times a week.
"We eat everything I catch," he said as he walked from the river's bank one recent evening. "It keeps the cholesterol down."
Thanks to a long coastline and numerous rivers and streams, the state has an abundant supply of fish. Nearly 30 Native American tribes rely heavily on fish for food. There's also a large sport-fishing community and state officials say more people are eating fish in Washington state than almost anywhere else in the country.
But the state's official estimate of fish consumption -- which is used to help determine water-quality standards -- doesn't reflect this reality. In fact, the rate set by the state Department of Ecology is the lowest in the nation.
For decades, Columbia River tribes -- the Yakama, Nez Perce, Umatilla and Warm Springs -- have complained that consumption rates are not protecting their people who are large consumers of fish.
A low consumption estimate means people could be ingesting more contaminates than are considered healthy.
The state of Oregon recently pushed its fish consumption rate to the highest in the nation at just under 6.2 ounces a day, or about 12 pounds a month. That's fish for dinner about three times a week.
Following Oregon's lead, the Ecology Department is now seeking to dramatically increase its estimate of fish consumption in Washington.
Currently, the state has two consumption rates. One governs water quality, the other is used to regulate the cleanup of toxic sediment.
The water quality consumption rate is 0.229 ounces a day, while toxic sediment cleanup is 1.9 ounces a day. That means if you're eating more than 0.23 ounces of fish a day, you risk becoming ill from contaminants.
How the state arrived at two separate rates is confusing at best, but everyone agrees they are out of date.
"We feel like it's high time to fix these numbers," said Ecology spokeswoman Sandy Howard. "We don't think the current rate is protective enough."
Ecology officials want to establish a single consumption rate, and given the number of tribes in the state, a figure higher than Oregon's could be realistic, she said.
Several workshops to inform the public about the proposed change have been held across the state, and a proposal from Ecology's toxic cleanup specialists is expected next month. After that, public hearings on the matter will be held across the state, including in Yakima, to gather input for a final figure.
The hope is to have a new rate by the end of the year, said Ecology spokesman Seth Preston.
"We're still in thinking and listening mode in trying to put a proposal together," he said. "It's starting to firm up."
Cleaner water, healthier fish
A higher fish consumption rate would lead to stiffer water quality standards and eventually fewer fish advisories, said state Department of Health toxicologist Dave McBride in Olympia.
For decades, his office has issued advisories warning the public not to eat too much of certain fish, and to refrain from eating others because of contaminated waters.
Chemicals from pesticides such as DDT have long been a concern in the Yakima River, and mercury among other contaminants in the Columbia River.
Regional information, including data from Washington, was used to determine Oregon's rate change, said McBride, who sat on the panel that oversaw the change.
Sportsman Schuler said he keeps track of fish advisories.
"I keep an eye on it -- you've got to get on the Internet to get it, though," he said.
He said he barbecues his salmon flesh-side down first, and peels off a brown layer along with the skin before eating it.
"That brown layer, that's where I'm told the contamination is," the former Yakima River fishing guide said.
He said the river's water is clear above the canyon, but a creek that runs through Ellensburg dumps a brown plume of water.
"It's all the irrigation water and it winds up in that creek," he said.
But cleaner water will come at the expense of industry, and Ecology has received letters from lawmakers and the Association of Washington Business questioning the effort to recalculate the consumption rate.
"It has big implications," McBride said. "There's a lot of money involved, obviously. But there's human health issues involved here as well as environmental issues."
Industry is willing to make changes to improve water quality, but doesn't want to get hit with unrealistic standards, said Courtney Barnes, the director of environmental policy for the Association of Washington Business in Olympia.
"I think the fear is having environmental standards that are not achievable," she said.
Disparity in consumption rates
Washington's consumption rates ignore the state's largest fish-eating population: Native Americans.
The state's water quality rate -- 0.23 ounces a day -- was established by the federal Environmental Protection Agency from a national survey conducted sometime in the 1970s. And the cleanup rate of 1.9 ounces was derived from a survey of recreational anglers in Commencement Bay more than two decades ago.
When the EPA in 2000 began recommending a rate of 0.62 ounces a day, the state's rate stayed at 0.23 ounces.
The state could have increased its rate, but didn't, said Ecology's surface water quality standards specialist Cheryl Niemi.
"We have had plenty of other things to deal with," she said. "Now, the time seems right to look at fish consumption."
Yakama Nation Environmental Restoration manager Russell Jim said it isn't as if the state all of a sudden realized that a change is in order. He points to a 2002 consumption survey conducted by the Columbia River Inter-Tribal Fish Commission, which oversees fisheries on the Columbia River. The survey showed that tribal members eat anywhere from 2 to 13.7 ounces of fish daily.
"It's unfortunate that that's the way the system works," he said. "They become aware of something and then it takes them years to admit that something is wrong."
Emily Washines, a spokeswoman for the Yakama Nation's fisheries department, said her tribe is hoping for a rate at least as high as Oregon's. And even then, not everyone in her tribe will be protected, she said.
"That kind of rate would leave out at least 1,000 members or more, she said. "Oregon's rate does not protect everyone. Unfortunately, that's the way things work -- they look at percentages."
The American Heart Association recommends that people eat about 6 ounces of fish a week.
"It's not just about protecting a small group of people in Washington," said Inter-Tribal Fish Commission spokeswoman Sara Thompson in Portland. "It's about protecting the Northwest, which is heavily reliant on fishing."
Related Pages:
Toxic Contaminants and Their Effects on Salmonids by Jennifer Morace, Lyndal Johnson & Elena Nilsen, Science Policy Exchange, 9/11/9
---
Phil Ferolito
Lots of Fish, Lots of Toxins; Officials Looking to Change That
Yakima Herald, June 18, 2012
---
See what you can learn
learn more on topics covered in the film
see the video
read the script
learn the songs
discussion forum