---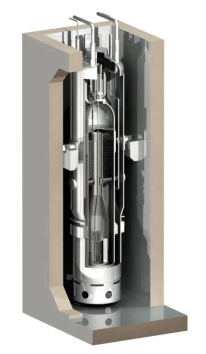 The Tri-City Development Council is seeking bids to study the possible benefits of building a small modular nuclear reactor system at the Hanford nuclear reservation.
Sen. Sharon Brown, R-Kennewick, made a successful budget request during the past state legislative session for $500,000 to study the manufacturing and advancement of small modular reactors in the Tri-Cities.
That money, which comes from state capital budget funds for economic development and job creation, will be used to pay for the TRIDEC study and then a proposal to the Department of Energy, if the study results confirm advantages of building at Hanford.
"This is an opportunity I do not want to see pass us by," Brown said on Monday.
The Department of Energy already has announced $452 million in matching funds for two proposals to design and license modular nuclear reactors. They are being developed by Babcock & Wilcox in cooperation with the Tennessee Valley Authority and by NuScale Power in Oregon with tentative plans for an Idaho plant that would be operated by Energy Northwest of Richland.
But the DOE grants do not yet include site selection or construction, giving TRIDEC time to convince DOE that Hanford is the best place for an operating small modular reactor.
A new small modular reactor, costing between $500 million and $1 billion, would create 200 to 300 construction jobs and then 100 permanent jobs to operate the plant, potentially replacing some jobs that likely would be lost at Hanford, according to TRIDEC.
DOE plans to have the first small reactors operating in about a decade, about the time most Hanford cleanup other than radioactive tank waste retrieval and treatment is planned to be completed and employment is ramping down.
But the final goal of both Brown and TRIDEC is to position the Tri-Cities for a role in manufacturing or at least assembling commercial small nuclear reactors, including for export. The Tri-Cities has access to ocean-going vessels to ship the reactors to China, Korea, Japan and developing countries.
The planned TRIDEC study would identify and evaluate the possible benefits and any significant advantages of placing a modular reactor at Hanford.
Energy Northwest already has done a "soft analysis" that shows existing infrastructure at its never-completed WNP-1 reactor on Hanford land could save $50 million.
The site already has been issued a Nuclear Regulatory Commission permit, which might streamline the process for licensing a small modular reactor there. There also could be additional cost savings by locating close to Energy Northwest's full-scale commercial nuclear power plant, the Columbia Generating Station, including in emergency preparedness, nuclear security, operator training and used nuclear fuel storage.
The study also will look at whether the site of a second never-completed Energy Northwest reactor, WNP-4, or the former DOE Fast Flux Test Facility research reactor site could be equal to or better than the WNP-1 site. Both Energy Northwest reactor sites have infrastructure, but WNP-1 also has some buildings.
Other cost savings could be available at Hanford because of the Tri-City community's assets, including higher education nuclear training programs, a trained nuclear workforce and companies and agencies already providing support for other nuclear projects.
Other DOE sites are being considered for a small modular reactor, including in Tennessee and South Carolina, but TRIDEC suspects that Hanford is the only DOE site where DOE will need additional power in the 2020s.
A power purchase agreement might be possible for the vitrification plant, scheduled to treat radioactive waste in 2022, or for other Hanford plants or Pacific Northwest National Laboratory.
About 10 companies already have expressed interest in conducting the study, according to TRIDEC. Now it is asking for proposals due on Jan. 17.
Although TRIDEC is looking for a national company, it expects there to be opportunities for partnerships with Tri-City area companies, said Gary Petersen, TRIDEC vice president of Hanford programs.
Brown became interested in finding state money for the study as she listened to testimony in the state Senate Energy Committee about small modular reactor technologies, she said.
The reactors are proposed to be built in factories and transported to sites where they would be ready to "plug and play" upon arrival, reducing capital costs and construction time. Models that would produce 45 to 200 megawatts have been proposed by industry, which would make them useable for small electric grids and locations that cannot support large reactors, offering utilities the flexibility to add more modules to scale up production if demand increases.
"I realized it is a bipartisan issue," she said. "We all agree on the identification and manufacturing of safe, consistent and reliable energy."
In August Washington Gov. Jay Inslee wrote to Energy Secretary Ernest Moniz, asking DOE to consider placing a small modular reactor at Hanford to help with the growing power requirements for environmental cleanup there, including operation of the massive vitrification plant being built to turn radioactive waste into a stable glass form for disposal.
In addition, most members of Washington's Congressional delegation have provided letters of support for a small modular reactor to be located at Hanford.
---
Annette Cary
Study to Look at Tri-City-area Small Nuclear Reactor
The Bellingham Herald, December 30, 2013
---
See what you can learn
learn more on topics covered in the film
see the video
read the script
learn the songs
discussion forum