---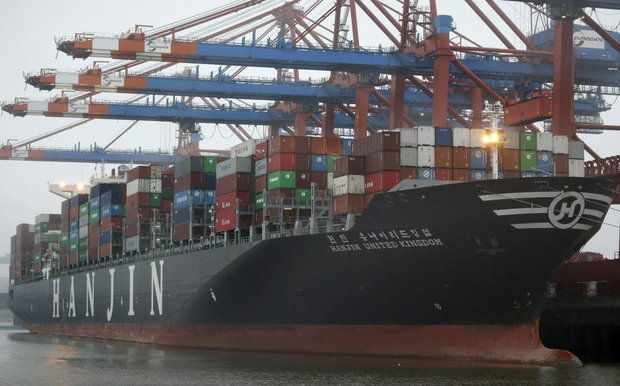 Even if or when the West Coast ports dispute ever gets resolved, it will have the feeling of yesterday's news tomorrow. Irreparable damage already has been done, to those depending on the global waterborne supply chain to ship or receive cargo, and to the ports' reputation for reliability and efficiency.
Some business has been lost permanently to other sources, other routes, other modes of transport; how much is lost will depend on the affordability, reliability and convenience of those alternatives.
More significantly, the resolution in whatever form it takes -- negotiated or imposed -- will do little to address two major trends facing the ports (a term we're using here to include terminal operators) and their workers. The dispute's length and depth of unpleasantness may actually accelerate one of those trends.
The trends: Bigger ships on the water, fewer people needed at the ports to handle them.
The trend to ever-bigger ships isn't exactly unknown. It's one of the reasons the ports of Tacoma and Seattle are considering renovation of facilities (Husky Terminal in Tacoma, Terminal 5 in Seattle) to accommodate larger ships.
What's startling is just how big those ships are getting, and how quickly.
The two Puget Sound ports routinely handle ships carrying 10,000 TEUs (20-foot equivalent units, the measuring standard for containers). The Port of Tacoma says it has run a simulation for a 13,000 TEU vessel, which one shipping company is interested in sending, on the Blair Waterway and believes it can handle that size boat in most weather conditions.
The Panama Canal can take ships with capacities of about 5,000 TEUs. Once the lock expansion program is done, that will go to 13,000 TEUs.
It could be obsolete, at least in terms of handling the biggest ocean-going container ships, before it opens.
Noel Hacegaba, now managing director of commercial operations for the Port of Long Beach, noted in an article published in October that one maritime consultancy estimated that "42 percent of current ship orders are for vessels exceeding 12,000 TEUs." Maersk has been putting into service what it calls Triple E ships, with a capacity of more than 18,000 TEUs, designed for the Europe-Asia trade.
But the race doesn't end there. Shipping lines have placed orders for ships of 22,000 and 24,000 TEUs, Hasegaba wrote.
That poses some huge challenges to ports and operators. Not every port is going to have the money to invest in the facilities to accommodate these mega, jumbo, super post-Panamax (what terms come after those?) ships. But even the ones that don't will still be compelled to upgrade and expand; Hasegaba writes of a cascading effect in which the biggest vessels on the high-volume routes push "smaller" but still serviceable ships onto other routes. Can't handle those? Maybe your port's future is not in the container business.
The physical and logistical challenges of handling the megaships go beyond having megapiers, megacranes and megacontainer yards. Just the thought of how you load containers for unloading at the right places without a lot of extraneous shuffling and movement ("no, no, I want that red one. Under the blue one. The other blue one") and maintaining the ship's trim can be headache inducing.
Fortunately for efficiency of operations, automation technology is the aspirin for those headaches. Ports are moving to automated cranes, container carriers and docking systems. Rummage around on YouTube for a few minutes and you can find vivid illustrations of what the ports of tomorrow increasingly look like today, including a yard of driverless automated guided vehicles, weaving around one another with onboard navigation systems taking direction from transponders in the pavement.
What you don't see in those videos is a lot of people. Containerization did a lot to take people off the waterfront; automation will take that further. There have been more than a few mutterings during the continuing dispute that the slowdown and snarls will drive more ports to automation, since those automated cranes and container carriers don't engage in collective bargaining.
That won't eliminate jobs, but the jobs that remain will be different. People will be needed to fix, program and control the automated equipment. Will those be ILWU jobs? What happens to the ports, and jobs at them, if they don't make the expensive commitment to such equipment and systems? Do they fall off the shipping lines' list of port calls?
These aren't idle questions or conjecture. The dispute is already having some effect, with Hanjin dropping the Port of Portland from its routes to Asia, instead trucking containers to and from Seattle; Hanjin represents up to 80 percent of the Port of Portland's container volume.
When the members of the Pacific Maritime Association and the ILWU get done whacking each other over the head on the current list of issues, they can get to work clobbering one another on these longer-term trends. But those trends aren't so long-term these days, and the longer the current dispute goes on the more likely it is those trends will be locked into place and decisions will be made. And a lot of people involved, including those with a lot at stake but no direct say in the dispute, may not like what those decisions turn out to be.
---
Bill Virgin is editor and publisher of Washington Manufacturing Alert and Pacific Northwest Rail News.
Long-term Issues Will Remain After Port Dispute
The News Tribune, February 15, 2015
---
See what you can learn
learn more on topics covered in the film
see the video
read the script
learn the songs
discussion forum