---
A single sockeye made it 900 miles to an Idaho lake to spawn, then science stepped in
Lonesome Larry may be gone, but his genes are not forgotten.
In 1992, Larry was the lone sockeye to successfully battle his way up more than 900 miles of river, navigating fish ladders at eight hydroelectric dams -- only to arrive at Idaho's Redfish Lake to be confronted by eternal bachelorhood.
Fortunately, scientists were ready and waiting to capture Larry and freeze his sperm. The famous fish became part of program to breed in captivity the Northwest's most endangered salmon stock and save it from extinction.
The effort has paid off. Next week, up to 90 full-grown Redfish Lake sockeye raised in captivity will be released for spawning. More than 100,000 eggs and young sockeye from the run are released annually into the river system.
"This has been an amazingly important boost to the population's chance for recovery," said Tom Flagg, salmon enhancement program director at the National Marine Fisheries Service research station near Port Orchard. "If we had not engaged in this effort, this stock would be extinct."
But despite the successes of the breeding program, the stock is not self-sustaining and the dams -- blamed by some as the primary cause of the sockeyes' decline and the greatest hurdle to their full recovery -- still stand.
The population dropped off "when the dams went in," said Doug Taki, project leader for the Shoshone-Bannock tribes' sockeye program.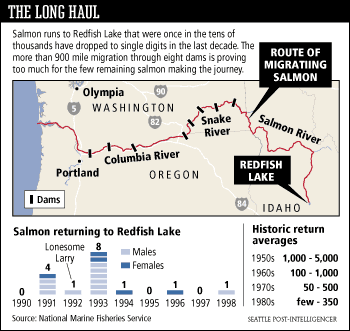 Only 16 sockeye returned to Redfish Lake from 1990 through 1998. In 1990 and early 1991, there was speculation that the stock, which makes the longest migration of any sockeye run, was already extinct. But in the summer of '91, one female and three males returned and the breeding program began.
Captive breeding had been performed with mixed success in the United States in the 1970s and 1980s. By 1990, "it was almost a no-brainer that if any fish returned the next year, capture was the only way to avoid extinction," Flagg said.
The fish were listed as endangered in 1991. The National Marine Fisheries Service and Idaho Fish and Game have worked since then to save the stock. Their goal is to produce 600,000 eggs a year. Last year they produced about half that number, keeping 800 eggs at the hatchery to maintain the stock. The rest are raised for release.
Since the program began, the researchers have produced about 1.5 million eggs. Logistics aside, if the remaining 16 sockeye had been left in the wild, they could have produced 200 to 300 eggs, with a survival rate of fewer than 1 in a 1,000.
Now, in a 12,000-gallon tank at the NMFS Manchester Research Station near Port Orchard, more than a dozen Redfish Lake sockeye swim round and round. The fish will spend another year safely maturing in their pool, inside a giant warehouselike building shared with other struggling stocks.
When they are 4-year-old adults, they will be released into Redfish Lake northeast of Boise. Sometimes called "the Idaho Alps," the mountainous area is forested by lodgepole and white pine. Redfish Lake belongs to a system of five lakes, described by Paul Kline, principal fisheries research biologist with Idaho Fish and Game, as "glacial-formed cups surrounded by granite peaks."
When mature, the fish turn from a monochrome gray to the red that inspired the naming of their ancestral lake. A humped back and hooked nose form on the males. The changes are less pronounced in the hatchery fish. Wild sockeye become a more vibrant red and their heads turn an olive green when mature.
Scientists have been releasing hatchery-produced Redfish Lake sockeye since 1993. Over the years they've experimented with the best age at which to release fish. They've tried putting eggs in lake incubators, growing fish in net pens, releasing smolts in lake outlets and placing hatchery-raised adults into the lake to spawn.
"We don't put all our eggs in one basket," Kline joked. "We're still practicing a 'spread the risk' philosophy."
Adult fish migrate from the ocean to the lake between July and early September. The hatchery fish didn't start returning until 1999. The next year was a boon with 257 returnees. This year looks less promising, with only 26 fish returning so far. Flagg explained that the stock was still small and they were not able to release many fish.
The program's greatest accomplishment was the careful protection of genetic diversity in the stock, Kline said. Geneticists have painstakingly analyzed the stocks and are taking care to breed fish with rare genes to maximize diversity.
"It's not natural selection but it does allow for a maximum amount of genetic variability in each year," Kline said.
scientists are building up a diverse, healthy stock ready to repopulate the wild. But some have questioned if enough is being done to improve the environment and boost survival of fish leaving and returning to the lake.
"In Redfish Lake, what we have is a life-support system," said Rob Masonis, Northwest conservation director for American Rivers. He said that there's nothing in place that will lead to real recovery and removal from the endangered species list.
Masonis and the Shoshone-Bannock tribes agree removal of the four lower Snake River dams are necessary for recovery of the stock. "Sockeye have a really hard time with dams," Masonis said.
Strategies are being considered and are under way that will hopefully boost salmon survival in the river. They include modifications of hydroelectric dam operations, meant to improve water temperatures and flows and help fish swim around the dams on the Columbia and Snake rivers.
Taki said it wasn't enough.
"It's a huge waste of money what they're doing right now. (The sockeye) still have to go through a totally unnatural system," he said. "They are not as hearty as a lot of species so they get hurt a lot more."
Until environmental conditions and survival rates improve, Flagg and Kline will keep watch over the Redfish Lake sockeye.
"We're doing what we can to preserve our future options," Kline said.
---
Lisa Stiffler
Lonesome Larry's Legacy Helped Save Endangered Species
Seattle Post-Intelligencer, September 7, 2001
---
See what you can learn
learn more on topics covered in the film
see the video
read the script
learn the songs
discussion forum