---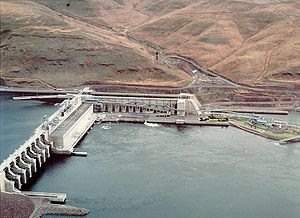 Repairs on the Little Goose Lock and Dam navigation lock are delaying grain traffic until May 1. The extended closure is creating a logistical logjam, says Arvid Lyons, general manager of Lewis-Clark Terminal in Lewiston, Idaho.
An extended closure of the Little Goose dam navigation lock on the Snake River has created a logjam for grain traffic.
The lock, near Starbuck, Wash., will remain closed to all river traffic while workers replace key gate components, according to a U.S. Army Corps of Engineers press release.
In June 2013, engineers first detected small cracks that appeared to be forming on a gudgeon -- the metal arm at the top of the south gate leaf that hinges and holds the gate leaf to the lock wall. They determined the gate could continue to be used with increased monitoring. In the meantime, additional ultrasonic testing and load-testing showed the cracks were spreading.
"We are doing everything we can to minimize this emergency outage period," repair team project manager Steve Hartman stated in a press release.
The lock had been closed for annual maintenance and was slated to reopen March 22. Corps planners now estimate it will be returned to service by May 1.
The outage has backed up river traffic, including grain barges headed for export facilities downstream.
Arvid Lyons, general manager of Lewis-Clark Terminal, Inc. in Lewiston, Idaho, said his company handles eight grain varieties. As of March 24, storage for six of the eight was filled, he said.
Lyons doesn't have the ability to load grain into rail cars for shipping and export elevator operators don't want the added expense of trucking, he said.
"When physically you don't have any more space and you can't ship it out, you either hold it in the country elevator or in the farm storage bins," Lyons said.
Other companies in the area are in the same situation, Lyons said. He estimated there will be more than 50 barge loads of grain at his facility when the river reopens.
The company has a combined storage capacity of 6.2 million bushels at the Port of Lewiston, according to the port.
Lyons doesn't foresee many customers going elsewhere, considering the distance they'd have to truck their grain.
"It's better if they just wait for 30 days," he said.
The grain will maintain its quality in storage, Lyons said.
"It's just the logistic logjam that's created when you can't move through the system," he said. "The whole system comes to a screeching stop."
Lyons stressed the need to ask Congress to step up federal funding for transportation infrastructure repairs.
"This is a consequence of repairs that have been put off that needed to be done," he said. "Unfortunately, they just came at the wrong time. There's never a good time -- it would have been worse if it had happened at harvest."
---
Matthew Weaver
Extended Little Goose Lock Closure Creates Logjam for Grain Shipments
Capital Press, March 27, 2014
---
See what you can learn
learn more on topics covered in the film
see the video
read the script
learn the songs
discussion forum