---
Advanced American Construction of Portland set to Install 150-ton Spillway Weir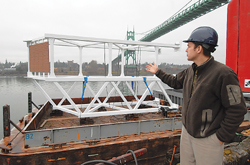 Advanced American Construction of Portland will this week install a nearly 150-ton spillway weir at the Little Goose Dam on the Snake River. The structure, which arrived in sections on Sunday, is intended to aid Columbia River Basin fish recovery efforts.
When fitted into one of the dam's existing spillway bays, the weir should improve the passage conditions for migrating salmon and steelhead in the Snake River. The spillway caps the eighth and final dam along the lower Snake River.
Advanced American Construction was awarded the $2.05 million contract in September.
Additionally, a $3.2 million contract was awarded to Advanced American Construction to install spillway deflectors in bays one and eight at the dam. The deflectors are intended to help reduce what's known as dissolved gasses - increased levels of nitrogen generated by splashing water - by easing the fish into the river.
Tacoma-based Jesse Engineering helped with the project. The project partners stress that the two contracts represent a $5.25 million economic benefit to the Northwest economy.
This is especially important for the state of Washington, which has announced that its biennium budget for 2009-2011 is facing a multibillion-dollar shortfall, said Schuyler Hoss, Southwest Washington's regional representative for the governor's office.
"It's important we maintain fabrication jobs," he said. "It's strategic for the region to preserve these types of jobs because it means we can do certain things other states cannot."
Jack Sands, a project manager for the U.S. Army Corps of Engineers Walla Walla, Wash., District, said the Little Goose spillway weir was also far cheaper to build than similar projects of the past.
Other surface bypass structures - such as the large, five-story structures on the Snake River at Lower Granite, Lower Monumental and Ice Harbor - are each one piece. New spillway weirs, though, are shipped in sections and assembled during installation.
If they were built in the same way today, those older spillways could cost upwards of $20 million apiece.
Because the weir was smaller, cheaper and more flexible, it was built quickly, the project team said.
"This was a really fast-paced transition," said Sam Barchus, project manager for Advanced American Construction.
Federal agencies will sporadically test the spillway to see if it's working properly. Biological evaluations are planned to take place over the next two years.
The hope is for the project to protect the region's fish supply. But Hoss said he hopes the project will also spur more like it in the future.
"We need to capitalize on this for the long term," Hoss said. "We don't want to lose these (types) of jobs."
(bluefish notes: Juvenile survival by spillway passage at Little Goose is already estimated at 100% survival. Other spillway weirs have been installed on the Lower Snake River dams but adult return data has yet to reveal any survival benefits. Surprisingly, no experiments were ever designed.)
(bluefish notes: Juvenile survival by spillway passage at Little Goose is already estimated at 100% survival. Other spillway weirs have been installed on the Lower Snake River dams but adult return data has yet to reveal any survival benefits. Surprisingly, no experiments were ever designed.)
---
Hi Scott,

From your email I couldn't tell if you had gotten our memo to you responding to your questions that we sent last September. If not, the link is below -

www.fpc.org/documents/memos/146-08.pdf

In the memo we noted that none of the studies we reviewed included an adult survival component Ð "While juvenile survival may have improved at this project, it is unknown if this specific operation has had an effect on survival to adulthood since no specific studies have been conducted." So you are correct that there is no adult return evidence.

I also have attached the final report from the 2007 studies that were conducted at Little Goose Dam in case you didn't already have it.

Let me know if this helps -

Margaret J. Filardo, Ph.D.
Fish Passage Center
1827 NE 44th Ave Suite 240
Portland, OR 97213

---
Tyler Graf
Fish Get Assist at Little Goose Dam on Snake River
Daily Journal of Commerce, February 17, 2009
---
See what you can learn
learn more on topics covered in the film
see the video
read the script
learn the songs
discussion forum