the film
forum
library
tutorial
contact

3 Salmon-munching Sea Lions Trapped at Bonneville Dam:
2 Will Go to New York Zoo; 1 Will be Euthanized

by Quinton Smith
The Oregonian, May 1, 2013
---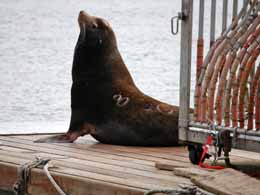 BONNEVILLE - Three California sea lions trapped below Bonneville Dam Tuesday are being checked to see if two are healthy enough for transfer to the Queens Zoo in New York City.
The third will be euthanized, under state and federal protocols intended to reduce predation on endangered spring chinook salmon migrating over the dam.
The three sea lions were among nine trapped below the dam Tuesday by biologists from Oregon and Washington. Six did not meet criteria for removal, so were branded and released.
Blood work on the three sea lions is expected to be completed Thursday, said the Oregon Department of Fish and Wildlife. If sent to the zoo or euthanized, it would bring to four the number of California sea lions removed from below the dam this spring. Between 2008 and 2012 the states euthanized 43 and sent 11 to zoos or aquariums.
The states won federal permission under the Marine Mammal Protection Act that allows removal of California sea lions if they jeopardize salmon stocks at risk of extinction. The Humane Society of the United States is appealing the permission in federal court.
The number of California sea lions below the dam this spring is the lowest since the Corps of Engineers started regular observations 11 years ago. As of last week, observers counted 31 different sea lions and no more than 12 in one day. They have observed only 109 spring chinook eaten by California sea lions - one third the number taken by Steller sea lions.
The number of spring chinook salmon counted at Bonneville so far this year is dramatically low - just one-third of the 10-year average.
Related Pages:
Humane Society Files Opening Brief in Appeals Court Disputing Legality of Lethal Sea Lion Removal, Columbia Basin Bulletin, 4/26/13
Washington Extends Barbed Hooks Ban Another 250 Miles Up the Columbia River, Tributaries, Columbia Basin Bulletin, 4/26/13
---
Quinton Smith
3 Salmon-munching Sea Lions Trapped at Bonneville Dam: 2 Will Go to New York Zoo; 1 Will be Euthanized
The Oregonian, May 1, 2013
---
See what you can learn
learn more on topics covered in the film
see the video
read the script
learn the songs
discussion forum