---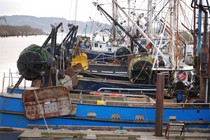 The sea lion death toll continues to rise at the Bonneville Dam. Since April 3, nine have been killed and one was taken into captivity. A May 3 letter from Oregon state officials to the National Marine Fisheries Service (NMFS) documents the lethal injection of California sea lions C05 and C13 on Monday, April 30. The pinnipeds are being targeted for eating endangered salmon, but activists charge that they aren't the real culprits.
For the past several weeks, volunteers from the Sea Lion Defense Brigade (SLDB) and Sea Shepherd Conservation Society (SSCS) have been monitoring sea lion "removal" activities on the Columbia River. On Tuesday, SLDB shared an image of the gill netters that line the Port of Astoria. Per the facebook post:
These boats take in ONE day-- more fish-- than than ALL the sea lions eat ALL season-- and the state allows this rape and pillage by industry-- gave them an extra day last year to pillage. If Oregon really wants to save Salmon-- they will pull the industrial gill nets from the river- they allow Fishermen to gill net ENDANGERED species and then the state kills sea lions--who eat less than 2% of the run. Killing Sea Lions will not save the salmon.
According to a March 15 document released by NMFS, from 1995 to 2012, 130 California sea lions have been branded and targeted for removal from the Columbia River. Since 2008, 35 of these have been lethally injected, 2 died while in state custody and 11 were taken into captivity by SeaWorld, the Gladys Porter Zoo and Shedd Aquarium.

Animal rights activists are outraged by the killings. While the Humane Society of the United States is challenging the authorization in court, the social media campaign Save Misty the Dolphin has reached out to kids to help save the beleaguered pinnipeds. A class of 3rd graders at a San Francisco elementary school answered the call with drawings and letters by the hundreds and their very own facebook page. Among the images posted on the page is young Graham along with his message to the Governors of Oregon and Washington:
Dear Governor Gregoire & Kitzhabar, I am very upset to learn that sea lions are being killed at Bonneville Dam. I don't believe that it will increase the the population of salmon. Please stop killing the sea lions. Your Student Friend, Graham.
---
Sandy McElhaney
Sea Lion Body Count Climbs at Bonneville Dam
The Examiner, May 4, 2012
---
See what you can learn
learn more on topics covered in the film
see the video
read the script
learn the songs
discussion forum