---
District has gained a tenant, but annual audit shows it had an operating loss of $500,000 for fiscal 2016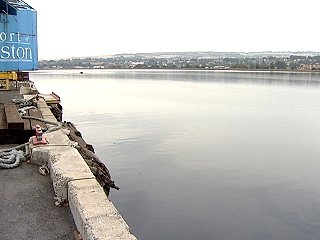 The Port of Lewiston is gaining a tenant, but has lost money on its container dock and rented properties for the fourth consecutive fiscal year, according to an audit made public Wednesday.
Broemeling Steel & Machine plans to relocate its employees - about a dozen - from a rented building at 2304 Fifth Ave. N. in Lewiston to a site at the Port of Lewiston's Harry Wall Industrial Park just south of the intersection of State Route 128 (also known as Down River Road) and the Old Spiral Highway.
The company will lease 2.19 acres for $912.50 per month for 50 years, with the option to buy the land at an unspecified time before the end of the agreement, which was approved Wednesday by Lewiston port commissioners.
Broemeling will break ground on about 15,000 square feet of manufacturing and office space as soon as weather permits and be finished as early as May, said Paul Robinett, co-owner of the company.
The expansion comes as the company is seeking four new employees to join a staff that manufactures structural steel as well as parts and equipment for manufacturing, Robinett said. "It's mainly for efficiency to help us grow."
Just minutes after commissioners welcomed Broemeling, they reviewed the annual audit, which showed an operating loss of $501,234 for the fiscal year that ended June 30. Previous audits showed losses of $92,435 in fiscal year 2013, $445,497 in fiscal year 2014 and $401,917 in fiscal year 2015.
In the most recent fiscal year, revenue from the port's container dock fell from $310,819 to $185,126, following the suspension of service by ocean-going container vessels at the Port of Portland, the transfer point for most cargo that originates in Lewiston.
The port has been doing what it can to fill the gap. Some containers were moved using a combination of barge and rail to Puget Sound ports. One Spokane-area company constructed modular buildings at the Port of Lewiston for military submarine decommissioning at a naval base in Bremerton, Wash. They were delivered to their destination by water using the Snake and Columbia rivers and the Pacific Ocean. Also, dock-side buildings are being leased to businesses for storage.
Rent income fell by $34,881 to $481,898, largely because of the departure of EKO Compost. Revenue from Terminal II, a large warehouse, remained steady at $306,000.
As revenue fell, the port's expenses for its dock, rentals and warehouse dropped by $59,532 to $1.53 million, as the port spent less on its container dock operations.
Port officials anticipate that expenses will be even less because it appears the port will receive a $70,000 refund from the $150,000 it paid toward improvements of 18th Street North, said Port Manager David Doeringsfeld.
The actual money the port spent in its most recent fiscal year is less than the expenses reflect because, as in other years, one of the largest items is depreciation, Doeringsfeld said. Depreciation totaled $406,469, compared with $413,806 in fiscal year 2015.
Depreciation is a way of quantifying how assets - such as the port's container dock and equipment - last a certain length of time before they need to be replaced. The figure is calculated by taking the purchase price of all of the port's assets and making estimates of how long they will last, then subtracting a portion of the value annually for the lives of the assets. If a vehicle is estimated to have a life of seven years, for example, one-seventh of its price will be included in the port's depreciation expense annually until seven years have passed.

---
Elaine Williams
Lewiston Port Gets Mixed News
Lewiston Tribune, January 12, 2017
---
See what you can learn
learn more on topics covered in the film
see the video
read the script
learn the songs
discussion forum