---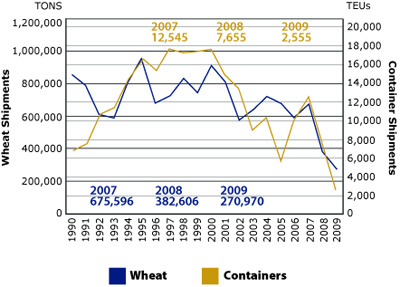 LEWISTON - The loading docks have been silent for the last two weeks, but the shipping can begin again soon at the Port of Lewiston.
The port is still in waiting mode after a two-week closure of the Dalles Dam navigation lock, which passes through more than 12 million tons of commodities between Portland and Lewiston.
The Army Corps of Engineers found extensive cracking in one of the gates during an inspection two weeks ago, forcing the closure of the lock, and halting shipping barges that take goods to and from Lewiston.
"The Corps has done a really good job of keeping everyone updated," said Port of Lewiston Container Yard Manager Carrie Kelly. "They send out press releases and keep us updated as to what the status is."
The lock was re-opened Monday, but that means two more days before a barge is able to come through. Kelly said there are a growing number of agricultural products, wheat, peas and lentils, stacking up on the dock and the lock closure forced some business away from the Port of Lewiston.
"A few customers did ship their containers to the Puget Sound," said Kelly. "Some did truck direct to Portland, so they did not jeopardize their contracts with their shippers. We are just stockpiling loads to go out as soon as we get our first barge upriver, which will be Thursday evening."
Kelly said the Port of Lewiston was seeing good business in the months before the hiccup, and now a backed up line of barges will start floating through the Valley as the port plays catch up.
"It'll take them a little while to find vessels with space out of Portland, because they did have shipments miss the vessels that they were booked on," said Kelly.
According to a press release from the Army Corps of Engineers, the 52-year-old lock will undergo significant repairs during a 16-week closure beginning December of next year.
Related Pages:
Dalles Lock Closure Could Have Been Worse by Jonathan Brinckman, The Oregonian, 10/6/9
---
Matt Loveless
Barges Will Return to Port of Lewiston Thursday <-- Watch Video at original site.
KLEW TV, October 14, 2009
---
See what you can learn
learn more on topics covered in the film
see the video
read the script
learn the songs
discussion forum