---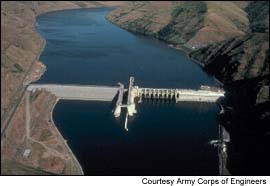 Four federal dams on the Lower Snake River are causing river conditions lethal to salmon and steelhead populations and resulting in water contaminated with high levels of nitrogen gas, according to commercial fishing and conservation groups.
The groups filed suit Wednesday in Federal District Court in Portland, Ore., charging that the operation of these dams and reservoirs violates the Clean Water Act and creates river conditions lethal to already threatened fish species.
Fishermen and conservationists assert that the four Lower Snake River dams -- Lower Granite, Little Goose, Lower Monumental and Ice Harbor -- operated by the U.S. Army Corps of Engineers create slack water reservoirs where water temperatures in the summer can reach levels lethal to salmon and that uncontrolled spilling of water over the dams' spillways can lead to high levels of nitrogen gas in the water in the spring.
Plaintiffs assert that removing the earthen portions of the dams to restore a free-flowing river may be the best and least expensive way to restore cool water for salmon and eliminate the dissolved gas problem. Dam removal is not sought in the suit. However, the groups assert that interim measures must be undertaken to address the current water temperature and gas problems, regardless of the eventual fate of the four dams.
"These are long-standing, serious violations of the Clean Water Act which are causing great harm to salmon," said Glen Spain of the Institute for Fisheries Resources. "Federal dam operators seem to think they are exempt from the Clean Water Act but they are not."
High temperatures in the slackwater reservoirs result from the lack of cooling flows and the huge surface area absorbing heat. High gas levels result from uncontrolled spilling of water in response to floods or runoff. However, not all spill is bad. A controlled spill program is the best and safest way to help young fish past the dams. Spill can be controlled to minimize gas levels.
The Clean Water Act requires the Army Corps to comply with water quality standards established by the Washington Department of Ecology for the Lower Snake River. Data gathered by Washington state and the Environmental Protection Agency support the groups' charges.
The plaintiffs are asking the court to declare that the Army Corps is violating the Clean Water Act by its operation of the four Lower Snake River dams and reservoirs and to order the Corps to set a schedule to resolve these problems.
The plaintiffs in the case include the National Wildlife Federation, Idaho Wildlife Federation, Washington Wildlife Federation, Pacific Coast Federation of Fishermen's Associations, Institute for Fisheries Resources, American Rivers, Sierra Club, and Idaho Rivers United.
---
Environmental News NetworkCopyright 1999, All Rights Reserved
Dams Lethal to Salmon, Groups Claim in Suit
ENN - April 1, 1999
---
See what you can learn
learn more on topics covered in the film
see the video
read the script
learn the songs
discussion forum