---
24 solar projects producing 389 megawatts will come online in the coming months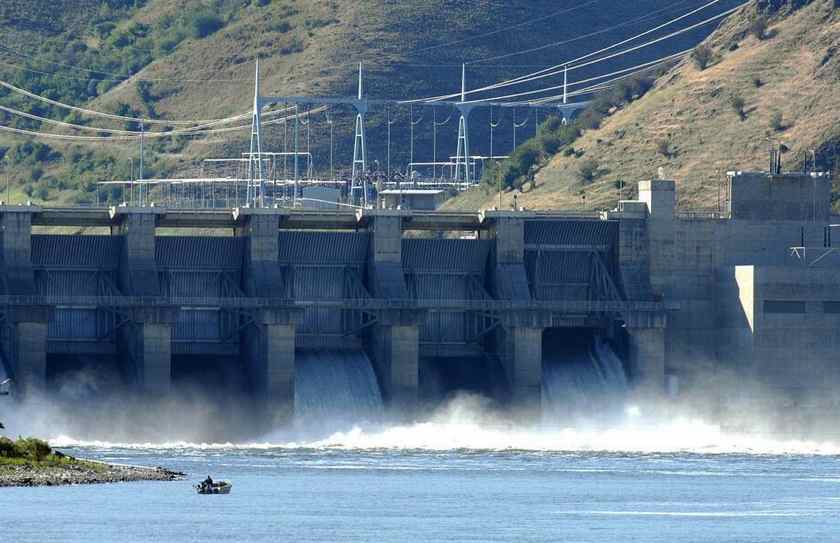 When you flip a light switch in Idaho, chances are the electricity came from some combination of the following: a hydroelectric plant, a natural gas plant, a wind turbine and a coal plant outside the state.
Hydropower satisfies roughly half of Idaho's electricity demand. Coal-fired plants in Nevada, Wyoming, Oregon and Montana pitch in another 35 percent. A handful of natural gas plants and hundreds of wind turbines make up most of the remainder.
But due to climate change, the equation is changing. This shift is related to new federal regulations intended to curb greenhouse gas emissions, experts say, forcing utilities to invest in cleaner energy sources. At the same time, Idaho's biggest source of zero-emission energy, hydropower, is itself under threat from climate change due to diminished snowpacks and river flows.
Idaho generates a larger percentage of its energy from hydropower than any state but Washington.
"The fact is, Idaho's electricity portfolio is changing," said Ken Miller, energy program director for the Snake River Alliance. "Utilities aren't very nimble, but they're finding that in order to survive, they need to adjust."
COAL IN DECLINE
Idaho doesn't have coal plants within its borders, but the state's utilities lean heavily on coal power in surrounding states. For decades, coal-fired plants were considered by utilities as one of the cheapest ways to supply consistent baseload power to customers.
But several factors have made coal less attractive in recent years, Miller and others say. One is climate change: Coal power is the country's top source of greenhouse gases.
New emissions regulations, such as the U.S. Environmental Protection Agency's Clean Power Plan, could speed the closure of coal plants in many states, including those surrounding Idaho. The plan, released in August, requires states to reduce carbon emissions from power plants.
John Chatburn, administrator of Idaho's Office of Energy Resources, said more would be known about the plan's implications for Idaho at the end of January, after state officials have combed through the 1,500-page rule and submitted comments to the EPA.
Economics are another factor in coal's slow decline. The prices of cleaner energy sources such as natural gas have plummeted, making those plants increasingly attractive to investors and utilities.
Two of Idaho's three biggest utilities have made plans to decrease their reliance on coal.
Idaho Power shares ownership in three coal plants -- located in Oregon, Nevada and Wyoming -- that provide more than 1,000 megawatts of generation capacity. The utility has "committed to a glide path away from coal," spokesman Brad Bowlin said.
"Concerns over emissions and climate change definitely have an impact on resource decisions, including the role coal-fired plants will play in Idaho Power's future resource portfolio," Bowlin said.
The duration of that "glide path" will be determined by several factors, he said, including possible financial impacts to customers, environmental regulations and what kind of resources become available to replace the energy now generated by the coal plants.
In planning documents Idaho Power has indicated it may retire its Nevada coal units at the North Valmy Generating Station by 2025. The Boardman Coal Plant in Oregon is scheduled to close in 2020. There is no timeline to close Idaho Power's Jim Bridger Power Plant in Wyoming, which it owns jointly with Pacificorp, Bowlin said.
PacifiCorp, which serves much of eastern Idaho under the name Rocky Mountain Power, earlier this year announced long-range plans to also begin moving away from coal, which currently makes up more than 50 percent of its energy portfolio. It said it would reduce reliance on coal by 2,800 megawatts by 2034, or roughly half of its current coal-fired generating capacity.
Avista Utilities, serving much of northern Idaho, has not made any such commitment about its coal generation at Montana's Colstrip Generating Station, despite recent pressure from the Sierra Club and Washington Gov. Jay Inslee, among others.
In planning documents submitted to state regulators this year, Avista said Colstrip was a "cost-effective and reliable source of power to meet future customer loads," and that if the plant were to go away in 2027, customer bills would increase by $58 million.
Nevertheless, Miller said the overall trend will be that coal plants continue to close. "Everybody sees the handwriting on the wall," he said.
HYDROPOWER AFFECTED
Hydropower, Idaho's other primary energy producer, won't be able to make up the gap coal leaves behind, Miller said.
Warming temperatures due to climate change will result in less snow and more rain in the winter across Idaho and much of the Northwest, leading to increased winter flows but lower summer flows, according to a 2011 report by the Bonneville Power Administration, U.S. Army Corps of Engineers and U.S. Bureau of Reclamation.
That would translate to more hydropower production in the winter, but less in the hot summer months, when electricity demand is highest, said a recent U.S. Department of Energy report on the impact of climate change on energy in the Northwest.
Kresta Davis-Butts, an Idaho Power hydrologist, said warmer weather could shift the average peak runoff period for Idaho's rivers a full month earlier in future years, moving from April through July to March through June.
Drier, warmer weather could also lead to an extended irrigation season for farmers, Davis-Butts said. This would mean more water being pulled out of the Snake River, and ultimately less power produced by the state's hydroelectric plants.
Fish are another resource that will require plentiful water as the climate warms, which could further limit hydroelectric production.
By the 2080s, the DOE report, "hydropower production could be reduced by as much as 20 percent in order to preserve Columbia River Basin in-stream flow for fish."
There are strategies that should help combat some of the predicted impacts on hydropower, Davis-Butts said. Idaho Power has invested heavily in cloud seeding, a technique used to pull more snow out of the clouds. Statewide efforts to recharge the Snake River Plain Aquifer also could help boost river flows and power generation, she said.
Smaller Idaho utilities have begun thinking about climate change, too. Idaho Falls Power relies almost exclusively on hydropower, from the four plants it owns on the Snake River, and power it buys from the Bonneville Power Administration.
"It's definitely one of the challenges of having the majority of your (energy) coming from one resource," Jackie Flowers, the utility's general manager, said of climate change.
LOW-EMISSION SOLUTIONS
Large-scale solar power is poised to become a growing slice of Idaho's energy portfolio. Some 24 solar projects producing 389 megawatts of energy are set to come online in the coming months, said Gene Fadness, a spokesman for the Idaho Public Utilities Commission. The projects will likely need to get underway before the end of 2016, when a 30 percent federal investment tax credit on solar expires, Miller said.
Nuclear power also could play a role in Idaho's clean energy future. Oregon-based company NuScale Power has indicated it plans to build a new type of nuclear reactor somewhere on Idaho National Laboratory's 890-square-mile desert site. The small modular system, made up of 12 reactors, or power modules, would be built at a factory and deployed to the site by truck, rail or barge. Company officials say they hope to have the plant operational by 2023.
Such a nuclear plant would help diversify Idaho Falls Power's hydropower-heavy portfolio, Flowers said. "It's emission-free, and it's baseload (power)," she said, meaning it can run all the time.
INL is known for its nuclear research, but the lab is also focused on several other clean energy solutions that could benefit Idaho in the future and help combat climate change.
One energy source that might be especially well-suited to Idaho is geothermal, stored inside the Earth in hot water and rocks. INL is aiming to build a geothermal research facility on its desert site called Frontier Observatory for Research in Geothermal Energy, or FORGE.
According to Idaho's Office of Energy Resources, the state has an estimated 800 megawatts of geothermal-powered potential. One 13-megawatt facility has been operating since 2008 in Southern Idaho.
"Idaho has really good geothermal potential," Chatburn said. "There are folks that have acquired leasing on (Bureau of Land Management) ground and are doing exploration, so I wouldn't be at all surprised to see some new geothermal resources being developed here in the not-too-distant future."
---
Luke Ramseth
Idaho's Energy Future: Less Coal, Uncertain Hydro
Post Register, December 28, 2015
---
See what you can learn
learn more on topics covered in the film
see the video
read the script
learn the songs
discussion forum