the film
forum
library
tutorial
contact

McMorris Rodgers, Herrera Beutler, Newhouse, Schrader, and Walden
Introduce Legislation to Address FCRPS Biological Opinion

by Wire Reports
NBC Right Now, June 29, 2017
---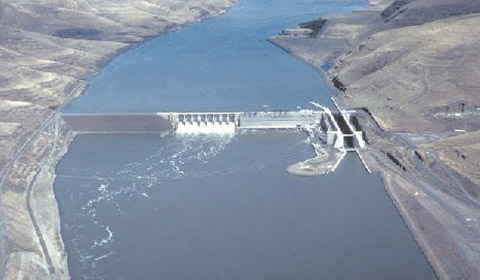 WASHINGTON, D.C. -- Today, Pacific Northwest Reps. Cathy McMorris Rodgers (WA-05), Jaime Herrera Beutler (WA-03), Dan Newhouse (WA-04), Kurt Schrader (OR-05), and Greg Walden (OR-02) introduced bipartisan legislation to approve the Federal Columbia River Power System (FCRPS) Biological Opinion (BiOp) until 2022. This legislation will work to support the FCRPS and the benefit it brings to our region through the clean, renewable, and affordable energy it provides while allowing salmon to recover at record rates.
"Hydropower provides 70 percent of our energy in Washington state--much of which is produced on the Federal Columbia River Power System," said McMorris Rodgers. "The FCRPS ensures people in Eastern Washington have access to clean, renewable, reliable, and affordable energy every single day--all while achieving record fish returns. There is still work to be done, but dams and fish can coexist, and the FCRPS proves that."
"Vibrant salmon runs are vital to our way of life. Low cost, clean and extremely reliable energy from hydroelectricity powers everything we do. The 2014 BiOp plan represents the best possible path forward to preserve both, which is why it had such broad support from Republicans and Democrats, solution-minded members of the conservation community, farmers, businesses and other stakeholders across our region. Leaving the future of this vital system mired in the courts will result in its failure. Our bipartisan legislation is the only way to ensure a positive outcome for our region," said Herrera Beutler.
Herrera Beutler continued, "Consider what's at stake if we fail to protect our vital hydropower infrastructure. Hundreds of millions of ratepayer dollars have successfully adapted it to accommodate record salmon runs, where an average of 97% of young salmon successfully make it past the dams. To replace the energy produced by these dams and consumed by our region, we'd need more than six coal-fired power plants or three nuclear facilities to get the reliability that clean, carbon-free hydropower provides to the Pacific Northwest. No one seriously believes wind and solar alone could supplant hydropower in our region. This legislation is the only real path forward to protect our way of life."
"Removing the Snake River dams would be harmful to our communities, the environment, and our economy. This legislation is needed to support the critical role that Snake River dams play by providing Washington communities with clean, renewable hydropower," said Newhouse. "In addition, hydropower dams provide many benefits to our region, including flood control, navigation, irrigation, and recreation, which is why this legislation is needed to ensure the Federal Columbia River Power System Biological Opinion remains in effect until 2022. I am proud to work with my colleagues on this commonsense bill to protect our dams."
"It is time for science, not politics, to drive our energy and salmon restoration policy," said Schrader. "The BiOp has been the product of three administrations' work that's been informed by our experts at BPA, the Corps, NMFS, USFW, tribes, energy groups, and environmental groups. It would be imprudent at best to cast all of that informed work aside. Over one third of our electric bills pay for fish passage on the Columbia River with 95% passage rates. It is time to get politics out and let the experts backed by science determine best practices."
"As we work to improve fish runs, we must not lose sight of the importance to the region of renewable hydropower, recreation, and transportation," said Walden. "The uncertainty created by on-going litigation over operations impacts all of that. This legislation will provide more certainty that's needed to help operation of the system to maintain these important benefits to all of the Pacific Northwest."
---
NOTE (from press release):

In May, a bipartisan group of Members from Washington and Oregon wrote a letter expressing concerns over the management of the FCRPS following Judge Michael Simon's March 27, 2017, court order on motions for injunctive relief. After receiving responses from the Bonneville Power Administration (BPA) and other officials regarding the implications of Judge Simon's decision, it's clear that action must be taken to protect ratepayers in the Pacific Northwest and allow the experts to continue their work on fish recovery.

In BPA's June response, they noted $15.28 billion in total spending since 1978 on fish recovery and mitigation in the FCRPS. They also reported that average juvenile dam passage survival currently ranges between 96 and 99 percent for yearling Chinook salmon and steelhead smolts at each dam. In response to Judge Simon's ordering of increased spill over the dams, BPA said consequences could cause "biological, physical and/or structural, and potential adverse consequences for the combined federal power and transmission system."

As the Bonneville Power Administration begins their rate case in 2025 and moves forward in negotiating with utilities, they need to have certainty in their pricing. The current state of litigation has resulted in requirements that are unsustainable and jeopardize the future of energy production in the Pacific Northwest. Hydropower is the largest form of renewable energy in the United States. The FCRPS BiOp helps ensure that the Pacific Northwest has access to clean, renewable, and affordable energy to power homes, businesses, and communities.

The FCRPS BiOp was the product of unprecedented collaboration between President Barack Obama's administration, states, and sovereign Northwest tribes. The BiOp has helped to produce record fish returns through the use of modern, innovative technology, and has widespread support in the region.
---
You can read the full text of the legislation here

. . . SEC. 4. LIMITATION ON RESTRICTING FCRPS ELECTRICAL GENERATION OR NAVIGATION ON THE SNAKE RIVER.


No structural modification, action, study, or engineering plan that restricts electrical generation at any Federal Columbia Power System hydroelectric dam, or that limits navigation on the Snake River in the State of Washington, Oregon, or Idaho, shall proceed unless such proposal is specifically and expressly authorized by an Act of Congress enacted after the date of submission to Congress of a proposal for such modification, action, study, or engineering plan, respectively.
---
Wire Reports
McMorris Rodgers, Herrera Beutler, Newhouse, Schrader, and Walden Introduce Legislation to Address FCRPS Biological Opinion
NBC Right Now, June 29, 2017
---
See what you can learn
learn more on topics covered in the film
see the video
read the script
learn the songs
discussion forum