---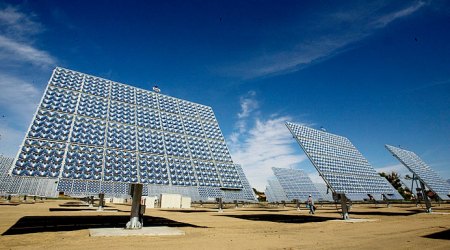 Electric utilities in Oregon, California and Texas led the nation last year in green power sales using voluntary programs in which customers pay a premium to receive electricity produced using clean sources, according to Energy Department figures released yesterday.
The No. 1 utility for total green power sales was Portland General Electric, with 834,125 megawatt-hours, according to data compiled by the National Renewable Energy Laboratory. PGE was followed in total green power sales by Austin Energy of Texas, at 744,443 MWh, and two California utilities -- PacifiCorp (604,007 MWh) and the Sacramento Municipal Utility District (416,477 MWh).
Minneapolis-based Xcel Energy, whose service territory extends across eight states in the Great Lakes and Dakotas as well as portions of Colorado, New Mexico and Texas, was the nation's fifth-largest seller of voluntary green power packages in 2012, at 390,056 MWh, according to NREL.
In total, the nation's top 10 green power pricing programs netted sales of more than 4.2 million MWh last year, up from 3.9 million MWh in 2010, according to the agency. And more than 1.8 million customers nationwide -- including Fortune 500 companies, government agencies, and colleges and universities -- purchased green power from a municipal or regional utility.
The rankings do not account for total renewable energy generation by rate-based utilities. That title belongs to MidAmerican Energy of Des Moines, Iowa, which expects to increase its wind energy capacity to more than 3,300 megawatts within the next few years as it expands its wind farms in Iowa and neighboring states. A much smaller Midwest power provider, Waterloo Utilities of Waterloo, Wis., ranked first in NREL's rankings by percentage of utility load going to green power purchase programs, at 23.9 percent.
Nor do the ratings account for renewable energy projects that rate- based utilities are required to make to meet state renewable portfolio standards. Rather, NREL analyst Jenny Heeter said, these programs allow consumers "to support renewable energy above and beyond what utilities are procuring to comply" with such state laws.
Palo Alto and Portland lead
Ranked by the number of ratepayers participating in green power purchase programs, PGE and PacifiCorp led the nation, with each utility signing up just under 88,000 customers for blocks of green power. Palo Alto, Calif., home to Stanford University and a nexus for computer and Internet technology companies, had the greatest penetration of green power sales, with 18.2 percent of its customers participating, according to NREL figures.
Under the City of Palo Alto Utilities' "PaloAltoGreen" program, residential and small-business customers can choose to pay a premium of 1.5 cents per kilowatt-hour over standard rates to receive 100 percent renewable energy derived mostly from solar farms in the immediate area or elsewhere in California. Larger businesses can participate in increments of $15 per month for each 1,000 kWh block.
Oregon's Portland General Electric reported that 12.8 percent of its roughly 830,000 customers had enrolled in a renewable energy purchase program in 2012, the second highest in the nation, according to NREL. Like Palo Alto, PGE's service territory extends over a defined geographic area extending from Portland south to Salem, and from Mount Hood to Hillsboro, west of Portland.
Carol Dillin, PGE's vice president for customer strategies and business development, said in a statement that the NREL rankings "confirm our customers are leading the way in renewable energy and sustainability."
One key to PGE's success is that it offers multiple green power purchase options for residential and business owners, including a "Green Source" option that allows residential customers to purchase 100 percent renewable energy for an additional .008 cents per kilowatt-hour over normal rates. For average PGE homeowners, that translates into a roughly $7 premium on their monthly bills, according to company officials.
For those choosing 100 percent renewable energy, PGE estimates that 56 percent comes from wind farms, 42 percent comes from low-impact hydrodams and 2 percent is generated from biomass. Steve Corson, a utility spokesman, said none of the renewable energy sold under the Green Source program is sourced by PGE generating plants. Rather, the utility purchases renewable energy credits from certified energy providers to meet customer demand.
A second option, called "Clean Wind," allows PGE customers to buy individual units of wind energy for $2.50 per kWh. All the wind energy offered under the program is sourced from turbines within the Western Electricity Coordinating Council grid territory, and a portion of the Clean Wind premium goes toward expanding wind energy specifically in Oregon, the company said.
Corson said that beyond the green power purchase programs, the utility is working to expand its rate-based generation assets to comply with Oregon's tiered renewable portfolio standard, which requires 15 percent renewable energy by 2015, 20 percent by 2020 and 25 percent by 2025. Currently, he said, the utility's RPS-qualifying resources amount to about 11 percent of total generation.
Energy efficiency incentives lag
Meanwhile, a new study published by Oregon State University suggests utilities lack incentives to use energy efficiency measures as a tool for offsetting the environmental downsides of power generation.
Inara Scott, an assistant professor in OSU's College of Business, said cost-recovery systems for many investor-owned utilities are based on a model that assumes the more energy that is produced, the higher the return for shareholders.
Such an approach provides little incentive for utilities to adopt efficiency policies that would likely reduce the amount of electricity they produce.
"Right now, the system actually discourages utilities from building programs to increase efficiency," said Scott, whose research focus is on utility systems, clean energy, energy efficiency and utility regulation.
"We need to start addressing efficiency as we do renewable energy
---
Daniel Cusick
U.S. Utilities Grow Renewable Energy But Lack Incentives for Efficiency
E & E, June 6, 2013
---
See what you can learn
learn more on topics covered in the film
see the video
read the script
learn the songs
discussion forum