---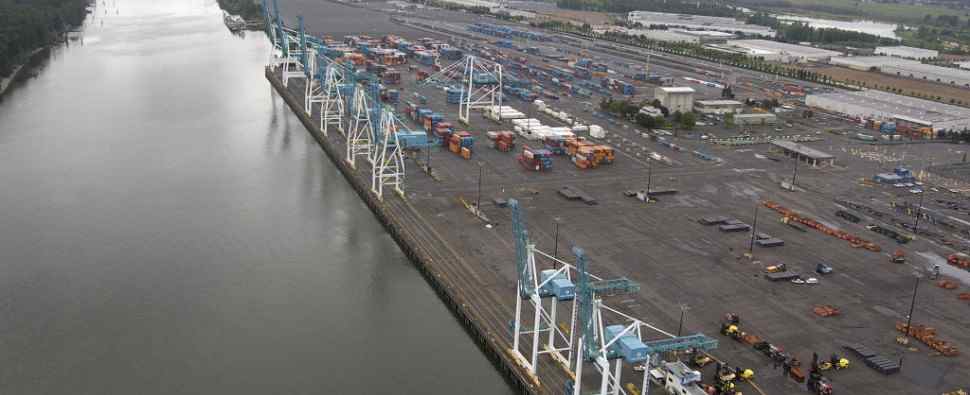 One of the bigger economic stories in the mid-valley in 2015 actually started gaining traction in late 2014, as longshoremen staged a work slowdown along the entire West Coast, including the Port of Portland.
The slowdown by members of the International Longshore and Warehouse Union cost businesses hundreds of millions of dollars and led to a major international shipping company, Hanjin, pulling out of Portland altogether.
It also caused -- and in some cases is still causing -- grief for mid-valley businesses.
The union represents more than 13,600 workers. At issue was that union members had been working without a contract since July 2014.
"This was by far the most time consuming issue, the one that caused me to lose sleep night after night," said Shelly Boshart Davis, vice president of international sales and marketing for Bossco Trading in Tangent.
Bossco is a diversified family business that includes farming, trucking and the processing shipment of straw to Japan and Korea.
"We have had slow downs before and I wasn't too worried when I got the first phone call from one of our drivers," Davis said. "I got worried when I started receiving multiple calls."
Davis said Bossco could see the impact before other shippers because the company runs a fleet of 36 semi-trucks.
"Other companies may have heard some flack from drivers, but we felt it first-hand and saw what was headed our way early on," Davis said.
At one point, Bossco had 103 shipping containers sitting at the port waiting to be loaded onto ships.
The company estimated they were losing $1,500 per day.
Although the company did not lay off any employees, hours were curtailed at times due to lack of work.
The work slowdown derailed some orders by months, and it wasn't just straw processors who were affected, Davis said.
The new Boulder Falls Inn hotel and 1847 restaurant in Lebanon had to purchase fixtures, such as faucet,s and install them on a temporary basis because their original purchases were sitting on a ship or a dock for weeks.
Stahlbush Island Farms had to deal with the issue as well, and noted their products are not meant to sit on a dock for extended periods of time.
Oregon Freeze Dry in Albany was squeezed on both ends. The company needs shipping containers to import frozen products from South America and to ship finished products around the world.
"We didn't lose any clients completely, but what has happened is we're not getting 100 percent of their business," Davis said. "They are diversifying to hedge their bets against this type of thing happening again."
Davis said a big challenge for straw processors is China, which is exporting rice straw.
"It has taken us years to build those relationships," Davis said.
Davis said the longshoreman's contract will be up in three and half years, so negotiations will probably start in a couple of years.
"I hope all of this won't be forgotten," Davis said. "There have been multiple pieces of legislation put forward to help keep this type of thing from happening again, but so far, none has gotten traction. There is some port metric language in the new transportation bill -- it's pretty vanilla -- but it had to be to get passed."
Davis said mid-valley companies are now dealing with single daily shipments to the port of Tacoma instead of being able to make multiple turns to and from Portland every day.
The good news, Davis said, is that December has been the company's busiest month in the last 14.
"But now, trucking is holding us back," Davis said. "Companies like ours have to decide if this is temporary or long-term. If it's long-term, should we go in debt and buy more trucks to keep up? The other day, when I-5 north was closed, our trucks were grounded."
For Davis, the port issue will remain on the top of her list of things to keep track of in 2016.
She was recently named president of the U.S. Forage Export Council, which represents the $1.3 billion forage business.
Part of her duties will be lobbying to make sure there is no recurrence of port problems like those in 2015
Related Sites:
Shipping Report by Port of Porland, 2011 to 2015
---
Alex Paul
Port of Portland Labor Dispute Created Far-reaching Problems
Albany Democrat-Herald, December 28, 2015
---
See what you can learn
learn more on topics covered in the film
see the video
read the script
learn the songs
discussion forum