the film
forum
library
tutorial
contact

Sea Lion Task Force to Weigh in on Whether to Kill
and Remove Sea Lions Feasting on Fish at Bonneville Dam

by Quinton Smith
The Oregonian, October 16, 2011
---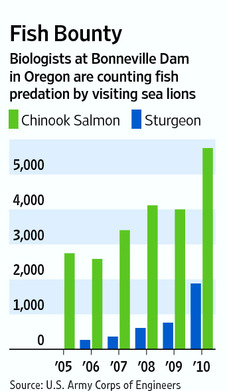 The sea lion task force returns to the drawing board next week. Its task: to recommend to kill and remove sea lions feasting on endangered salmon below Bonneville Dam this spring -- or not.
The controversial lethal-take policy has been on-again, off-again since first approved in 2008.
The 16-member federal task force wants to hammer out issues early and avoid the problems of last November when a federal appeals court effectively blocked the permit.
The task force includes representatives of state and federal agencies, tribes and Columbia River interest groups. It helps shape criteria for trapping and euthanizing sea lions, whether to continue hazing them and whether the National Oceanic and Atmospheric Administration should grant the lethal-take permit.
NOAA's lethal-take permit is the first in the nation to allow killing California sea lions to save threatened or endangered salmon and steelhead since the Marine Mammal Protection Act took effect in 1972.
Unlike last fall when discussions needed a four-day face-to-face meeting with a facilitator, this meeting actually will be a conference call. The task force will consider if anything from the past year's salmon migration should change its thinking.
"This group has gotten together many times," said Garth Griffin, a Portland-based NOAA administrator overseeing the agency's research and decision. "This is just an opportunity to see any new information."
It is the third try by NOAA Fisheries to allow Oregon, Washington and Idaho to use it at Bonneville. Under the first permit in 2008, 10 sea lions were removed and another 30 killed. That permit ended last November when a federal court agreed with the Humane Society of the United States that reasons for the lethal-take permit needed more explaining.
By the time NOAA addressed it in May, the spring salmon run was nearly over and most sea lions had left Bonneville. None were killed at Bonneville, but one was trapped and removed near Astoria. The Humane Society filed suit again, saying NOAA had not followed proper procedures for the new permit. NOAA and the states agreed in July to drop the 2011 permit altogether and try for reissue in 2012.
"It was in everyone's best interest to cut it off last summer," Griffin said. The process is intended to go quicker this year and if a permit is granted, have it in effect before California sea lions start showing up at Bonneville in February.
Things were different last spring. A huge, cold runoff and more smelt and other fish in the lower Columbia affected the number and timing of sea lions and salmon at Bonneville. Some 223,000 spring chinook passed the dam by June 1, the bulk after sea lions left to return to the coast to breed. Army Corps of Engineers counted 54 California sea lions below the dam, the fewest since January-to-June observations began eight years ago. They estimated sea lions killed 3,971 salmon -- 1.8 percent of the run, the lowest percentage since 2003.
That's proof enough for Sharon Young that predation doesn't drop when sea lions are removed. More sea lions ate more salmon during the three years states trapped and killed 40 animals, said Young, marine issues field director for the Humane Society and the only task force member to vote last year against killing.
Young said the Corps' latest data indicates when salmon don't show up, neither do sea lions. There was no removal last spring, yet sea lions gave up waiting for salmon and headed downstream for better feeding.Managers "want to interfere in a system that was once working pretty well on its own," she said. "You are killing animals for no reason other than frustration."
---
Quinton Smith
Sea Lion Task Force to Weigh in on Whether to Kill and Remove Sea Lions Feasting on Fish at Bonneville Dam
The Oregonian, October 16, 2011
---
See what you can learn
learn more on topics covered in the film
see the video
read the script
learn the songs
discussion forum