---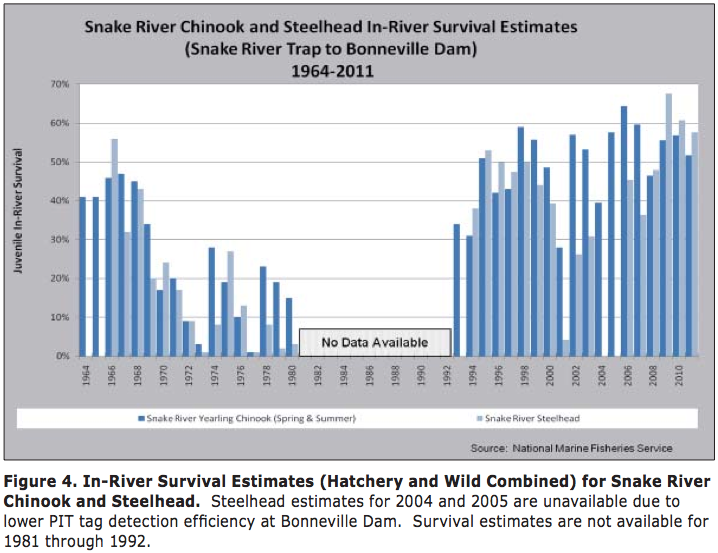 I was deeply disappointed with the stories that bemoan the state of the salmon population while only offering one view point of the situation. When people complain of liberal bias in the news media, this is exactly what they are talking about. This article pushes heavily for the removal of the Snake River dams, but doesn't even bother to mention the megawatt production of those dams.
What studies have been done to show the likely impact on salmon population? How much would such a project cost, both in removal of the dams and lost power generation? How would the loss of electrical power affect Washington's ability to meet climate goals? What would the increased environmental and carbon impact be from the river navigation provided by these dams? The impact of lost irrigation for farmers?
This is an extremely complex issue which requires care and intelligent planning to solve. What the article fails to mention (but was mentioned Monday) is the 96 percent to 98 percent of fish that get through the dams. We should spend billions, destroying many people's livelihoods in the process in order to save 2 percent of the salmon population? This article only discusses the opinions of a small number of environmental scientists and activists on one side of the issue. It provides no critical analysis, and instead plays on the public's sympathies and fears. The job of journalists is supposed to be to inform and engage. Not to frighten and foment.
(bluefish notes: Dam supporters often purport that 96% of juvenile salmon survive dam migration. There are however, 8 dams and 8 reservoirs that Idaho's juvenile fish must pass to reach the ocean. Doing the math, 96% survival 16 times results in 52% survival and this corresponds (0.96^16=0.52) to the actual fact: See federal government's graphic displayed here.)
Related Pages:
Bill Would Rubber-Stamp Salmon Failure by Josh Mills, Spokesman-Review, 8/12/17
Legislation Protects Salmon and Hydrosystem by John Francisco, Spokesman-Review, 8/5/17
Bill Keeps Current Salmon Protection in Place by Terry Flores, The Register-Guard, 7/20/17
A Damming Proposal by Editorial Board, The Register-Guard, 7/13/17
Who is McMorris Rodgers Looking After? by Marty Trillhaase, Lewiston Tribune, 7/10/17
Congressional Effort to Blunt Dam Breaching Effort is Sound by Jacob Schmidt, Walla Walla Union Bulletin, 7/7/17


---
Nels Haugen, Lacey
Salmon are Getting Through Just Fine
The Olympian, August 12, 2017
---
See what you can learn
learn more on topics covered in the film
see the video
read the script
learn the songs
discussion forum