---
Resentment over large numbers of westside residents setting state policy
for small numbers in the hinterlands is clearly evident in present-day politics.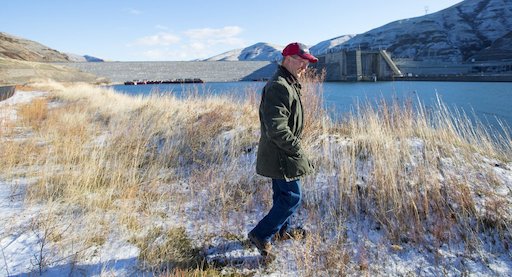 I am the product of multiple generations of Washington natives, so the distinctive east-west political divide in our state has always been a source of interest -- and some bemusement.
But reporting this week's cover story, on southeastern Washington residents' relatively aghast reaction to a new call, by impassioned orca lovers, to breach four dams on the lower Snake River as part of an orca-recovery plan, drove the matter home in a new way.
It struck me that for many natives, an underlying understanding of -- and to some degree, compassion for -- the "other side" has long kept on a civil plane the good-natured, albeit occasionally testy, forced marriage between dwellers on both sides of the Cascade curtain.
Much of this, I think, was owed to family connections: In the past, as much as we liked to tease our fellow citizens about their regional proclivities and political views, most of us had a cousin in Wenatchee, or a great-aunt in Enumclaw, that put a human, even familial, face on the opposing side. (I've grown up on the west side, but my own family has roots in the Columbia Basin and the Yakima Valley.)
But I wonder whether the huge population influx of the past two decades has altered that dynamic. Many residents of the open country from the Tri-Cities to Clarkston believe westside support for ripping out dams on the Snake is due largely to a disconnect: Many advocates for breaching, they say, don't know any of them, and have probably never even been there.
Given the population boom, especially on the west side, this might well be true. Resentment over large numbers of westside residents setting state policy for small numbers in the hinterlands is clearly evident in present-day politics. Those broad, growing urban/rural tensions are a backdrop to my story about the fate of eastside dams in the age of the heightened, emotional push to do something, anything, to save the state's beloved, ailing, southern resident killer whales.
With this in mind, photojournalist Mike Siegel and I headed east in February, hoping to provide a surrogate glimpse into the daily lives of Snake River residents. The goal was to put faces to what too often is portrayed as a policy issue with no direct impact on people. We sought simply to provide a voice to those defending the dams as key to their way of life.
In some cases, this took some prodding. Some in the region were suspicious of a west-side media incursion; others, especially farmers, just aren't accustomed to making their business public, and don't like the idea.
We asked one person, Port of Whitman County Commissioner Tom Kammerzell, what locals could do to address the seeming disconnect between the two sides. His response: "For one, by doing what's the most uncomfortable thing in the entire world: Sitting down with a reporter from The Seattle Times. And I am heart-attack serious!"
We both laughed, but point taken.
Here's hoping our piece facilitates further discussion, leading to cracks that let a little light shine through that Cascade wall -- or at least keep it from becoming higher and thicker.
Related Pages:
Is Washington's East-West Divide Growing Wider? by Bill Radke & Alison Bruzek, KUOW, 3/29/19
Is it Just Me, Or is Washington's East-West Divide More Divisive Than it Used To Be? by Ron Judd, Pacific NW Magazine, 3/21/19

---
Ron Judd
Is it Just Me, Or is Washington's East-West Divide More Divisive Than it Used To Be?
Pacific NW Magazine, March 21, 2019
---
See what you can learn
learn more on topics covered in the film
see the video
read the script
learn the songs
discussion forum