---
Chinook and Sockeye salmon are making the perilous journey to the Sawtooths
Don't count them out yet.
In the past four weeks, 21 sockeye salmon have been sighted passing Lower Granite Dam -- the last of eight dams the fish must circumvent on the Columbia and Snake rivers -- on their journeys to the lakes of Idaho where, if they make it, they will spawn and attempt to continue the endangered species' existence on the planet.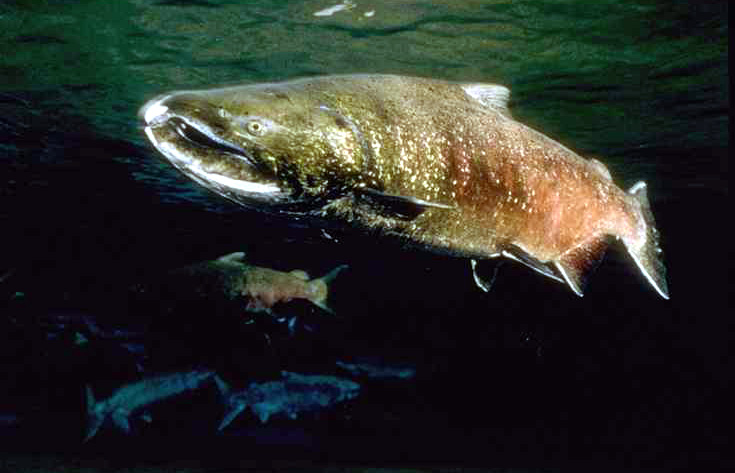 No sockeye have been spotted in the lakes of the Sawtooth Basin yet.
According to the Idaho Department of Fish and Game's anadromous fisheries coordinator Sharon Kiefer, it is believed that most, if not all, of the returning sockeye are hatchery released fish that have only spent one year in the ocean.
Typically, Kiefer said, returning after only one year in the ocean is behavior exhibited by hatchery-released fish. Wild salmon usually remain in the ocean for two years before returning.
We're not sure if any adult sockeye (meaning wild sockeye) have returned," she said.
Sockeye salmon once returned to the lakes of the Sawtooth Valley by the tens of thousands. Last year, only one wild sockeye made it back to Redfish Lake.
Keifer said it still doesn't appear that the current survival rates are indicative of what is needed to sustain the fish over the long term.
"What we need are some wild fish to return for survival to really work, but we're not going to complain about a little improvement," she said.
Chinook salmon are also returning to the Sawtooth valley, and Kiefer said some are probably already in their spawning areas, though spawning nests, called redds, have not yet been spotted.
Kiefer said around 6,400 spring and summer Chinook passed Lower Granite this summer. About 40 percent of those, she said are estimated to be hatchery fish. That is slightly fewer Chinook than made it past Lower Granite last year, Keifer said.
Salmon River kayakers and rafters will soon have to adhere to the Sawtooth National Recreation Area's (SNRA's) annual river restrictions. SNRA officials want Chinook salmon that make the perilous 900-mile return trip to their spawning grounds to have every possible chance at sustaining the species' survival. That means the fish must be able to spawn unimpeded by rafts, kayaks or wading fishermen and tourists.
Threatened Chinook salmon that have negotiated the four lower Snake River dams and four Columbia River dams will probably begin building redds during the second week in August, said SNRA backcountry ranger Ed Cannady.
In anticipation of the salmon's return to their ancestral spawning areas, the SNRA will implement several measures designed to give fish optimum reproductive conditions.
Floating time windows and river scetion closures will be (and have been) used to allow fish to choose the best sites for nest building and completion of their spawning. Some stretches of the river, primarily Indian Riffles and Torrey's Hole, have ideal conditions for Chinook spawning and are home to several redds, or nests, each year.
Before spawning, the fish become stationary in the river for several days, a process called "staging." Restrictions will begin then or on August 10, whichever is earlier.
Once staging has commenced, signs will be posted at Indian Riffles and Torrey's Hole, directing floaters to stay in their boats, navigate the deepest part of the channel and minimize disturbance of staging fish.
Grounding boats, wading and going to shore will be prohibited at Indian Riffles and Torrey's Hole.
Floating time windows are used to ensure that fish have the majority of the day to seek ideal spawning gravels without the disturbance caused by rafts floating over or near them.
Floating is only allowed through Indian Riffles between the hours of 10 a.m. and 4 p.m. and through Torrey's Hole only from noon to 6 p.m. If these time windows can't be met, boaters must portage around the two spawning areas.
Once fish actually begin building their redds, the spawning period begins and a new set of rules apply.
"These fish need to be able to build their redds with limited human disturbance," said Deb Bumpus, SNRA threatened and endangered species biologist.
"They have not eaten since they left the Pacific and are operating on limited reserves. We have to give them the best chance possible to spawn successfully," she said.
Therefore, on Aug. 21, or when fish begin spawning, whichever comes first, floaters are required to portage around Indian Riffles, from Mormon Bend campground to the Yankee Fork and from The River Company lunch site to Torrey's Hole.
---
Greg Stahl
The Journey Home
Idaho Mountain Express - August 4, 1999
---
See what you can learn

learn more on topics covered in the film
see the video
read the script
learn the songs
discussion forum