---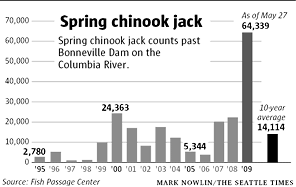 Those precocious male salmon that return a year early are messing with Columbia Basin fish managers' heads again this year.
Managers have long equated big jack counts with big returns of adults the following year, but that long-standing linear relation doesn't seem to be working out so well anymore.
To complicate matters even more, this year's jack count is going through the roof. By the middle of May, more than 30,000 had been counted at Bonneville Dam. Their numbers have more than doubled since then.
In 2000, jack counts broke 24,000, a new record, and the following year, more than 400,000 springers were counted at Bonneville Dam.
Last year's spring jack count was also huge--more than 20,000--and managers looked at their steadiest predictor and estimated that nearly 300,000 adults would show up in the Columbia River this spring.
Now that prediction seems way off. On May 13, managers downgraded the run to between 120,000 and 150,000 fish. On May 26, they ran it back up to 160,000. Based on preseason estimated, they figured that 11 percent of the upriver run was wild.
It's a stunning situation--the old rules don't seem to make sense anymore. One bright spot in all this is that federal scientists from Seattle's NMFS Science Center actually predicted this year's jack bonanza.
In March, they reported results from 2008 ocean trawl surveys to the Northwest Power and Conservation Council, which led to their tentative conclusion that about 40,000 or more spring chinook jacks should return to Bonneville Dam this year.
Even with the high jack returns in recent years, that's nearly twice as many, and still might signal a spring run in 2010 far larger than anything in the past decade.
But the relationship managers had developed between jacks and next-year adults may be falling apart. In the past several years, big salmon runs haven't materialized from big jack counts. Others say it may have never been there in the first place.
Back in 1994, after a strong El Niño event, only 625 jacks were counted at Bonneville Dam. The following year, only 13,000 adults showed up.
The spring run has also appeared later in recent years. Based on 10-year averages, passage should be 70 percent complete by mid-May. However, since 2006, it has taken longer. The recent 5-year average shows the spring run has been 77 percent completed by May 26.
These anomalies have no easy answers, but point to changes in ocean conditions--conditions that may also cause higher mortality of older fish than in previous years. Others say high seas harvest might be the culprit, but there is no evidence of that. Biologists say it's usual to see about 10 percent of hatchery releases to return as jacks, while only 4 to 5 percent of the wild stocks come back as jacks.
The 2008 run of spring chinook was expected to be one of the best in years--maybe the third-largest since Bonneville Dam's completion in 1938. But it ended up about 33-percent shy of the preseason estimate of 269,000 fish.
And so far this year, with commercial (4,500) and recreational catches (16,000) added in, only about 127,000 fish have shown up. With more than two more weeks of counting to go, there are still more than 1,000 springers passing Bonneville Dam every day.
Earlier this month, Washington and Oregon harvest managers, decided to hold off the May 16 opening of the recreational steelhead fishery in the Columbia below the I-205 bridge, since allotted impacts to ESA-listed spring chinook may have already been reached in earlier fisheries this year. It's still not open.
"For the second straight year, returns of upriver spring chinook have fallen short of expectations," said Cindy LeFleur, WDFW Columbia River policy coordinator. "It's disappointing that we have to delay the steelhead fishery, but we need to do everything we can to conserve wild chinook salmon still in the river."
The steelhead closure could extend as late as June 16, unless returns of upriver spring chinook begin to pick up. The closure will not affect the shad fishery, which opened downstream from Bonneville Dam on May 16 as scheduled.
Managers said if the spring run ends up around 164,000 chinook, non-Indian fisheries already conducted will have almost reached the legal impact level of 1.9 percent to ESA-listed springers.
The bad news is if the run size comes in below that, it means the fisheries have overshot their allotments. A sliding scale used by harvest managers called for a 2.2-percent impact from non-Indian fishers when the run is close to 300,000.
An upriver recreational fishery at Ringold Hatchery near Pasco was also slated to be closed May 18, but no changes to the Snake River recreational fishery were proposed.
Gillnetters in the lower river were still able to do some harvesting in select areas where they target fish returning to netpens. Since it is out of the mainstem path of ESA-listed chinook, impacts on them are negligible.
Spokesmen for commercial and recreational fishers also used the May 14 harvest forum to trade barbs. Gillnetters said their spring fishery has stayed within legal ESA impact levels, while, sporties have likely gone over.
Sport fishing was closed to spring chinook below Bonneville on April 23 and above it on May 1.
Since both fisheries keep only marked hatchery fish, they have a marginal effect on wild fish that are protected under the ESA. Hatchery fish make up about 85 percent of the normal spring run, but nothing about the spring chinook seems very normal these days.
Meanwhile, up on the lower Snake where many of the springers are heading, more than 20,000 jacks and 39,000 adults have been counted at Ice Harbor Dam. The late run is within a few hundred adults of last year's number at this time. When all is said and done, it's likely to beat last year's spring count and turn out to be the best return since 2004, but it's a far cry from more than 150,000 by this time in 2001.
Stay tuned for next year. Applying the old jack/adult ratio to the number of jacks counted at Bonneville this spring, would predict a spring upriver chinook in 2010 of a million fish or so.
---
Bill Rudolph
Spring Jack Count Going for New Record
NW Fishletter, May 28, 2009
---
See what you can learn
learn more on topics covered in the film
see the video
read the script
learn the songs
discussion forum