---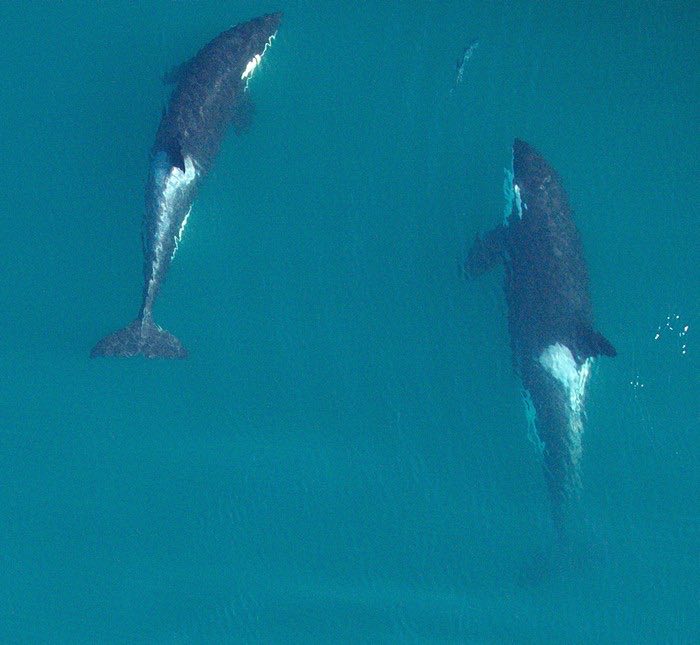 Surrounded by tribal leaders, agency staff and community members, Gov. Jay Inslee signed an executive order this spring establishing a new emergency task force charged with hatching a plan to save our beloved, irreplaceable southern resident killer whales. What these endangered orcas need most right now in order to survive and recover is more salmon, and what salmon need are healthier, more resilient rivers and ecosystems across our region. The plight of orcas today is urgent; protecting them from extinction will require strong public support, bold leadership and unprecedented action.
The southern residents typically spend about half their time pursuing salmon locally, in the Salish Sea. Recently, however, due to low salmon returns here, they are more often found cruising coastal waters. Research in the last several years confirms the mouth of the Columbia River as a favorite haunt and for reasons that should be obvious. Though its salmon populations have declined dramatically in recent decades, the Columbia basin is still our region's largest source of the orcas' favorite food -- chinook salmon.
The Columbia-Snake River Basin once produced more salmon than any other river system in the world. Today, however, 13 distinct salmon and steelhead populations here are at risk of extinction. The rivers of this immense basin have been chopped up by hydroelectric dams into a series of hot pools. A juvenile salmon used to ride currents to the ocean in a few days, and now -- when the rivers no longer run but crawl -- it can take a torturous month or more. That extra travel time matters because it means these young fish are subjected to more predation and are more likely to get stressed and die in the reservoirs increasingly hot, stagnant waters.
Just 76 orcas remain today, but that doesn't capture the hardest parts of their story. They are losing reproductive age females and their calves at alarming rates. The whales haven't produced a single successful birth since 2015. We know they are starving and we know what they need. The real question is whether our state and region have the courage, vision and commitment to deliver it.
The people of Washington State and the Northwest are at a crossroads today. Our two most iconic species teeter on the edge of extinction. Wild salmon are returning home at just a fraction of historic levels while killer whale deaths outpace births.
We can raise fish in hatcheries and truck and barge them around dams. But these are stopgaps of limited use. Without cold, connected resilient rivers, we won't recover the sustainable, plentiful populations the whales need.
In the densely-populated Salish Sea basin, this means more protective, more humble development practices that honor our rivers and watersheds. The governor has signaled a commitment to work on storm water filtration and estuary recovery as first steps, but much more is needed.
In the Columbia-Snake basin, we're finally taking a hard look at the aging system of federal dams. Our region can work with dam operators to help migrating juvenile fish arrive more quickly and safely to the ocean by increasing water spilled over the dams and more closely mimicking a natural river. Ultimately, however, we need to retire the four costly dams on the lower Snake River. Removing these dams will acheive the largest river restoration in our nation's history. It will restore 140 miles of free-flowing river and open the gates to more than 5,500 river and stream miles in the most pristine, contiguous, high-elevation salmon habitat remaining in the lower 48.
Our region has discussed for years many of the changes now required to save these iconic, endangered species. While we have made some progress, the salmon and whales today make it painfully clear that more is needed. With the formation of the Orca Task Force, Inslee acknowledges the urgency -- and the responsibility -- of Washingtonians to step up and lead.
The stakes are high, and we need to act. The good news is that the solutions are rooted in healthier ecosystems that will benefit our economy as well as our environment. We can bring back our rivers. We can have healthier watersheds, cleaner waters to drink and swim in, more natural and resilient waters to boat, fish and irrigate farmland with. Let's get started.
---
Joseph Bogaard is the executive director of the Save Our wild Salmon Coalition (SOS), a founding member of the Orca Salmon Alliance, working to jointly protect wild salmon and southern resident orcas from extinction.
Isaac Hughes recently returned to the island after his first year of college and is working at SOS this summer.
Gov. Inslee Offers a Lifeline for Endangered Salmon and Orcas
Vashon Island Beachcomber, June 19, 2018
---
See what you can learn
learn more on topics covered in the film
see the video
read the script
learn the songs
discussion forum