---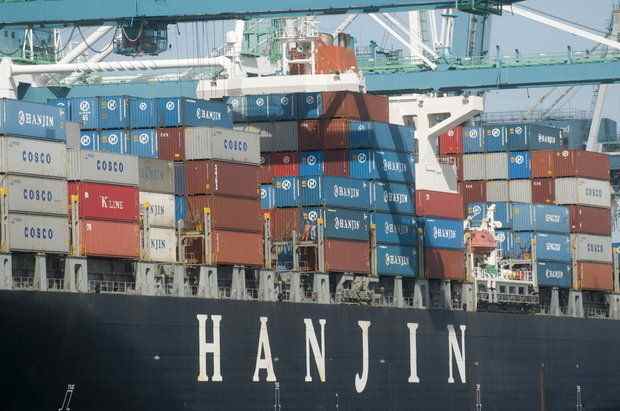 The longshoremen's union has been found in contempt of court for violating an injunction against work slowdowns at the Port of Portland.
Longshoremen violated a court order by staging work stoppages and slowdowns in 2012 and 2013 at the Port of Portland's container terminal, according to a federal judge.
The longshoremen's union has a dispute with the terminal's operator, ICTSI Oregon, which could disrupt shipping for agricultural exporters who rely on the port.
Hanjin and other ocean carriers have threatened to stop calling on the terminal due to slowed container movements, which would force agricultural exporters to ship through more distant ports in Seattle and Tacoma at greater expense.
U.S. District Judge Michael Simon has found the International Longshore and Warehouse Union to be in contempt of court for violating a previous injunction against slowdowns.
Instead of issuing fines, though, the judge has ordered ILWU to comply with the injunction and to pay attorney fees and investigation expenses incurred by the National Labor Relations Board, which filed a lawsuit against the union.
The NLRB has proved that longshoremen from the union's Local 8 organization participated in slowdowns between July 2012 and August 2013 that were coordinated or condoned by union leaders, the judge said.
"Multiple ILWU members engaged in the same conduct, such as driving the 'scenic route' around the yard, engaging in pretextual safety complaints and deliberately operating cranes more slowly," Simon said.
However, the NLRB failed to meet the "high evidentiary burden" to prove that lower container terminal productivity since August 2013 was caused by planned work stoppages and slowdowns by longshoremen, the judge said.
Also, any alleged slowdowns may now be caused by the expiration of a labor contract on July 1 with West Coast container terminal operators, he said.
NLRB would have to prove that the slowdowns were caused by the union's dispute with ICTSI rather than the broader contract negotiations, Simon said.
The ILWU's dispute with ICTSI Oregon was originally over two jobs that involved plugging in refrigerated containers at the port.
The union believes it was entitled to those jobs but they had been assigned to another union, the International Brotherhood of Electrical Workers.
In 2013, Oregon Gov. John Kitzhaber oversaw a deal under which ILWU got those jobs as long as productivity improved.
The agreement unraveled earlier this year because container movements continued to be lower than normal.
The NLRB claims that longshoremen's union leaders threatened to slow down productivity to drive ocean carriers away from the container terminal, thereby harming ICTSI and forcing it to stop doing business at the port.
---
Mateusz Perkowski
Judge: Longshoremen's Work Slowdowns Violate Court Order
Capital Press, December 24, 2014
---
See what you can learn
learn more on topics covered in the film
see the video
read the script
learn the songs
discussion forum