---
Union joins PMA in seeking to prevent ICTSI from hiring non-ILWU electrical workers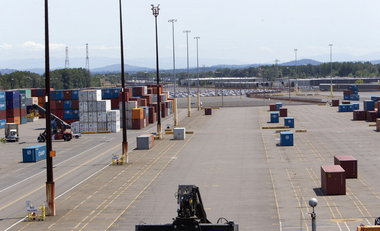 The International Longshore and Warehouse Union elevated its battle with the electrical workers' union and terminal operator ICTSI Oregon a notch by filing a lawsuit in U.S. District Court in Oregon.
The ILWU joined the Pacific Maritime Association, the employers' group on the West Coast, in seeking a temporary restraining order and injunction prohibiting ICTSI from hiring members of the International Brotherhood of Electrical Workers to handle refrigerated containers at the Port of Portland's Terminal 6.
The National Labor Relations Board's regional director last weekend filed an unfair labor practices charge against the ILWU, charging the union over the past two weeks has slowed operations at the port to force ICTSI, which operates Terminal 6, to cease using IBEW workers.
The NLRB scheduled a hearing for Aug. 14, which could clear the way for a temporary restraining order and possibly an injunction against the dockworkers union.
The ILWU-PMA lawsuit in U.S. District Court pits the dockworkers union and their employers group against the Port of Portland and ICTSI over enforcement of the coastwide Pacific Coast Longshore and Clerks Agreement, the master contract between the PMA and ILWU covering all West Coast ports.
The dispute is unusually complex because it is playing out on several tracks and involves charges and countercharges by both parties.
The Port of Portland in 2010 contracted with International Container Terminal Services Inc. of the Philippines to operate its only container facility, Terminal 6. According to the port authority, the IBEW for years has been performing the work of plugging, unplugging and monitoring reefer containers at Terminal 6.
ILWU labor had been performing all other work at Terminal 6, and ICTSI has continued to employ ILWU dockworkers for the other functions. According to the ILWU, the union and the PMA brought the matter of the reefer containers through the waterfront contract's grievance machinery, and the ILWU and PMA "obtained final and binding contractual rulings that the work currently in dispute at Terminal 6 must be assigned to the ILWU."
ICTSI is a signatory to the PCL&CA contract. The ILWU and PMA said ICTSI "is blatantly ignoring its obligations" under the coastwide contract.
Concerning the NLRB's ruling, ILWU Coast Committeeman Leo Sundet charged the labor board "has no jurisdiction over cases involving public port employees."
This is also the second time in the past year the ILWU has been engaged in a jurisdictional dispute with another union. EGT, a grain terminal operator, attempted to employ members of the International Union of Operating Engineers at its new facility in Longview, Wash. The ILWU challenged the company. After a year of dockworker demonstrations and legal disputes with the ILWU, EGT contracted with the ILWU to perform the work.
---
Bill Mongelluzzo
ILWU Files Suit in Portland Dispute
Journal of Commerce, June 20, 2012
---
See what you can learn
learn more on topics covered in the film
see the video
read the script
learn the songs
discussion forum