the film
forum
library
tutorial
contact

Salmon Advocates on New Recovery Plan:
'It Ignores Best Science, Perpetuates Uncertainty'

by George Prentice
Boise Weekly, January 18, 2014
---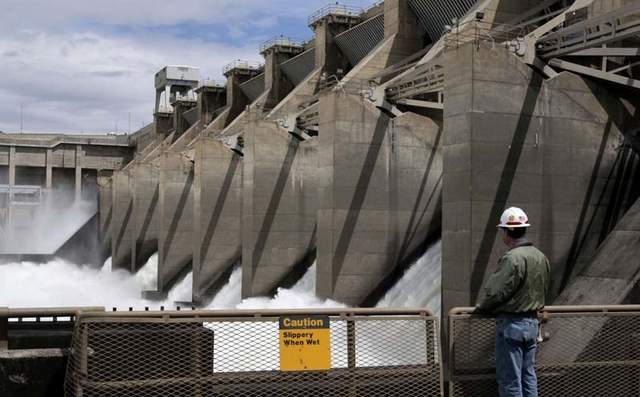 Saying that the plan "thumbs its nose at the people of the Northwest," Idaho Rivers United expressed disappointment Jan. 17 at a so-called "Biological Opinion" issued by NOAA Fisheries on the protection of salmon and steelhead imperiled by federal dams in the Columbia River basin.
"All four of the government's salmon recovery plans to date have been declared illegal," said IRU salmon program manager Greg Stahl. "And there's nothing in this new plan to indicate a new direction."
The new plan was ordered by a federal judge in 2011 after previous incarnations were struck down in court, saying previous plans depended too much on salmon habitat improvements, which environmentalists had argued were unknown factors.
Meanwhile, NOAA officials defended their latest plan, but conceded that it didn't necessarily result in adequate salmon recovery.
"The actions are designed to move us in a direction toward recovery and avoid jeopardy," said Barry Thom, deputy regional administrator of NOAA Fisheries West Coast Region. "The plan is not designed to achieve recovery."
IRU argues that the new plan offers "more of the same and in many respects is even worse than the last four plans."
"This new plan ignores the best science, sidesteps the court's explicit instructions to do more for salmon, curtails the proven benefits of [dam] spills, perpetuates uncertainty and fails to address the impacts of climate change," said Stahl. "This new salmon plan is also a poor way to start collaborative talks."
This past week, results of a year-long survey, called the Long-Term Recovery Situation Assessment, were released, indicating that Idahoans and others in the Northwest were "ready to collaborate in pursuit of durable solutions" to the salmon issue.
United States taxpayers and Pacific Northwest ratepayers have spent nearly $13 billion since the 1980s on salmon recovery measures, according to the IRU, with about $10 billion spent in the past decade.
---
George Prentice
Salmon Advocates on New Recovery Plan: 'It Ignores Best Science, Perpetuates Uncertainty'
Boise Weekly, January 18, 2014
---
See what you can learn
learn more on topics covered in the film
see the video
read the script
learn the songs
discussion forum