---
Good growing conditions -- soil moisture, temperatures and timely rains--
contributed to above-average yields this year in the Pacific Northwest.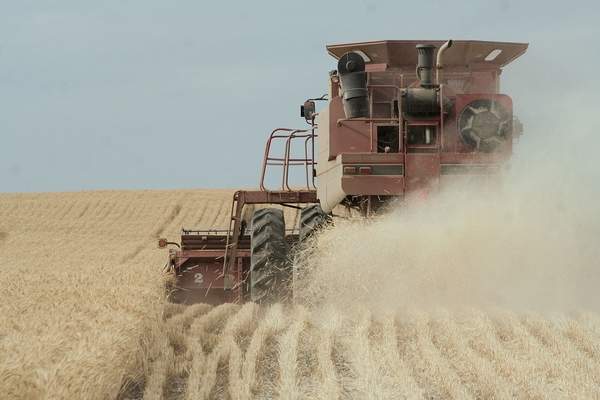 Exceptional spring wheat yields in Idaho pushed this year's crop to a record overall yield.
Growers averaged 91.9 bushels per acre, edging past the old record, 91.4 bushels per acre, set in 2016, said Chris Mertz, regional director of the USDA National Agricultural Statistics Service.
Records date back to 1879, Mertz said.
"(For) two years in our database, it has averaged higher than 90," he said of the overall wheat yield.
Spring wheat averaged a yield of 95 bushels per acre, up from 85 bushels last year, while winter wheat averaged 90 bushels per acre, up from 80 bushels per acre last year. It's the first time spring wheat yields in the state averaged more than 90 bushels, Mertz said.
"I think that's pretty impressive, it shows conditions went well and farmers are using all the tools appropriate to get an excellent return," Mertz said. "Both of them are nice, but spring wheat had a nice jump this year."
"The yields were boosted by good moisture through the year and by moderate temperatures," Blaine Jacobson, executive director of the Idaho Wheat Commission, told the Capital Press. "We started the planting year with good moisture and continued to receive timely rains."
Some years, triple-digit temperatures in early summer can curb yields, but temperatures were favorable this year, Jacobson said. Some parts did hit those temperatures, but it was more scattered than usual and after wheat had headed out.
Idaho produced 104 million bushels, according to the USDA.
"It is nice to see our overall production above 100 million bushels," Jacobson said, adding that overall growing conditions were "superb."
| State | Bushels | Yield | Est. Acres |
| --- | --- | --- | --- |
| Idaho | 104 million | 91.9 bu/acre | 1.1 million acres |
| Oregon | 50 million | 67 bu/acre | 0.56 million acres |
| Washington | 153 million | 71.5 bu/acre | 2.1 million acres |
| Total | 307 million | 76.4 bu/acre | 4 million acres |
At a recent Washington Grain Commission meeting in Spokane, several board members reported yields 50 percent higher than usual in their districts.

Glen Squires, CEO of Washington Grain Commission, attributes that to "excellent" moisture conditions. Drier areas where yields are typically 35 to 45 bushels per acre reached 55 to 80 bushels per acre.

"A lot of it just was perfect moisture conditions -- good soil moisture, timely rains, good rains, not a lot of heat stress," Squires said. "It was just a great production crop year."

Washington's state average yield for winter and spring production, 70.8 bushels per acre, was the third-highest on record, Squires said. In 2016, the average was 71.5 bushels per acre. In 2011, the average was 71.3 bushels per acre.

Average yield in Oregon was 67 bushels per acre.

"Our growers reported average to above-average yields, with some reporting record or near-record harvest," said Blake Rowe, Oregon Wheat CEO. "Moisture was low and quality good. Protein was lower than the last couple of years, but there should still be enough at the higher protein levels to meet the specs of customers who prefer higher protein soft white."

Even with wildfire losses of 1 million to 2 million bushels, the Oregon crop is likely to be more than 50 million bushels, perhaps as high as 55 million bushels, Rowe said.

Washington produced 153 million bushels, according to the USDA.

Washington had larger crops in the 1990s and 2000s, but acreage was larger at that time, Squires said.

"It's good to let our customers know there's going to be plenty of wheat for them to source," Squires said. "That's what they like -- to not be concerned about low supply."

---
Matthew Weaver
Idaho's Wheat Crop Sets Record for Yield
Capital Press, October 16, 2018
---
See what you can learn
learn more on topics covered in the film
see the video
read the script
learn the songs
discussion forum