---
This year's average yield is a record but low falling number and prices have impacted the overall return to farmers.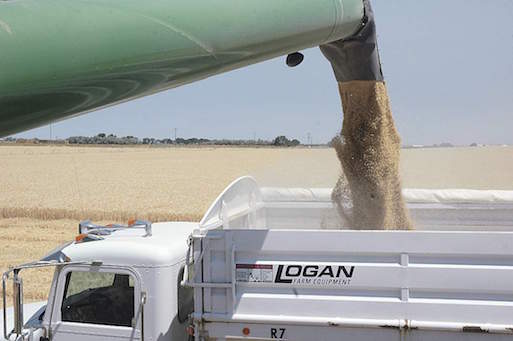 After falling significantly the past two years, wheat production in Idaho returned to normal in 2016, largely due to record yields.
Idaho wheat yields averaged a record 91.3 bushels per acre this year, beating the previous record of 85.5 bushels set in 2004.
That resulted in Idaho farmers producing 101.9 million bushels of wheat in 2016, up from 89.4 million bushels in 2015 and 93.7 million bushels in 2014.
The 10-year-average for Idaho wheat production prior to 2016 was 98.5 million bushels.
"Production is up because of the higher yields and yields were up because we had favorable growing conditions throughout the state," said Idaho Wheat Commission Executive Director Blaine Jacobson.
However, the increased production has been offset somewhat by low prices and issues with low falling number test scores in Northern Idaho, he added. The falling number tests measure wheat quality.
"About one-fourth of the crop in Northern Idaho was hit by low falling numbers and that put a crimp in some of the enthusiasm in Northern Idaho," he said.
Idaho farmers planted 1,180,000 acres of wheat during the 2016 season, down from 1,220,000 in 2015 and 1,271,000 in 2014. But 2016 yields were far ahead of the past two years.
As a result, Idaho wheat production reached its second highest total in the past five years, behind only 103.6 million bushels in 2013.
The deep reduction in wheat production in 2014 and 2015 were due in part to monsoon-like rains that hammered the 2014 crop.
"It's taken awhile to really get that behind us," Jacobson said.
But low prices have made 2016 somewhat bitter-sweet, growers said.
"It's good for our customers to know they have a reliable source of wheat out here and quality is back to what they expect," said Eastern Idaho farmer Gordon Gallup. However, as a grower, "I'd just as soon have less grain and a better price."
In Northern Idaho, great yields were offset by low prices and the low falling number scores.
"Where I'm at, we had excellent yields that were considerably above average (and) quality, other than the falling numbers, was excellent," said Northern Idaho grower Joe Anderson. "But we got low prices to start with and the low falling numbers really clobbered us."
Anderson said the doubly whammy of low prices and low falling number test scores has been challenging for many farmers.
"A lot of farmers in this area are just hanging on by a thread because of the low prices and compounded by the quality issues," he said.
Southwestern Idaho farmer Richard Durrant, who grows 300 acres of wheat and also purchases and markets wheat from 200 growers, said his yields were up about 20 percent.
"This year's wheat crop was fabulous. ... Most everybody's wheat crop has been up at least 10 percent," he said. "But prices are off 30 percent so it doesn't come close to equaling what producers were looking for. At these types of prices, it doesn't get very many bills paid in the Treasure Valley."
---
Sean Ellis
Idaho Wheat Production Rebounds Because of Record Yields
Capital Press, October 31, 2016
---
See what you can learn
learn more on topics covered in the film
see the video
read the script
learn the songs
discussion forum